To absolutely no one's surprise, there is A LOT to see and do this New Year's Eve in Chicago. And while we've been toiling away at our desks, we've also been daydreaming about all the events, parties, and down-right blowouts we could be going to on the 31st.
The good news? Since we've spent so much time thinking about it, we've actually been able to compile a pretty solid list of the best celebrations around the city.
So without further ado, here is our Ultimate Guide to New Year's Eve 2020 in Chicago.
Hotel Extravaganzas to Visit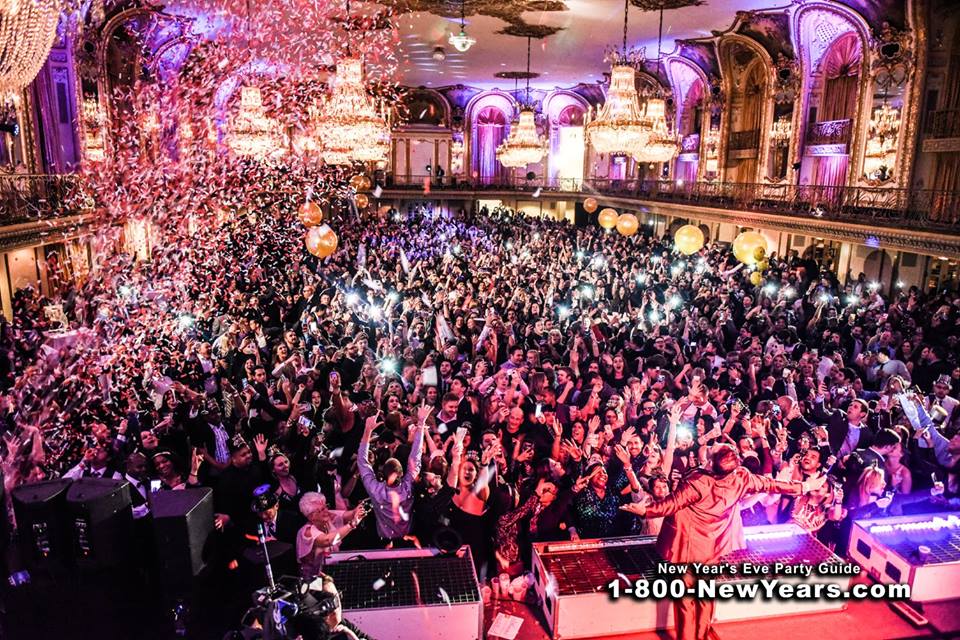 W Chicago New Year's Eve Party – 9pm – 2am | All-inclusive food, drinks, entertainment | Multiple Party Rooms | VIP Amenities | Pre & Post Parties | Discounted Hotel Rooms | Starting at $125 (172 W. Adams St.)
New Year's Eve Soiree @ Hilton Chicago – 9pm – 2am | Inclusive drinks and buffets | 7 Party Areas | 12 Party Acts |  3500+ Guests | Live DJs & Band | Comedy Club | Silent Disco |  Free Pre and Post Party | Discounted rooms | Starting at $119 (720 S. Michigan Ave.)
Chicago New Year's Eve Ball @ Congress Plaza Hotel – 9pm – 2am | Inclusive drinks and buffet | 2500 Party-goers | Discounted Rooms | Starting at $89 GA (520 S. Michigan Ave.)
Ballroom Blitz New Year's Eve Party @ Swissotel Chicago – 9pm – 2am | Newest NYE Party Spot on the River | 7 Party Areas | 7 Party Acts | 2000+ Guests | Inclusive drinks and buffet | Live Cover Band | Top DJs | Discounted Rooms | Starting at $119 (323 E Upper Wacker Dr, Chicago, IL 60601)
New Year's Eve Soiree @ JW Marriott – 9pm – 2am | Inclusive drinks and buffet | 3 Party Areas | 1200+ Guests | Live Cover Band + DJs | Pre and Post Parties | Discounted rooms | Starting at $119 (151 W. Adams St, Chicago, IL 60603)
Masquerade Ball @ The J. Parker – 9pm – 1am | Festive cocktails | Passed appetizers | Champagne toast | $125 – 150 per person (1816 N. Clark St.)
The Radisson Blu Aqua Hotel Chicago – 9 pm – 1 am | Balloon drop | Hors d'oeuvres | Open bar | Live DJ | Party favors | Champagne toast | GA tickets $130; VIP tickets $160 (221 North Columbus Drive)
Virgin Hotels Chicago – 8 pm – 1 am | New Year's Casino Royale Party | Premium hosted 4-hour open bar package, cash bar after midnight | Satellite bar | Card games | Roulette table | Craps table | Slot machine fun | Balloon drop | Complimentary champagne toast at midnight | GA tickets $70; VIP options available (203 N Wabash Ave)
Dinner & Brunch Events to Visit in Chicago for New Years Eve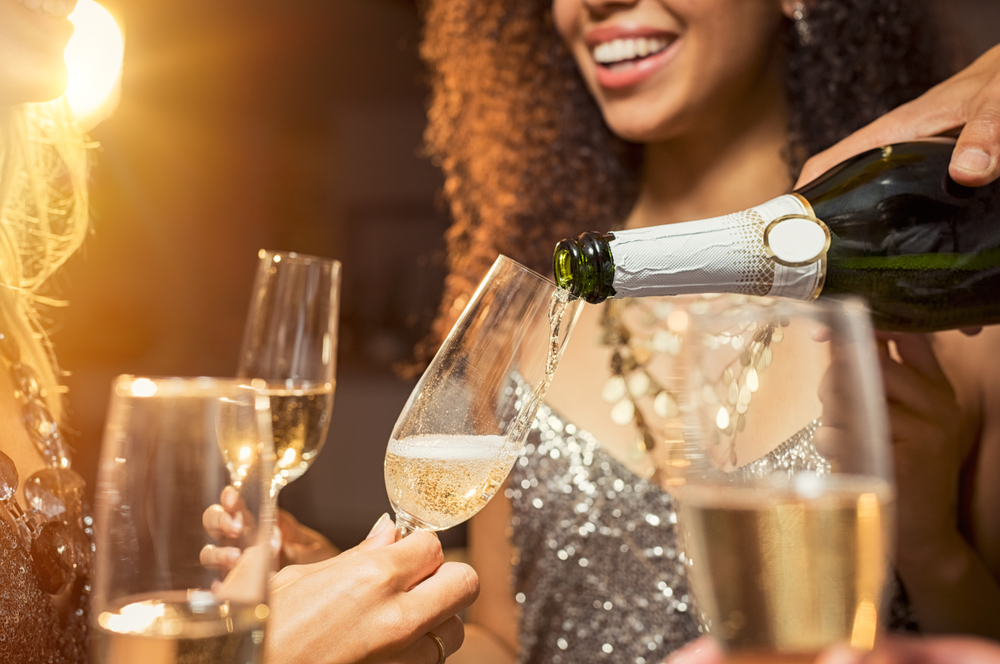 Acadia – Acadia Chef & Owner Ryan McCaskey & Two-Michelin-starred Chef Paul Liebrandt from NYC Collaboration Dinner | 1920s Jazz Era Theme | Live entertainment | Midnight ball drop | Passed canapé and champagne reception featuring Dom Pérignon and Laurent Perrier Grand Siecle | 12-course menu | Optional wine pairings | 7 p.m. canapé reception, 8 p.m. seated dinner | $350 per person, wine pairings available for $215 (1639 S. Wabash Ave)
Acanto Restaurant + Wine Bar – Prix fixe menu | $95 per person with $55 optional wine pairings (18 S Michigan Ave)
Artango Bar & Steakhouse – Four-course prix-fixe menu | Live Latin music | Champagne toast | Party favors | $75 per person 5 – 7:30 pm; $125 per person 8:30 pm – 12 am | Drink packages available for $35 per person (4767 N. Lincoln Ave)
avec – Family-style Mediterannean feast | Shareable menu | Celebratory champagne toast | Optional wine pairings | $125 – $175, Seatings at 5:30 p.m. and 9 p.m. (615 W. Randolph St.)
Avli River North – Seven-course dinner party | Live Greek music | DJ Entertainment | $80 per person | NYD Bottomless Brunch Special | 3 courses | Bottomless mimosas | $34 per person (702 N Wells St)
Bar Biscay – Five-course prix-fixe menu | $75 per person | $25 drink pairings (1450 W. Chicago Ave.)
Bar Roma – Dishes include lentil soup, squid ink risotto with fried octopus, buffalo mozzarella ravioli, herb-crusted monkfish piccata, kobe beef tenderloin with wild mushroom and black truffle sauce, and chocolate truffle cake | Wine pairings available | Seatings at 5-6:30 p.m. and 8-9:30 p.m. | Prosecco toast at midnight | Prices vary, reservations available (5101 N. Clark Street)
Bar Ramone – Four-course Spanish-inspired feast | Specially curated wine pairings | Complimentary sparkling wine | Unlimited tapas bar visits | Vegetarian-friendly | Seatings are at 6:00 PM, 8:00 PM and 10:00 PM for groups up to eight | $65 per person (441 N Clark St)
Beacon Tavern– Regular, à la carte dinner menu with specials (405 N. Wabash)
Beatnik – International dinner party | DJ entertainment | NYD Brunch | Reservations available (1604 W Chicago Ave.)
Beatrix – NYD Brunch | Spicy Bloody Mary or Boozy Banana Joe | Green Chili Enchiladas, House-Made Belgian Style Waffles, the Mushroom & Quinoa Burger, and a side of Brown Sugar Bacon | 8:00 AM – 3:00 PM (Multiple Locations)
Big Star – Castillo Blanco transformation | Drafts from Three Floyds | Sliders, crinkle-cut fries, onion rings, and loaded fries | Limited edition swag | Raffles all night | Live DJ | Complimentary Buffalo Trace shot at midnight (1531 N. Damen Ave. & 3640 N. Clark St.)
Bistronomic – NYD two-course brunch menu | Bottomless mimosas | $39 per person | NYD three-course dinner menu | A la carte menu options available (840 N. Wabash Ave.)
Black Bull – Dinner service at 5 pm | Presa Ibérica ($29), grilled boneless pork shoulder from acorn-fed Ibérico pigs of Spain, dry-aged 30 days and topped it with Canarian Mojo Verde and piparras peppers | Reservations available (1721 W Division St.)
BOKA – 7-course tasting menu prepared by Michelin-starred Chef Lee Wolen | Optional wine pairings ($75 standard pairing/$150 reserve pairing) | 7:45pm to 10:45pm | $215 per person (1729 N Halsted St)
Boqueria Chicago – Tapas, sangria, cocktails | 1st Seating: 6:00 – 9:00, $85 per person (kids – $51), 2nd Seating: 9:30 – 12:30, $125 per person (kids $75) (807 W Fulton Market)
Bub City – NYD Brunch | Build-Your-Own Bloody Mary Bar (Rosemont only) | Live music | 10 am – 3 pm (435 N Clark St & 5441 Park Pl)
Cabra Cevicheria – Passed bites | Open bar | Specialty cocktails | Photobooth | Dancing | Starting at $175 per person; $800 private table (200 N Green Street)
Cafe Ba-Ba-Reeba! – NYD Build-Your-Own-Bloody Mary Bar | Dine in your pajamas to win a Cafe Ba-Ba-Reeba! gift card EQUAL to the price of your meal (minus tax and gratuity) to use on a future visit | 9:00 AM – 3:00 PM (2024 N Halsted St)
Centre Street Kitchen – Four-course prix fixe dinner menu from 5 to 8 p.m. for $59 per person | Menu available from 8:30 p.m. – close with champagne toast at midnight for $69 per person (1224 W. Webster Ave)
Chiya Chai – NYE special: one cocktail, one appetizer, and one dinner entree | For reservations and additional information call 773.360.7541 | $25 per person (2770 N Milwaukee Ave)
City Mouse – Prix-fixe menu of canapes including gougeres, panelle, caviar and chilled king crab | OR multi-course menu with lobster, compressed persimmons, ravioli, and a dry-aged beef wellington | Decadent desserts | Vegetarian options available | Lounge $50 | Dining Room $120/$105 per person (311 N Morgan St)
Coda di Volpe – Prix fixe menu with two seating times | $95 per person with $45 optional wine pairings (3335 N. Southport)
Crab Cellar – Welcome Toast with Celebratory Bubbles | Maryland Style Crab Dip | Jonah Stone Crab Claw | Unlimited Sides: Jalapeño Hush Puppies, Roasted Broccoli, French Fries, Mac & Cheese | Steak Frites with Maitre'd butter & crispy Boardwalk Fries | Endless Golden King Crab | Peppermint Ice Cream with Hot Fudge | $149.95 per person plus tax & gratuity + Lobster Add-on for $22.95 per person (1962 N Halsted St.)
The Dawson – Regular, à la carte dinner menu with specials | Upstairs Dance Party beginning at 10 p.m. (730 W. Grand Ave)
The Dearborn – Dinner Service | Champagne toast | NYD Brunch | Bloody Mary specials (145 N. Dearborn St.)
Dusek's Board & Beer – Two special prix-fixe menus; 5-course option for $65 and 7-course option for $85 (1227 W. 18th St.)
Dutch & Docs – Balena Pop-up – Last night of the Balena pop-up | Italian-style fair | Balena's à la carte menu | 5:00pm to 11:30pm (3600 N Clark St)
Eataly – Mezzanotte: All-Access NYE | Variety of Italian favorites | Drinks from multiple bars | Unlimited fresh pasta & risotto, pizza Napoletana, arancini, mozzarella, and focaccia | Flowing red, white and sparkling Italian wines | A mountain of Italian panettone and pandoro, pans of tiramisu, and much more | Live entertainment | Dancing | Karaoke | Sparkling midnight toast | 9 PM – 1 AM | GA Tickets: $150; VIP Tickets: $195 (43 East Ohio St)
El Che Steakhouse & Bar – Prix-fixe dinner | 10-course tasting menu | Bubbles toast | A la carte libations or pairings | $140 per person at 6 or 10 pm | The Hearth Table 3-course feast | Bubble toast | $100 per person at 5 or 9 pm (845 W. Washington)
The Gage – Regular, à la carte dinner menu with specials (24 S. Michigan Ave)
Geja's Café – Three special reserved seatings at 5:00 p.m., 7:30 p.m., and 10 p.m. | Four-course fondue dinner: Swiss Gruyere cheese fondue appetizer, salad, lobster, shrimp, and beef entree along with Geja's famous flaming Belgian chocolate dessert fondue | Packages include champagne, tax, and gratuity | 5:00 p.m. seating is $105 per person and includes a glass of Laurent-Perrier La Cuvee Brut Champagne | 7:30 p.m. seating is $125 per person and includes a glass of Laurent-Perrier Cuvee Rose Champagne | 10:00 p.m. seating is $135 per person and includes a bottle of Laurent-Perrier La Cuvee Brut Champagne per couple with party favors (340 W Armitage Ave)
Gemini – Four-course prix-fixe menu | Three seatings | $90 per person | $35 additional wine pairing option | NYD Brunch 10 am – 3 pm | Bottomless mimosas $18 (2075 N. Lincoln Ave.)
Girl & the Goat – 10-course tasting menu curated by Stephanie Izard | 5 sparkling wines | $250 per person plus tax + gratuity (809 W Randolph St.)
Good Fortune – New American-meets-Mediterranean prix-fixe menu | Five-course menu featuring porcini campanelli, turbot grenobloise or prime striploin bourguignon, and dark chocolate budino | Champagne toast | First Seating before 9 p.m., Second Seating after 9 p.m. | $75 before 9 p.m., $100 after 9 p.m. (2528 N. California Ave)
Funkenhausen – NYD brunch | Pretzel french toast, spaetzle carbonara, and a BL(fried green)T sandwich | 3 mimosa options (coupe, shoot or boot!) | Brunch cocktails in a Piggy Pitcher | 10 am – 3 pm | Reservations available (1709 W. Chicago Ave.)
Houndstooth – NYD Pajama Brunch | Guests in pajamas will receive a gift card equal to their check from 11 AM to 3:30 PM | Southern-inspired favorites including biscuits & gravy, Gulf Jumbo Shrimp – house recipe served with cocktail and 'good good' sauce – and the Southern Benedict with ham steak, buttermilk biscuit, red-eye hollandaise, and two fried eggs | $15 mimosa pitchers and domestic beer pitchers. (3369 N. Clark St.)
III Forks Prime Steakhouse – Chef Adrian Corkill's starters (ahi tuna; shrimp cocktail; crab cake; lobster bisque), salads (III Forks; wedge; Caesar), steaks (certified Angus beef prime 42 day dry age; Durham Ranch Wagyu by the Strube family; Tomahawk ribeye; filet mignon), seafood (Atlantic salmon; Chilean sea bass; cold water lobster tail), sides (off-the-cob creamed corn; lobster mac & cheese; fried brussels sprouts) and more | Celebratory dinner selection: filet mignon with cold water lobster tail ($85) | Featured wines, bubbles & craft cocktails | 5-11 p.m. | Reservations available (180 N Field Blvd)
La Josie – Full dinner menu available | Live DJ | Enclosed rooftop | Complimentary champagne toast at midnight (740 W Randolph St)
Little Goat Diner – Bubbles & Dinner Experience Upstairs at Little Goat | First Seating – 5:00pm, $125 per ticket, welcome cocktail and three sparkling wine pours | Second Seating – 9:00pm, $175 per ticket, welcome cocktail, four sparkling wine pours, a midnight toast and a seated dinner | 6:30pm to 10:30pm, $50 per ticket, 3-course prix-fixe menu, kid-friendly ball drop at 6:15 pm (820 W Randolph St)
The Loyalist – Prix-fixe menu | Whole loup de mer, prime rib, or duck breast | Drink specials | Optional add-ons | $75 per person (177 N. Ada St.)
Mastro's – Chateaubriand dish; large center-cut roasted beef tenderloin; béarnaise and peppercorn sauce; Pumpkin Butter Cake, Mastro's signature warm butter cake, real pumpkin, seasonal hard spices, pumpkin pie spiced cream cheese, caramelized raw sugar, vanilla ice cream, caramel sauce, homemade whipped cream | $115  per person + $18 for dessert (520 North Dearborn)
mfk. – Four-course prix-fixe menu | Drink pairings available (432 W. Diversey Parkway)
Moody Tongue – 12-course tasting menu | Guided beer pairings in The Dining Room | Last seating in The Dining Room at 8:30 pm | A la carte menu | 16 perennial beers on tap at The Bar | Reservations at The Bar until 11:00 pm |  Complimentary champagne toast paired with Moody Tongue's Aperitif Pilsner | $155 for the tasting menu & pairings (2515 S Wabash Ave)
Morton's The Steakhouse – Steak and Lobster Special; 8-ounce filet mignon; 1 ¼ pound lobster, lobster butter sauce, grated parmesan cheese + savory puffed pastry; Holiday cocktail | $59 per person + $17 for holiday cocktail (All locations)
Nacional 27 – Brazilian Churrascaria feast featuring BBQ'd Lamb Tacos, Corn Fundido, and Fire-Roasted Argentinian Steak Skewers | Midnight balloon drop | Dinner seatings from 6:00 PM – 8:00 PM ($39.99) and 7:00 PM – 8:30 PM ($99.99) with complimentary champagne toast | Dance floor opens at 10:30 PM | VIP tables available | Specials include bottles of Bacardi for $250, Patron for $350, Grey Goose for $300, Grey Goose Poire for $250, and Taittinger Brut Francaise for $200 | Contact Dan Kurtzman at dkurtzman@leye.com or 312-664-2727 to make your table reservation | Tickets start at $20 online and $30 at the door (325 W Huron St)
The Old Plank – Premium package of craft beer, wine, and spirits | Food buffet | $75 per person (2700 N. Milwaukee Ave)
Old Pueblo Cantina – Mexican NYD brunch | Margarita pitchers & brunch cocktails | Reservations available (1200 W. Webster)
Onward – Alaskan King Crab Bisque (mirepoix, gochujang, creme fraiche; $14), 16-ounce Bone-In Braised Short Rib (white bean purée, sassafras, roasted baby carrots; $42), Beau Soleil Oysters (with blood orange caviar, champagne granita; $3 each) and a Fluke Cioppino (Manila clams, Spanish chorizo, saffron, grilled sourdough; $34) | NYE Cocktail; Taittinger Champagne, Pineau Des Charentes, Vermouth and lemon, topped with edible gold dust | $3 to $34 dinner specials (6580 N. Sheridan Road)
Osteria Via Stato – Prix-fixe Italian menu | 5 – 12 am | $75 per person (620 N. State Street)
Publican Quality Meats – Cast your bid for the chance to win an intimate New Year's celebration for 14 guests at Publican Quality Meats' Chef's Table, complete with a personalized menu created by acclaimed Head Butcher and Chef Rob Levitt. The winning bidder in the auction will collaborate with Levitt to create a one-of-a-kind dining experience at the neighborhood butcher shop and cafe with a tailored menu designed to complement wines from your own collection. Toast to 2020 with your closest friends and start the new year off on the right foot with 25% of proceeds from the auction benefitting Above and Beyond Family Recovery Center an organization helping people and their families recover from substance abuse | Starting Bid: $4,500, Buy Now Price: $7,500 (825 W. Fulton Market)
Punch House – Tableside champagne punch service | Large format punch serves 7 and mixes together Hennessy, Curacao, Jamaican rum, black tea, lemon, Angostura and Moet & Chandon Champagne | Available for $225 with reservation (1227 W. 18th St.)
Quality Crab & Oyster Bah – All-day Happy Hour | Half off select drinks, apps, & snacks | $20 bottomless bloody marys or bottomless mimosas | 11:30 AM – 3:00 PM (1962 N Halsted St)
Ramen-San – River North, Fulton Market & Streeterville – Delicious noodles for purchase | Complimentary sake bomb waterfall at midnight | River North: 11:00 AM – 1:00 AM | Fulton Market: 11:00 AM – 1:00 AM | Streeterville: 11:00 AM – 10:00 PM (Multiple locations)
Saba Italian Kitchen – Elegant four-course menu | Complimentary champagne toast | $75 per person (2715 N. Milwaukee)
Shaw's Crabhouse – NYD Menu | Bloody Marys | Brunch buffet & seafood spread | Giftcard for $20.20 to be used for a future visit | Tuesday, December 31 & Wednesday, January 1, 10 am – 3 pm | $85 for adults, $20 for children 7 – 12 plus tax & gratuity (21 E. Hubbard)
The Smith – Two seatings | NYE Dinner | A la carte menu 5 – 8 pm | 3-course prix-fixe meal | Open bar | Champagne toast | Party favors 10 pm – 1 am (400 N. Clark St.)
Somerset – Festive à la carte menu | 5 – 11 pm | Reservations available (1112 N State St)
Stella Barra Pizzeria – NYD brunch buffet | Endless Egg Enchiladas, Cinnamon Roll Bread Pudding, Smokey Bacon Mac 'n' Cheese, Italian Sausage Hash | $5 Bloody Marys, Mimosas, and Bellinis | Dine in your pajamas to win a Stella Barra Pizzeria gift card EQUAL to the price of your meal (minus tax and gratuity) to use on a future visit | 9:00 AM – 2:00 PM (1954 N Halsted St)
Tuscany on Taylor – Party favors | Champagne toast | Festive drink specials for $9 | Reservations recommended (1014 W. Taylor St.)
Walton Street Kitchen & Bar – NYD Brunch featuring fried chicken | Bottomless brunch cocktails $25 – mimosas, beer, house red or white wine, Bloody Marys, Aperol spritz | Reservations available 10 am – 2 pm (912 N. State St.)
Chicago New Years Eve 2020 Parties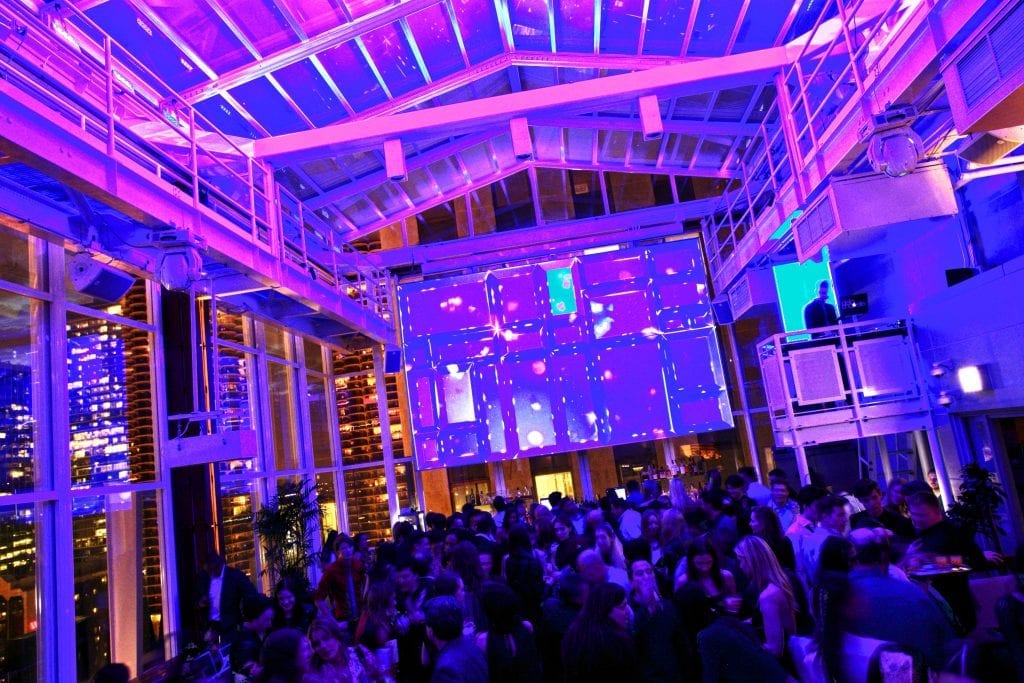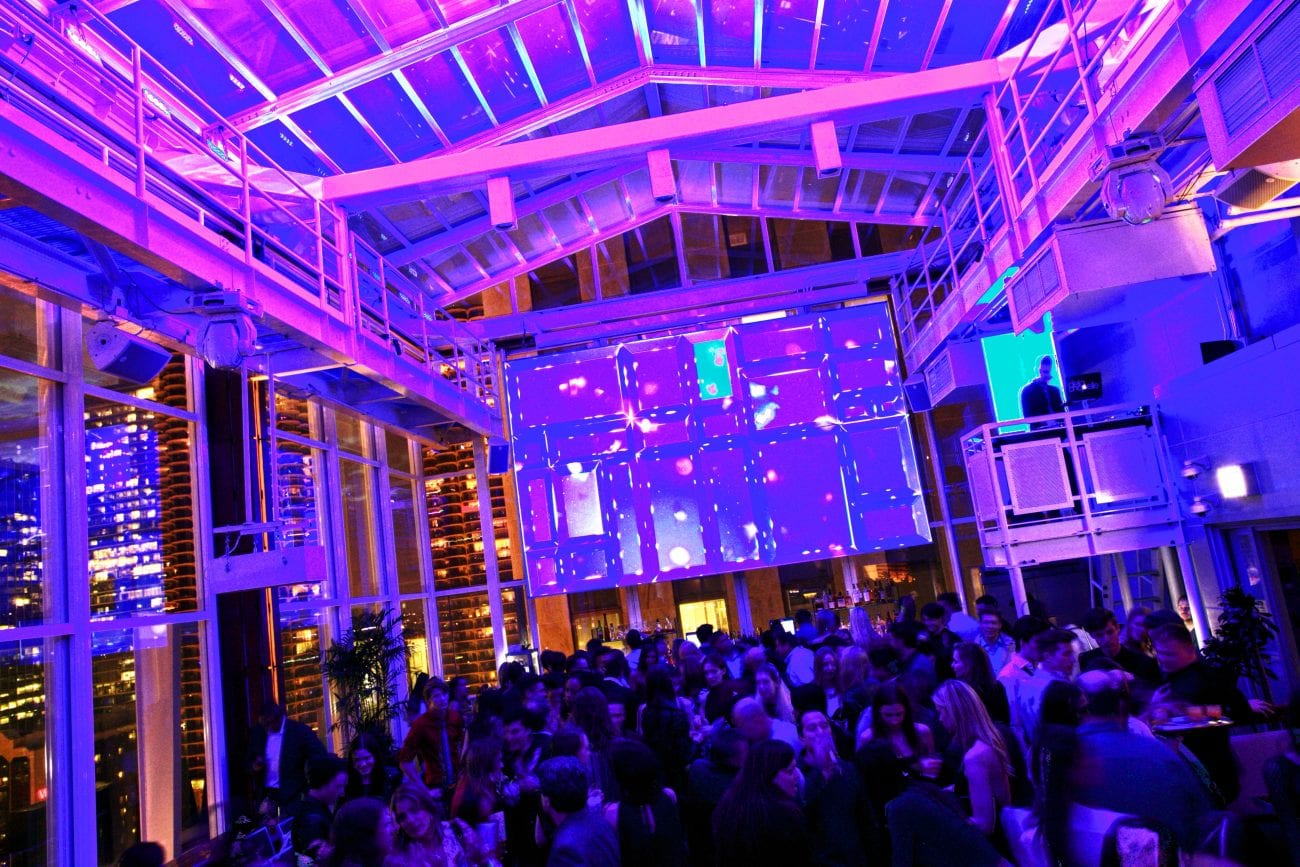 aliveOne – Private backroom access | Drink package | Food buffet catered by Pasta Bowl | Champagne toast at midnight | Starting at $75 (2683 N Halsted)
Apogee – Assorted Appetizers | Premium Drink Package with an Apogee | Specialty Cocktail Selection | Champagne | Glass Terrace with Skyline View | Midnight Countdown | Thirteen of Chicago's Finest Table Sections for Reserve (2 W. Erie)
The Bandit – Expansive Passed Food Menu | Premium Drink Package | Champagne | Dessert Hour | Midnight Countdown | Party Favors | Tables Available (841 W. Randolph St.)
Barrio – Expansive Passed Food Menu | Premium Drink Package | Champagne | Dessert Hour | Midnight Countdown | Party Favors (65 West Kinzie St)
Bellemore – NYE Masquerade | 5-course prix-fixe menu | Optional upgrades & wine pairings | 5:30pm to 11:45pm | $185 per person (564 W Randolph St)
The Berkshire Room – Passed Appetizers | Premium Drink Package with a Berkshire Specialty Cocktail | Champagne | Access to the Bodega Suite | Midnight Countdown | Eleven of Chicago's Finest Table Sections for Reserve (15 E Ohio St)
Bonus Round Cafe – Unlimited gameplay | Snacks (housemade hummus, chips, and dips, quesadillas, spicy snack mix) | Desserts (Rice Krispies treats, hand-dipped caramel apples) | Champagne toast | Selfie Station | 9:30 PM to 1 AM | $36 per person (3230 N Clark St)
Bordel – Chicago's sexiest speakeasy | DJ entertainment | Spanish food & beverage packages | Open bar | Midnight countdown & toast | 9 PM – 1:30 AM | $85 per person (1721 W Division St)
Carnivale – A Studio 54 New Year's Celebration | Impersonator performance | Lollipop Lyra act and dancers with disco ball heads | Balloon drop | Party favors | Champagne toast | Prix-fixe menu | $90 per person (702 W. Fulton Market)
Celeste – Passed food | Open bar | Dessert station | Private booths available | 9 PM – 1 AM, cash bar until 4 AM | Late-night menu | $75 per person (111 W Hubbard St.)
Cira – Jazz Age Party | Festive à la carte menu | Champagne in the lounge & midnight toast | 6:45pm to midnight | Reservations available (200 N Green St)
Clutch Bar – High End Passed Catering | Premium Drink Package | Champagne | Midnight Countdown | Chicago's Finest Table Sections for Reserve (316 W Erie St)
Concrete Cowboy – High End Passed Catering | Premium Drink Package | Champagne | Midnight Countdown | Chicago's Finest Table Sections for Reserve (646 N Franklin St)
DISCO – 70s-glam-style New Year's Eve party | Access to DISCO and the Roof Garden of Celest | Passed food | Open bar | Bubbles | DJ Entertainment | 9 PM – 1 AM, cash bar until 4 AM | Late-night menu | $125+ per person (111 W Hubbard St.)
drumBAR – Appetizers | Premium Drink Package with Specialty Cocktail Selection | Champagne | Glass Terrace with Skyline View | Midnight Countdown | Fifteen of Chicago's Finest Table Sections for Reserve | $100+ per person (201 E. Delaware Place)
Easy Bar – Private backroom access | Drink package | Food spread catered by Pasta Bowl | Taco Toast at midnight featuring Taco Bell tacos paired with a glass of champagne | Starting at $75 (1944 W Division St.)
Elf'd Up (Stretch Bar & Grill) – "All that Glitters" theme | 5-Hour Drink & Meal Package | Complimentary champagne at midnight | VIP Tables | Starting at $75 (3484 N. Clark St.)
Estelle's – All-inclusive drink package | Champagne toast | A la carte menu | Optional package starting at $65 (2013 W North Ave.)
Fatpour – Passed Appetizers | Premium Drink Package | Champagne | Midnight Countdown | Party Favors (2206 S Indiana Ave | 2005 W Division St)
Hard Rock Cafe – Rock 'Til The Drop & Party Until 4am | 9pm – 4am | 4.5 Hour All Inclusive drinks and buffets | Open Until 4am | Discounted Table Service Packages | Live DJ |  Free Pre and Post Party | Nearby Discounted rooms | Starting at $80 (63 W Ontario St)
Headquarters River North – Masquerade Arcade | A hosted bar from 9pm-1:30am, and a food buffet from 9pm-10:30pm | Win prizes | Chef-driven buffet | Complimentary champagne toast at midnight | Table & drink packages available | Resident Chicago DJs | Table Package for $250 (4 chairs, bottle of liquor, mixers/fruit, 1 bottle of champagne) | $60 per ticket (213 W Institute Pl)
Hopsmith – Passed Appetizers | Premium Drink Package | Champagne | Midnight Countdown | Party Favors (15 W Division St)
Houndstooth – Griswold's theme, inspired by the 1989 classic National Lampoon's Christmas Vacation | Cash bar | Live entertainment | $5 cover or toy donation will be collected at the door to benefit Toys for Tots (3369 N. Clark St.)
Hubbard Inn – Access to the new lounge, Blue Violet | Complimentary champagne from 8 – 9 pm | Hosted bar from 9 pm – 1 am | Passed hors-d'oeuvres | Party favors | Champagne toast | Starting at $75 per person (110 W. Hubbard St.)
Irish Oak – Assorted Appetizers | Premium Drink Package | Champagne | Midnight Countdown | Party Favors (3511 N Clark St)
The Izakaya at Momotaro – Signature cocktails | Delicious passed apps and bites from chef Gene Kato | Champagne toast at midnight | General Admission: $135, VIP Tables: $200, VIP Luxe: $250, Group Discount: $99 (limited availability) (820 W Lake St)
Joe's Live – Sixteen Candles '80s Party | Premium Drink Package | Dinner buffet from Bub City with Balcony Tickets | New Year's Eve GA tickets: $65 per person; Balcony tickets: $150 per person (5441 Park Pl)
Joy District – Passed hors-d'oeuvres | Complimentary champagne from 8 – 9 pm | Hosted bar from 9 pm – 1 am | Starting at $100 | VIP table or igloo reservations available (112 W. Hubbard St.)
Kohl Children's Museum – Times Square themed New Year's Eve "midnight" celebration | Photo booth | Interactive live music & DJ | Kid-friendly | "Midnight" countdown & confetti drop | Times at 8:30 a.m. and 12:30 p.m. | Prices range $20-$35 with discounts available (2100 Patriot Boulevard, Glenview, IL)
Lazy Bird – Live music | Signature cocktails | $10 cover, no reservation needed (200 N Green St)
LondonHouse – Two soirees | Open bar | Passed hors-d'oeuvres | Midnight complimentary champagne | Live entertainment | Starting at $125 (85 E. Upper Wacker Dr.)
Maddon's Post – 1950s Beach Bash | Dance floor | Game room | Insta-worthy photo opps | Italian and Polish-inspired bites from Executive Chef Aaron Thebault | Unlimited pours on select beer, wine, and cocktails | Champagne toast at midnight | $105 per person (1119 W Waveland Ave)
MONEYGUN – Miller High Life toast at midnight (660 W Lake St)
Morgan MFG – Roaring 20's – Prohibition NYE | Costume attire encouraged | Talented DJs | Buffet of appetizers | 5-hour Premium Cocktail Reception | Champagne toast | Confetti drop | Multiple bars | Party favors | Starting at $109 & available tables (401 N Morgan St)
Offshore – Live Band & DJ | Delectable appetizers | Live band | Premium open bar | Chef stations |  Iconic views of Navy Pier's firework display at midnight | Live with ABC 7's Countdown Chicago | Black-tie attire recommended, cocktail attire required | 9 PM – 2 AM | $125 per person (1000 E Grand Ave)
The Owl – All-inclusive drink package | DIY taco bar by Big Star | Champagne toast | Optional package starting at $75 (2521 N Milwaukee Ave.)
Parlor Pizza Bar – Heavy Appetizer Buffet | Premium Drink Package | Champagne | Midnight Countdown | Music (1824 W Division St | 108 N Green St | 405 N Dearborn St)
Pete's Dueling Piano Bar – Four high-energy dueling piano players | Light hors-d'oeuvres | Three drinks | Party favors | Bottle of champagne | Doors open at 7 pm; entertainment begins at 8 pm | Starts at $20 per person; tables available for $400 (5540 Park Place in Rosemont's Parkway Bank Park)
Play Kitchen & Cocktails – Gatsby-Themed New Year's Eve party | Premium open bar | Gourmet hors d'oeuvres | Party favors | Balloon drop with 1,000 balloons | Champagne toast | Starting at $85 (7 W. Division St.)
Public House – Expansive Passed Food Menu | Premium Drink Package | Champagne | Dessert Hour | Midnight Countdown | Party Favors (400 N State St)
Recess– Live entertainment | Open bar | Passed appetizers | 9 pm – 12 am | $35 per person (838 W. Kinzie St.)
Remedy – Half-priced everything until 7 pm | All-inclusive drink package | DIY taco bar by Big Star | Champagne toast | Starting at $80 (1910 N Milwaukee Ave)
ROOF on theWit – New Year's Eve Monte Carlo Party | 4-hour platinum bar | Gaming tables | Upscale food choices | Live entertainment with acrobatic performances | Black-tie affair | 9 pm to 1 am | $185 per person (201 N State St)
RPM On The Water – Black-tie optional | All-inclusive | Luxe passed appetizers | Interactive food stations | Premium bar package | Live DJ | Midnight toast | 9:00 PM – 1:00 AM | Starting at $150, tables available (317 N Clark St)
Saint Lou's Assembly – Free Silent Disco by Urban Fetes | Post-midnight menu of breakfast grub (664 W Lake St)
SPIN Chicago – 4.5-hour Premium Drink Package | Upscale Appetizer Stations | Midnight Champagne Toast & Balloon Drop | A Special Aerialist Performance | Complimentary Ping Pong | Live DJ | Photo experiences | Classic Party favors | $75 Pre-sale (344 N State St)
SX Sky Bar NYE Gala in Chicago's hottest new 6th-floor sky lounge | View of the Navy Pier fireworks | Open bar from 9 PM – 1 AM | Passed appetizers | Balloon drop | Midnight champagne toast | $70 per person + 20% off hotel rooms at Hotel Essex directly next door (808 S Michigan Ave)
Theater on the Lake – 5-hour Premium Drink Package | Upscale Appetizer Stations | Champagne Aerialist Bartenders | Midnight Champagne Toast & Celebration | Special Guest DJ Performance by Flipside | Photo Ops & Interactive Experiences | Classic Party Favors | $85 Pre-sale (2401 N Lake Shore Dr)
Three Dots and a Dash – Tropical Luau | Signature cocktails | Music | Five tiki cocktails | Select appetizers | Available tables | Starting at $70 per person (435 N Clark St)
Untitled Supper Club – Bootlegger's Ball, 100th Anniversary of Chicago's Prohibition | 40 of Chicago's finest burlesque, aerial, contortion and variety performers | Live music | DJs | Extensive food and beverage package including specialty cocktails, hor d'oeuvres, dessert, and late-night snacks | $75 per person (111 W. Kinzie St.)
Utopian Tailgate – Passed Catering | Premium Drink Package | Champagne | Midnight Countdown with Skyline Views | Party Table Packages for Reserve (1608 N Wells St)
The Violet Hour – NYE Pre-party | Champagne cocktail slushy | A la carte menu | Reservations available (1520 N. Damen Ave.)
VU Rooftop Bar – Premium bar | Chef's hors d' oeuvres | Live music & DJs | 4-hour open bar | Doors open at 9:00 PM | Event is 21+ only | Black Tie Recommended; Cocktail Attire Required | VIP IGLOOS available with space for up to 15 guests | Starting at $125 (133 East Cermak Rd)
Waydown – Host Elizabeth De La Piedra | THE END IS NIGH Y2K 2.0 Party | Dancing | Dress for the future's end or as a ghost of Y2K's past | 8:00 pm – 1:30 am | $10 discounted tickets available (311 N Morgan St 7th floor)
The Whale – Expansive Passed Food Menu | Ultra Premium Drink Package | Champagne | Midnight Countdown | Premier Table Service (2427 N Milwaukee Ave)
The Whistler – Global dance party | 2 Drink Tickets | Midnight Toast | Guaranteed Entry | $55 per person (2421 N. Milwaukee Ave)
Woodie's Flat – Expansive Passed Food Menu | Premium Drink Package | Champagne | Midnight Countdown | Party Favors (1535 N Wells St)
Z Bar – Fire & Ice Party | Elyx Vodka Martinis chilled on an ice luge with caviar | Flaming hot toddies | 6-Hour Open Bar | Welcome toast and champagne toast at midnight | Passed hor d'oeuvres | DJ REDUX | $150 per person (108 E. Superior St.)
Concerts to Visit for New Years Eve in Chicago
Motion City Soundtrack @ House of Blues | 7 pm | $35+
Mt. Joy @ Metro | 10 pm | $40+
Chris D'Elia @ The Chicago Theatre | 7:30 pm | $40+
Windy City Soul Club @ Logan Square Auditorium | 9 pm | $25+
Other Chicago New Years Eve 2020 Activities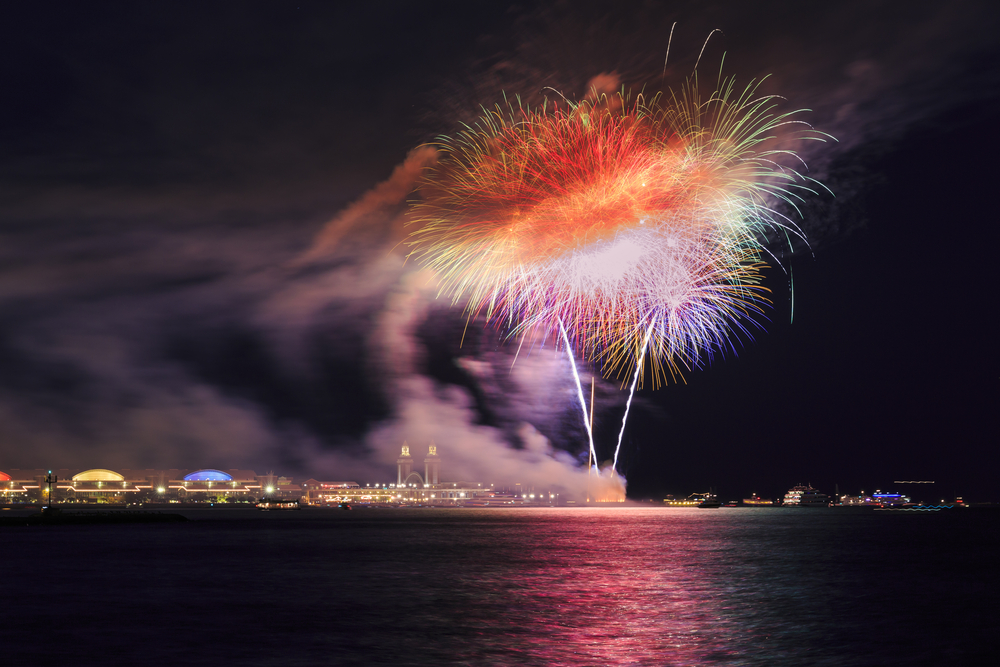 Navy Pier Fireworks & Resolution Gala – Chicago Resolution Gala at Aon Grand Ballroom | Offshore New Year's Eve | Crystal Gardens New Year's Eve | Fireworks Show | Prices Vary (600 E. Grand Ave.)
NYE Weekend Cocktail Cruises – Six cruise options (four Cocktail Cruises, one family-friendly, and one all-inclusive fireworks cruise) | Chicago's Top DJs | Starting at $25  *** Special UrbanMatter Discount: $1 Tickets to 1 of 5 Cruises for a limited time only – buy now (does not apply to all-inclusive cruise)! Promo code: URBANMATTER ***
Brew Year's Eve – 10 Chicagoland breweries | 25 different craft beers | Live music | Passed hors-d'oeuvres | $149 per person (4325 N. Ravenswood Ave.)
WhirlyBall Bucktown – Family NYE Event from 1 pm – 7 pm | Food, soft drinks, unlimited WhirlyBall, Laser Tag, Bowling, and pop up games | $20 kids; $30 adults | Adult NYE Event from 8 pm – 2 am | Food, unlimited WhirlyBall, Laser Tag, Bowling, and pop up games | Champagne Toast at midnight | $65 a person – 2 drink tickets | $85 a person – Drink Package from 9 pm – 12 am (1825 W Webster Ave)