A loop coaster has no name – Six Flags Great America in Gurnee has recently announced the 'World's Largest Loop Coaster' is coming to the park in Spring 2018. According to the official press release, "[t]his world-record breaking attraction will take riders forward and backward on a gigantic loop before suspending them completely upside down for plenty of wicked hang-time." The ride will include multiple inversions in addition to the circular revolutions.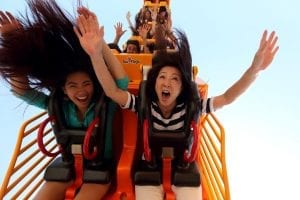 The nameless coaster will replace 'King Chaos' in the Mardi Gras-themed area of the park, which was recently dissembled. The giant loop marks the 16th coaster at Six Flags Great America. One of the more peculiar features of the 32-seat coaster is seating arrangement – riders will face one another in the same cab, with their backs to the adjacent cabs. So basically, if you aren't a party of four and aren't willing to wait for the front seat, you're going to make a new friend (or watch a stranger get ill).
"Six Flags continues to prove that innovation is in our DNA and we are thrilled to introduce yet another world-record breaking coaster to our impressive arsenal of thrill rides," says park president Hank Salemi. "Standing at 100 feet tall, this is an experience our guests cannot get anywhere else on the planet. With the multiple inversions and record hang-time, this new coaster packs a punch and is going to be one of our most intense attractions."
Sounds like a good/slightly sickening time to us!
Featured Image Credit: Greg Grudt/Mathew Imaging