Will you be there for the Ferris wheel opening this spring?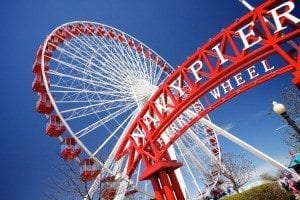 It's official. Navy Pier will open their new and improved Ferris wheel to the public on May 27th. The grand unveiling will also kick off the pier's centennial celebration, which is quite an event in itself.
The 196-foot-tall wheel is 47 feet taller than the previous version. This makes it the 5th tallest in the U.S.
The structure totals 992,080 pounds (almost 50% heavier than the old wheel)
Each leg weighs 36,376 pounds and measures 120 feet in length
It features 42 two-sided gondolas
Each car includes an interactive TV screen and speakers to present interesting facts along the way
The newly padded seats can hold up to 10 people (the previous high was six)
The wheel will now circle around three times instead of just once
Ride times will increase from seven to 12 minutes
The wheel will be open year-round due to the new temperature controlled gondolas
The new safety glass is capable of withstanding severe storms and winds up to 115 mph
Riders will have their own individual seat instead of the typical bench seat
Gondolas will match the Navy Pier Blue color found throughout the rest of the area
Pierscape

The Pierscape refers to the actual pier area, or pier landscape. The new changes will include the introduction of public art, water features and relighting the Pier's exterior. These new municipal components will be environmentally friendly.

South Arcade

With a focus on unique, diverse Chicago products, the South Arcade will be reimagined as a Chicago-themed food area.

Family Pavilion

The Family Pavilion is Navy Pier's entry hall. Here you'll find family-friendly activities, restaurants, retail shops, and kiosks with an authentic Chicago twist.

Festival Hall

This is where the majority of Navy Pier events are staged. Annual entertainment options like SOFA, Winter WonderFest, and the Chicago Flower and Garden Show aren't going away anytime soon, so feel free to breathe a sigh of relief. This area will continue to host these events and more while creating better connections to the surrounding areas.

Boutique Hotel

That's right, the pier is looking to add a small hotel on the east end of the pier. The idea hasn't been finalized, but there have been discussions of adding a restaurant and rooftop terrace for dining and special events.
On top of all these new features, Navy Pier will be allowing visitors to carry open alcohol. Chicago Shakespeare has also announced the opening of The Yard, a brand new theater that expands and retracts to create a unique atmosphere based on the stage performance.
You can learn more at navypier.com.