Navy Pier will shut itself down for two days with the arrival of its new centerpiece.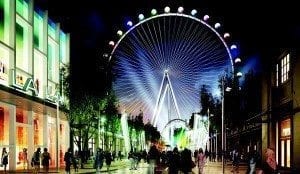 Remember all that news about Navy Pier and its new Ferris wheel from September? Well, it's back in the news again, as word has spread that the new version will arrive next week.
Traveling all the way from Europe via boat, train, and eventually truck – the pieces will arrive early in the week, with a Navy Pier shutdown looming on both January 19th and 20th.
The 196-foot-tall wheel is unlike any other in the U.S. It comes equipped with two-sided cars, TV screens, and speakers. The padded seats can hold up to 10 people (up from the past maximum of six). Ride times are also set to increase from seven to 12 minutes, and the wheel will circle around three times instead of just once.
Temperature controlled gondolas mean that the Ferris wheel will be open year-round. And from a protection standpoint, it will also feature safety glass capable of withstanding severe storms and winds of up to 115 mph.
Construction begins on Tuesday, as workers will break ground on lifting and assembling the wheel's six massive legs (each weighing 36,376 pounds and measuring 120 feet in length). The wheel's equally heavy center hub will also be secured to the legs.
Navy Pier's new wheel will open in Summer 2016, and it's just one of many new changes being introduced as a part of Navy Pier's Centennial Vision.