Niche, an online guide for American neighborhoods and schools, recently shared their 2017 ranking for the best cities to live in America. One particular suburb of Chicago ranked pretty high on the list, and since it frequently ranks high on many similar lists, it may not be surprising which one it is.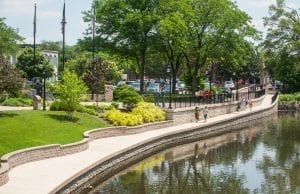 Out of 100 listed cities, Naperville, Illinois was ranked the second best city to live in America. Niche gave Naperville an overall A+ score, resulting from cumulative high rankings in categories such as its public school system, appeal to families, job quality, and diversity. Ann Arbor, Michigan took first place as the best city to live in America. The ranking was based on city data from the. U.S. Census, FBI, BLS, and CDC.
Naperville, considered a small city rather than a town, has a population of 145,058 and a median home value of $379,000. It's relatively quick commute to Chicago makes it an attractive place for families who want to be close to the city.
A current resident and Niche user who gave the city four out of five stars said, "Naperville is a pleasant city, with a decent population size. This town is fairly safe, I never felt afraid walking outside." The resident also complimented the downtown area and its dining options but warned that it tends to be expensive. They also went on to mention that it's primarily geared toward "middle to upper-middle class families" and in regards to youth, "there are great schools but little in the way of anything else for them to do." The resident concluded that, "Overall, it's a decent white-collar area."
Check out all of Naperville's scores by category below:
Overall Niche grade: A+
Public schools: A+
Housing: A-
Good for Families: A+
Crime & Safety: B+
Nightlife: B+
Diversity: A
Jobs: A-
Weather: C+
Cost of Living: C+
Health & Fitness: A
Outdoor Activities: A
Commute: A-