Following a recent garbage fire on the A/B/C/D subway lines on 145th Street on Monday morning, subsequently delaying trains more than two hours and leaving subway platforms a jam packed mess of chaos, the MTA is considering a subway food ban.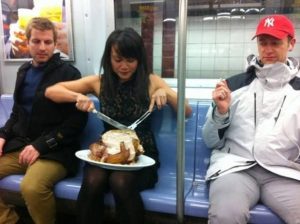 At his press conference on Tuesday, MTA Chair Joe Lhota discussed the possibility of launching an educational program to help riders determine which foods were "appropriate." This potential program however will have to wait until the agency completes its 30-day report, which was requested by Governor Andrew Cuomo after declaring a State of Emergency for the MTA back in June. "We're drafting it right now," said Lhota. "And there have been a lot of recommendations about what foods are appropriate, what foods are not."
Preventing New Yorkers from eating during their commute will not be an easy task, and Mayor Bill de Blasio is not in favor of this proposal. "From 1979 to 1999, I did not own a car and almost exclusively got around by subway," said de Blasio. "It would have been in those years inconceivable not to be able to eat on the subway."
Lhota's recent stance conflicts with his opposition of a subway food ban back in 2012. This bill was introduced by State Senator Bill Perkins and would impose a $250 fine for violators. "I do not support the bill. It severely hurts and impacts minority communities," said Lhota. "I don't want to deny the kid the only time that day he's going to get food."
Despite there being 698 track fires since last July, 844 train delays since April due to these fires (accounting for only 1.1% of delays), Lhota believes the MTA has made strides in the right direction in keeping the subway system clean. According to the MTA, there were 5,800 in 1981, a considerable difference. "The goal is no fires, plain and simple," said Lhota.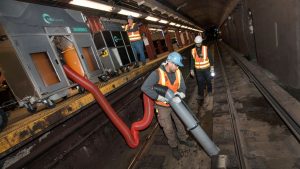 To continue their efforts to reduce track fires, the MTA announced its continued investment by ordering 12 more of their initial two prototype portable vacuums which they introduced in January. The "Vakmobile" is easy to transport from station to station, allowing them to clean the tracks more efficiently and effortlessly.
If this potential ban is implemented, NYC wouldn't be the first place to do so. Eating on the train is illegal in Chicago, San Francisco, DC, and Washington. According to the Sound Transit website, the rules are clear: shirts and shoes at all times, don't harass other riders, do not lie down or place feet on seats, and music with headphones only. We have all seen these happen riding MTA more than once and let's just say some New Yorkers wouldn't survive in Washington.