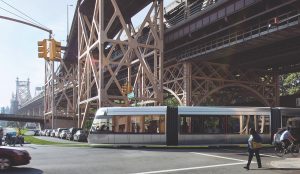 The MTA expects to have a contactless payment system by summer 2018 but that doesn't seem realistic according to Chris Adams and the statement he made in the NY Daily News.
MTA's plan is to have their new system up and running by summer 2018, but an advising engineer says to expect delays in that process. Adams mentioned that the initial release date for the contactless payment for trains and buses "may not be met," according to the NY Daily News.
However, here are some other plans that the MTA expects to at least start or have in production during 2018 and beyond:
Dockless Bike Share: This bike share program is expected to drop either in the summer or fall of 2018 to help fill the void that Citibike service does not cover. These dockless bikes will rely on a smartphone app, not to secure parking space but to locate, lock, and unlock bicycles.
Subway Action Plan Continues: This two-phased blueprint will include plenty of well-deserved updates to the subway system that's overdue for a modern upgrade. The real conundrum is finding a way to afford all these upgrades without having another fare hike.
New NYC Ferry Routes: For those who ride the ferry, we've got good news for you. There will be extended ferry routes on the Lower East Side and Soundview. Each service will run from 6:30am to 10pm, however, the schedules may change based on the season. There are also 20 new ships expected to be built in 2018.
BQX Streetcar: Nothing will be completed yet, but expect to hear more about this project that will connect Sunset Park, Brooklyn to Astoria, Queens and serve about 405,000 residents, according to the NYC Economic Development Corporation and the Department of Transportation.
What do you think about these proposed changes the MTA has planned?