As warmer weather slowly emerges, we're all getting excited about the best part of summer in Chicago: live music. What better way to kick off a summer outdoors than attending a few concerts, festivals or shows to hold you over until the height of the summer season starts? There are plenty of big and small concerts to attend in Chicago throughout May. Grab a few drinks, good food, and get ready to enjoy live music the way it's supposed to be—up close. 
1106 W Lawrence Ave, Chicago, IL 60640
To kick off the concerts we're excited about, we have rapper mike. at the Aragon Ballroom on May 2nd. This 33-year-old Rhode Island Native is coming to us on his "Not My First Rodeo" North American tour. Playing at the iconic Aragon Ballroom in Uptown, this concert is sure to have an awesome atmosphere and great atmosphere, all under the stars at Aragon. You can get tickets here, but be quick! This show is going fast. 
1901 W Madison St, Chicago, IL 60612
Justin Bieber is returning to the Madhouse on Madison on May 9th. His Justice World Tour has brought him all over the US so far, and will expand globally this summer. If you haven't seen Bieber in concert before, his shows are full-energy and full of screaming fans. While tickets for his shows are a bit more expensive, you're sure to have a great time dancing the night away to classic JB like "One Time", as well as his more recent hits like "Peaches". 
329 N Dearborn St, Chicago, IL 60654
The next concert we're looking forward to seeing is young artist Koffee. At only 22-years-old, this Jamaican pop singer is taking the music scene by storm with her original sound and lively beats. This concert in Chicago is at the House of Blues on May 15th. You can be sure that the show will not only be a huge party, but also a more intimate performance with great views from anywhere in the building. New to Koffee's music? Her YouTube profile is full of all her music that you'll be bobbing your head to for hours. 
5940 N Sheridan Rd, Chicago, IL 60660
On the North side in Edgewater, you'll find historic Colvin House. This house was built in 1909 by one of Frank Lloyd Wright's peers, George Maher. Nowadays, Colvin House is home to contemporary workspaces, event spaces, and you guessed it, live music. In the legendary brick courtyard, you'll find intimate concerts all summer long. With mixes of genres like folk, jazz, and classical, Colvin House is the perfect place to dip your toes into the sweet sounds of summer. You can find their full schedule of events here!
May 3 – Fumée

May 10 – Petra Van Nuis and Andy Brown Duo 

May 17 – Lynn Nardelli & Sean McKenzie 

May 31 – Sixto Franco and Shi-An Costello 
1300 S Linn White Dr, Chicago, IL 60605
There is no summer concert venue like Huntington Bank Pavilion at Northerly Island. The smell of the lake breeze, thousands of people screaming along to a song, and your favorite artist on stage. Outdoor concerts are back here, and start on May 27 with Deftones, Gojira, and Poppy. Get ready to rock to some classic alternative and kick off summer with a great night with friends.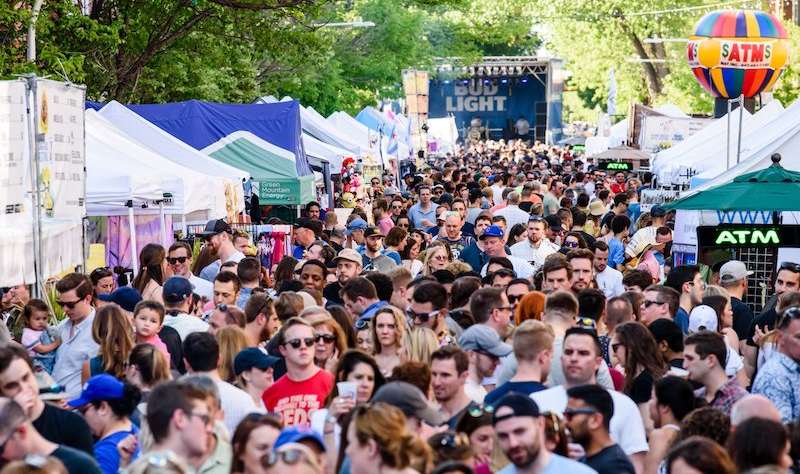 3200 N. Sheffield Ave, Chicago, IL 60657
(On Sheffield from Belmont to Roscoe St.)
On May 28th and 29th, the 36th annual Belmont-Sheffield Music Fest is happening! This two-day concert in Chicago will feature artists like a No Doubt Tribute band, Rod Tuffcurls and the Bench Press, and Trippin Billie. While the entertainment won't stop, you can also find food, beer, and wine, and fun neighborhood acts like two, yes two, drag shows. Head out to Lakeview East to enjoy some great live music and non-stop amusement. 
337 E Randolph St, Chicago, IL 60601
It's hard to believe that Chicago hasn't had a Latin-music festival the size of Sueños before, but this May, Sueños is coming to Chicago! Featuring Latin and Reggaeton artists like Ozuna and J Balvin, this two-day festival is finding a home in Grant Park. General admission tickets are sold out, but VIP tickets are still available. Sueños is the perfect way to round out a May full of concerts, happening the weekend of May 28th and 29th.
Featured Image Credit: Deftones