Contrary to the popular expression, Elvis has not left the building! He's taken up residence at the Marriott Theatre in Million Dollar Quartet and there's a whole lot of shakin' going on now through March 10.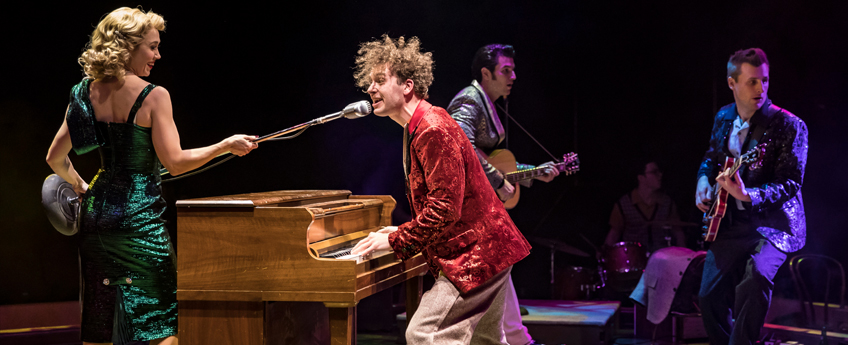 Inspired by a true story, this rockin' tribute captures the high-energy spirit and explosive excitement of this surprising, once-in-a-lifetime event where four of music's most legendary talents came together for one night only. In this intimate setting, the audience actually feels like they're on set at Sun Records in Memphis where Sam Phillips created one of the greatest jam sessions ever. Funny and poignant, Million Dollar Quartet brings this legendary December night to life along with broken promises, secrets, and betrayal.
The musical score features an incredible collection of rock 'n' roll, gospel, R&B, and country greats, performed live onstage by world-class actors and musicians. Hit songs include: "Blue Suede Shoes," "Fever," "Walk the Line," "Sixteen Tons," "Who Do You Love?," "Great Balls of Fire," "Folsom Prison Blues," "Whole Lotta Shakin' Goin' On," "Hound Dog," and more.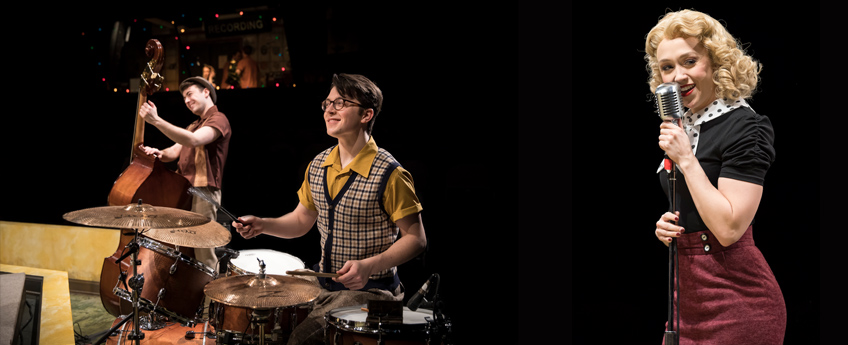 Photo Credit: Liz Lauren 
It's the actors who make the music come alive. Christopher J. Essex stars as Johnny Cash and he's got the moves, the guitar-pickin', and the voice to recreate Cash himself. Elvis Presley is played by Rustin Cole Sailors with verve and innocence. Shaun Whitley is great as Carl Perkins looking for his next big hit. But it's Nat Zegree as Jerry Lee Lewis who steals the show. He's got the piano-playing chops, the energy to hit the keys on top of the piano, and a whole lotta sass. David Folsom is perfect as Sam Philips who recognizes talent when he sees it and Laura Savage is Elvis' singing sensation girlfriend Dyanne.The show is under the expert direction of James Moye, joined by Jeff Award-winning Musical Director Ryan T. Nelson.
For tickets, call The Marriott Theatre Box Office at 847.634.0200 or go to www.ticketmaster.com. Visit www.MarriottTheatre.com for more information.
Featured Image Credit: Liz Lauren, Marriott Theatre Facebook