Presented By BMO Harris Bank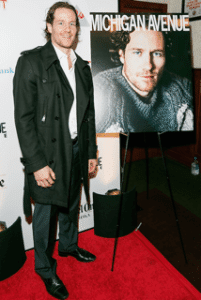 Michigan Avenue magazine President and Publisher Dan Uslan and Editor-in-Chief J.P. Anderson toasted cover star Duncan Keith at the November 2015 issue's release celebration on November 16th at Chicago Cut Steakhouse in Chicago. The event was presented by BMO Harris Bank.
The Stanley Cup-winning Defenseman, who was joined by a who's who of the city, enjoyed celebrating with cocktails by Ketel One Vodka, Coors Light, and Redd's Apple Ale.
Inside the November issue of Michigan Avenue magazine, the Blackhawks defenseman discusses winning the 2015 Stanley Cup on home ice for the first time in 75 years: "That made it really special; our fans deserved it. To be able to win the third one at home in front of our fans was just a surreal moment for everybody. I got some good video on my iPhone, so I always flip back and look at those things—the skating around on the ice, and video of the fans.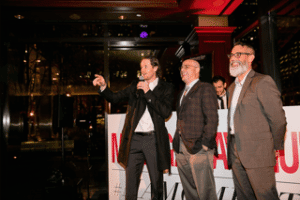 Michigan Avenue Magazine's November Cover Celebration with Duncan Keith presented by BMO Harris Bank at Chicago Cut SteakhouseThe Olympic gold medalist goes on to discuss the Blackhawks chances in the upcoming season: "I like them. I don't think anybody can really count us out. We've got that experience, and we're not going to sit there and just rest on our laurels. We know that every team is going to be hungry to beat us, and that's part of what motivates us—to show teams that we're still the best." To read the full cover story, please visit MichiganAveMag.com.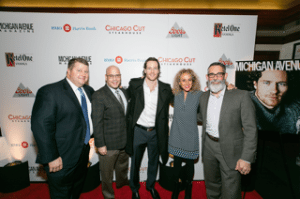 About Michigan Avenue magazine: Michigan Avenue magazine is Chicago's premier luxury lifestyle publication chronicling the renowned people, culture, politics and parties that celebrate Chicago as a world-class city in a glossy, oversized format. From the glistening shores of Lake Michigan to the expansive six-county region that comprises the featured coverage area, Michigan Avenue delivers sophisticated content from an insider's point of view. Michigan Avenue is published by Niche Media Holdings, LLC, publisher of city-specific publications including: Aspen Peak, Austin Way, Boston Common, Capitol File, Gotham, Hamptons, Los Angeles Confidential, Ocean Drive, Philadelphia Style and Vegas magazines. Its custom publishing titles include Art Basel, Wynn, Maison & Objet Miami Beach and The Mall at Short Hills. Through its strategic distribution model and significant investment in verified data from Nielsen Claritas, Niche Media is the only regional, lifestyle publishing company that is guaranteed to reach the sophisticated and affluent audience in each of our cities. Niche Media titles exceed 14,000 pages with a combined annual distribution of 4.6 million copies nationally.
Photo Credit: Jeff Schear/Getty Images for Michigan Avenue Magazine