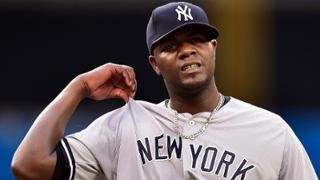 After sustaining a flexor muscle strain and a partial UCL strain in his right elbow, the New York Yankees placed starting pitcher Michael Pineda on the disabled list Friday. Unfortunately for the right hander, this is not the first time he has had to deal with injuries in his career. When the Yankees acquired Pineda in 2012, it was revealed he suffered a labrum tear in his right shoulder – the subject of some controversy regarding whether or not the Seattle Mariners had known of this before the deal went through. He would eventually make his Yankee debut in 2014 against the Toronto Blue Jays. The 28-year-old has also dealt with numerous elbow issues while a member of the Mariners farm system.
The Ball club has suggested that Pineda undergo Tommy John surgery, which could potentially sideline him halfway through the 2018 season, maybe until 2019. This does not bode well for the righty, as it will impact his value on the free agent market where he will be after this season. Pineda will decide his future after he seeks a second opinion from Dr. Timothy Kremchek, who's a Reds Physician. He last saw action on July 5, where he lasted just three innings, giving up nine hits and three home runs, coincidentally enough against the same team he debuted against, the Blue Jays.
Before going down, Pineda led the Yankees in wins (eight) with an 8-4 record and a 4.39 ERA through 17 starts. He is currently 40-41 record in his career, 31-31 as a Yankee. With this latest injury, this puts the rotation of the struggling Yankees in a difficult situation. Currently sitting in third place in the AL East with a 46-42 record, the Bronx bombers are expected to pursue pitchers like the Oakland Athletics Ace Sonny Gray.
The acquisition of the 27-year-old right hander is dependent on how much the Yankees are willing to give up. Gray's price tag may be too high for the Yankees according to Jon Heyman of FanRag sports, who claims the Yankees are reluctant to part ways with some of their best prospects, Clint Frazier, Gleyber Torres, and Justus Sheffield. Gray is currently 5-4 and 3.72 ERA in 14 starts for the Athletics who are in last place in the AL West (41-50).
Image Credits: MLB.com
Follow UrbanMatter New York on Facebook and Twitter for daily updates on local events and news.