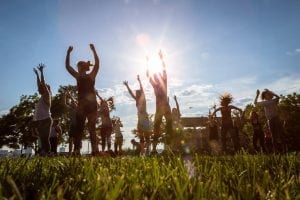 After the long winter that seemed to never end, summer is finally among us! That means it's time to get out, and get in shape.
Head to the Meatpacking District and join The Wellth Collective for fun fitness classes al fresco! A fun variety of 45 minute workout sessions will take place ranging from yoga, dance cardio, bootcamp, pilates, boxing, and more.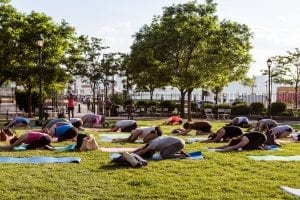 The fitness series includes three free sessions. Classes take place every Tuesday evening at 6pm, 7pm, and 8pm throughout the summer from May 9 – August 29. Each class will be held outside at the Hudson River Park's 14th Street Park, located on 10th Avenue between 14th and 15th Street. To sign up for sessions, click here.
Equipment will be provided if necessary, but proper athletic attire must be worn. Different class types occur every hour and workouts vary from week to week. After select workouts, cool down and socialize with complimentary food and drinks from local vendors. Cool down sessions will be held at various locations throughout the Meatpacking District from 6:45pm to 9:30pm. For information on when and where these events take place, visit the official Sweat Session website.
About The Meatpacking District and The Wellth Co.
The Meatpacking District is a non-profit organization business alliance which supports the neighborhood by keeping it clean, safe, and exciting for visitors and locals. They run an array of programs to support the neighborhood's diverse culture and encourage tourism.
http://www.meatpacking-district.com/
The Wellth Co. is a fitness and health organization that aims to connect active people to like-minded brands by offering campaigns and wellness experiences within various communities and inspiring locations. The Wellth Co.'s mission is to help others realize their individual definition of health.
All Images Courtesy of Ethan Covey for Meatpacking District
Follow UrbanMatter New York on Facebook and Twitter for daily updates on local events and news.