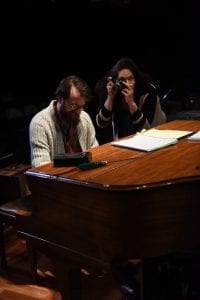 Fans of Stephen Sondheim's work will delight in Porchlight Music Theatre's production of this rarely-performed musical, now through May 21. The last mainstage production in their 2016 – 2017 season, Marry Me a Little, stars the multi-talented Austin Cook and Bethany Thomas with music and lyrics by Stephen Sondheim.
The story is a traditional boy meets girl, boy woos girl, they fall in love…and well, we won't give away the ending. Marry Me a Little breathes new theatrical life and meaning into a collection of songs that were culled from the final productions of Sondheim favorite's Anyone Can Whistle, Follies, Company, A Funny Thing Happened on the Way to the Forum, and A Little Night Music.
The music is glorious and the two main characters are perfect as lonely urban singles, each alone in their apartments in the same building, their lives filled with emptiness and yearning. All told in song, the music causes them to fall in love with "So Many People," "The Girls of Summer," "All Things Bright and Beautiful," "There Won't Be Trumpets," "Can That Boy Foxtrot," "Bang!," "Your Eyes Are Blue," "It Wasn't Meant to Happen" and "A Moment with You."
The two-person cast of Marry Me a Little includes Austin Cook as "The Man" and Bethany Thomas as "The Woman." Cook, who is also the music director for Porchlight, is an amazing pianist as he rolls through everything from classical to Sondheim, showing his passion and anger, all at the same time. Thomas is an outstanding performer and one can only imagine her singing the blues at other clubs. Don't miss this one!
Performances are Thursdays at 7:30pm, Fridays at 8pm, Saturdays at 4pm and 8pm, and Sundays at 2pm. All performances take place at Stage 773, at 1225 West Belmont Avenue. Tickets to Marry Me a Little are $38 – $51 and are available at PorchlightMusicTheatre.org or by calling the Stage 773 box office, 773.327.5252.