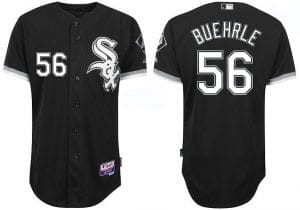 In a recent announcement from the White Sox, former pitcher Mark Buehrle will soon receive a legendary honor, as the team has decided to retire his number 56.
The team will celebrate the honor with a ceremony held on June 24, taking place before a game against the Oakland Athletics.
This decision has been made due to Buehrle's impressive run with the Sox since he began his Major League Baseball career in 2000, achieving multiple records during that time. The starting pitcher from St. Charles, Missouri, who's also known for being a southpaw, was the first in over a century to win a game after seven runs in the first inning. He has played in the 2002, 2005, and 2009 All-Star Games, and of course, played in the World Series Championship in 2005. He was even honored with his own local holiday, after former Governor Pat Quinn named July 30 as Mark Buehrle Day in 2009.
"Mark carried himself with class and professionalism throughout his career, and his popularity with staff, teammates and Sox fans is very well deserved," said White Sox Chairman Jerry Reinsdorf.
Buehrle pitched for the White Sox until 2011, after which he played for the Miami Marlins in 2012, then was traded to the Toronto Blue Jays in 2013. He is currently a free agent. He's certainly one of the most memorable athletes in Chicago sports history.
Featured Image Credit: Windy City Tribune Sports Blog