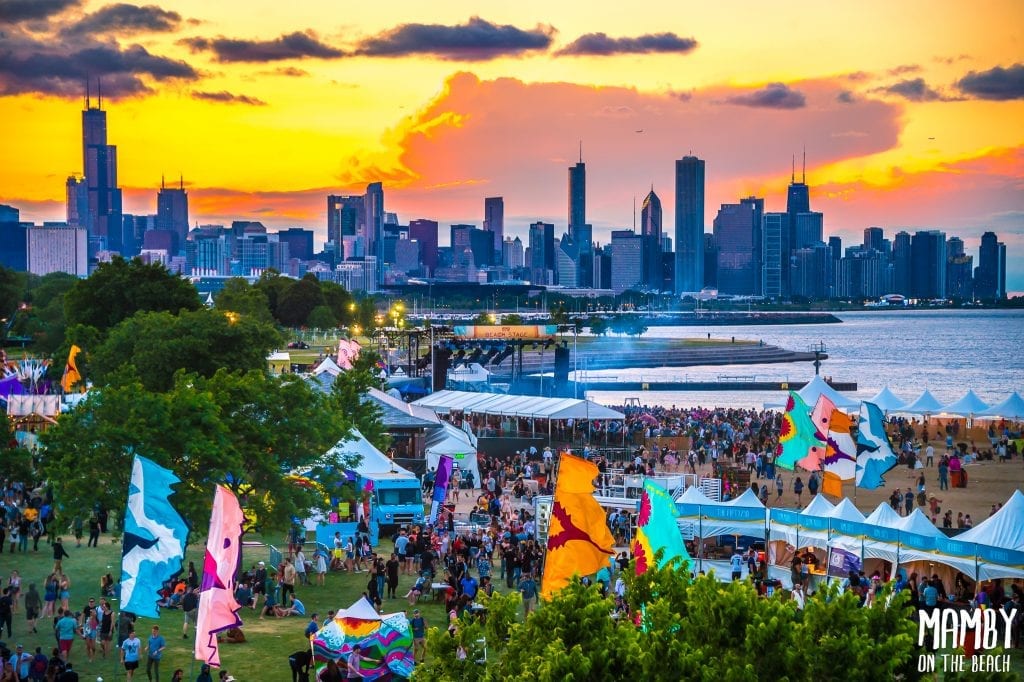 Chicago in the summertime is truly the best of many worlds. You've got a fine, world-class city made of beautiful, steel structures, gorgeous parks interspersed within that serve as urban sanctuaries, and just to the east, sandy beaches that are often just as inviting as those in warmer climates.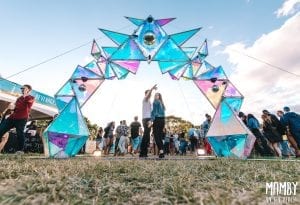 Mamby on the Beach is more than inviting. It practically feels like vacation. This past weekend's comfortable temperatures and clear skies, combined with killer skyline views and an infectious festival spirit made for the perfect mid-June event.
Amongst a crowd dressed and made up in colors that spanned the entire spectrum, we were greeted with breezy decorations, activities taking place around us such as yoga and tarot readings, and private tents made of ornately designed tapestries, upon entering the festival. Other activities found around the beach were games of sandy volleyball, silent disco parties, henna stations, and public displays of art as live artists created them.
Food and Drinks at Mamby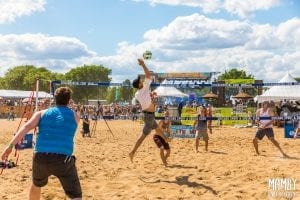 Beverage options didn't disappoint, with bar tents offering cans of Monaco vodka or tequila cocktails, flavors of Mike's Harder, red and white wine selections, and of course, Pacifico and Corona, of which the latter seemed like the perfect choice. You know, having "found our beach," and all. A Jim Beam Apple bar at the edge of the beach served up special mixed drinks and looked to be a particularly hot spot.
For a slightly smaller fest, we were really impressed with the food options. Tents featured included Wow Bao, Doom Street Eats, Bacci, Leghorn Chicken, Wooden Paddle Pizza, Corndog Inc, Rome's Joy Catering, Fresh & Jive, Quang Noodle, Porkchop, Laine's Bake Shop, and The Fifty/50. Food trucks on-site included Bearclaw Coffee Truck, Harolds Chicken Truck, GypsySoul Kitchen Truck, Kate & Jan Hot Dogs Truck, and Bill's Grill Truck.
Day One Music Highlights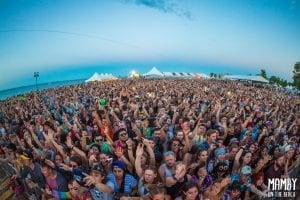 Onto the music. We were pretty excited to see OddCouple, one of our favorite local DJs who plays many popular events and venues in the city, and enjoyed his fun, upbeat mixes of popular hip-hop and pop music. Shaed was another group that stood out, with the light and airy voice of their female vocalist upheld with chill, electronic beats. Of course, Miike Snow's set was the right kind of bombastic for a festival, and a prime choice for getting your body moving. Although we hadn't heard them previously, Misterwives was one of the final groups we saw, and were pleasantly surprised by their eclectic set list of indie pop tunes.
Day Two Music Highlights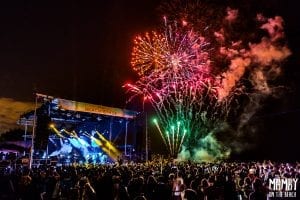 Day two of Mamby was our personal favorite, and the featured artists set the mood for the ultimate Sunday Fun-day. One particularly memorable set was Klingande, who turned the beach into a club with mixes of 90s house jams and current pop hits. Thundercat had the audience captivated by their unique brand of funk and soul, and even more so by the speed of bassist Stephen Bruner's fingers. Soon after, Todd Terje & The Olsens had the crowd jamming to their disco-like beats. Finally, headliner Flying Lotus wrapped up the night with mixes that spanned his entire, diverse career, brought to life with abstract and fittingly absurd visuals. We were more than happy to watch him play an encore.
In a saturated market of large-scale music festivals, with some of the most prominent known for being bombarded by uncomfortable, sometimes unpleasant crowds, Mamby on the Beach is a breath of fresh lakeshore air. It's just the right size, it's got just the right vibe, and of course, it's in just the right city.