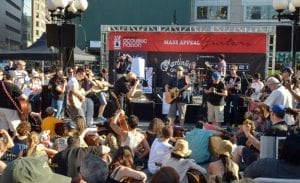 Street performers are a summer staple in big cities. If you've ever been to a major city in the summer, it's likely that you've stopped to Snapchat a street artist or two. There are some amazing artists who started their careers as buskers, like Ed Sheeran, Tracy Chapman, Rod Stewart, Passenger, and many more. It goes without saying that humans are talented and sometimes in the beginning, it's all about getting noticed.
On June 21, there's an opportunity to see undiscovered talent all across the five boroughs of New York. The daylong event is called Make Music New York, where musicians of all ages can register to gather in public spaces and hold concerts. This year, there's expected to be over 1,000 free concerts throughout public spaces in the city. Entering into its 11th year, Make Music New York intends to hold the biggest music event to meet the Metro New York area ever. Featured all over the city will be bands and lone musicians doing what they love all day. Artists will pack sidewalks, alleys, parks, cemeteries, streets, and plazas, to ensure that New York is booming all day long.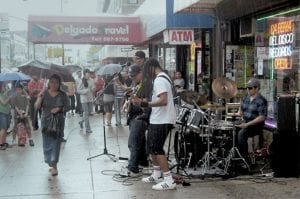 There will also be Mass Appeal concerts throughout the day. These concerts are breathtaking because they bring all types of people together to play a concert. At these venues, musicians of all skill levels can show up with their instrument and contribute to some of the most beautiful music heard in the city.
Whether you're making your commute to work or you're a tourist trying to navigate the hustle and bustle in the summer heat, your daily frustrations will melt away for a moment when you walk past a public space and see a 12-year-old playing an acoustic version of "Happy" by Pharrell. Make Music New York will at least bring a smile to your face and boost your spirits for one day. This event is sure to have music echoing from skyscraper to skyscraper all day.
Register to perform at:
http://www.makemusicny.org/
Follow UrbanMatter New York on Facebook and Twitter for daily updates on local events and news.