Chance's gift to a crowd of Angels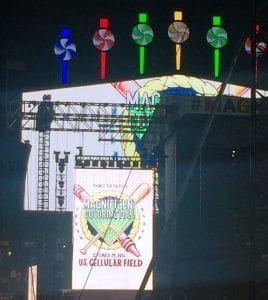 Chance the Rapper is proud to be from Chicago. In organizing the first festival at US Cellular Field, and breaking the attendance record there to boot, the 23-year-old showed love to his hometown. Chance's Magnificent Coloring Day (as the fest was called), promised an eclectic mix of performers. Special guest Hannibal Buress said himself, the line-up was as if Chance put his playlist on shuffle and then just went with it. The show presented great music, many surprises, and loads of inspiration.
The show got moving with Tyler the Creator's provocative and inflammatory set. He was entertaining in his oddball way, but throughout he acted as though he didn't want to be there, saying he was tired and asking more than once how much time he had left. So when the audio was cut while he was still performing, it seemed like the crew finally had enough. This, in addition to Young Thug being bumped from the line-up, made things seem out of sorts…but then there was a collective scream from right field.
It was the kind of scream the Beatles were used to. Then a beat dropped and Yeezy himself, Kanye West, walked out. Seeing as Kanye had a show in Nashville the same day, it seemed unlikely that he would make an appearance – but there he was. The collective freak-out of the crowd was atmospheric. People of all ages rushed closer, fans stood six deep on top of the White Sox dugout and security could do nothing about it.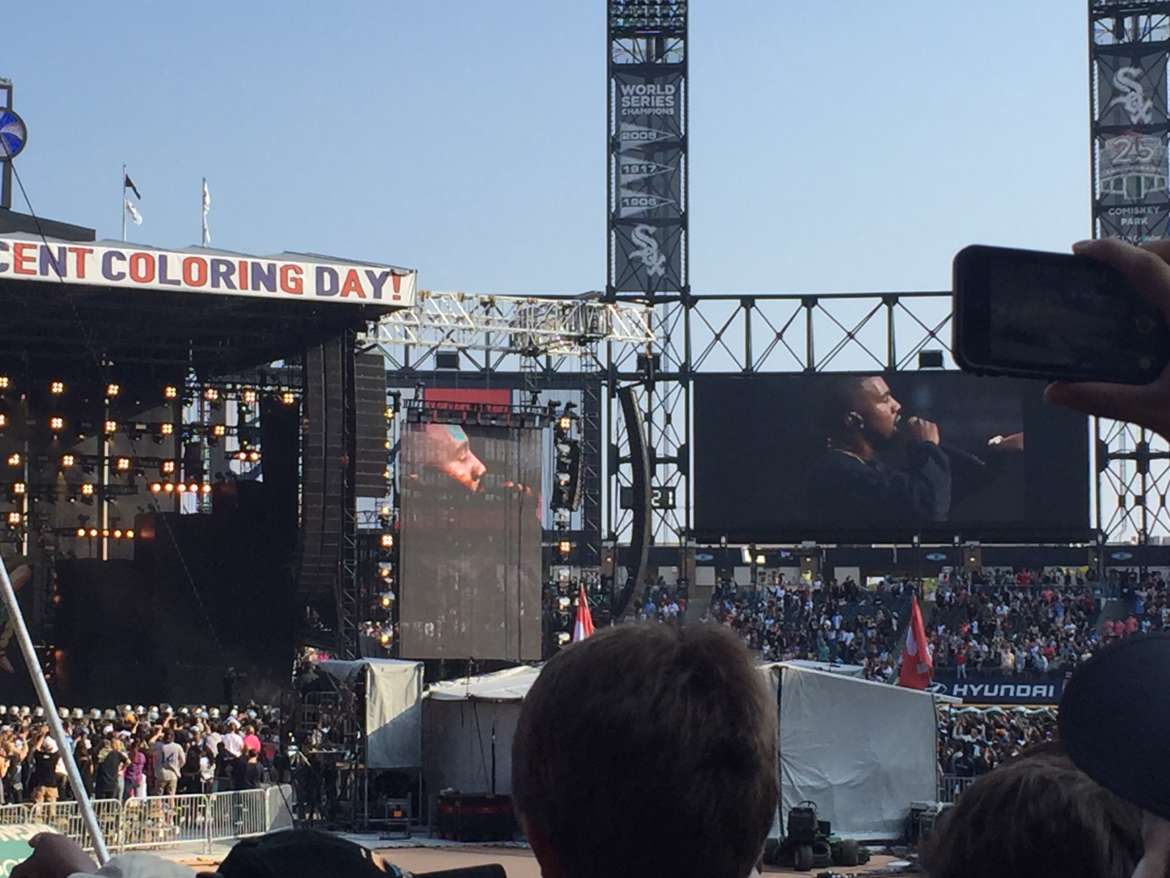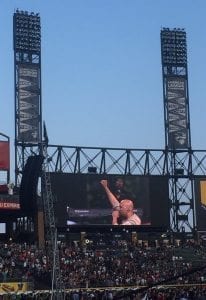 West performed for about 25 minutes but crammed in a bunch of his hits, including "Gold Digger," "Black Skinhead," and "Touch the Sky" among others. For the last song, Chance joined him and together they performed "Ultralight Beam." Seeing Kanye and Chance together was a rare treat for the crowd. It was the absolute highlight of the day and a true moment in music history.
How do you follow a surprise performance by Kanye West? Well, the perfect solution is to smooth things out with John Legend. Legend's set contained lively hits as well as romantic piano ballads, with the audience grooving along the whole time. Then another one of Chicago's MCs surprised the crowd as Common joined Legend to perform the Academy Award-winning song "Glory." The emotional song was very poignant in this time of political unrest. Common and Legend had everyone's fist in the air in memory of victims of violence.
After the seriousness of that performance, it was time to let loose and get a little nutty with 2 Chainz and Lil Wayne. They worked the crowd into a lather with their rattle-your-bones beats. The two rappers traded rhymes all night in a super high energy performance that even had the ushers dancing in the aisles.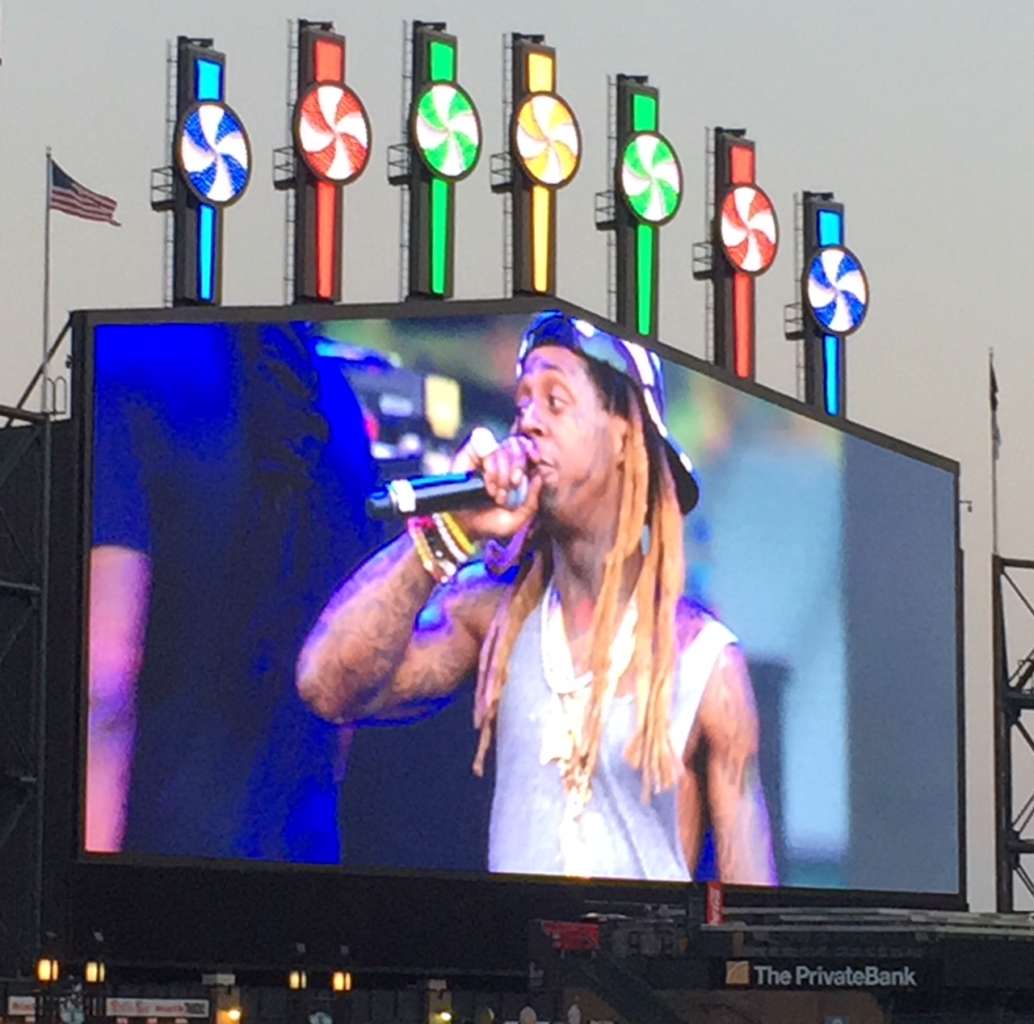 Alicia Keys took the stage next to sing her heart out. She delivered hit after hit, with the crowd singing along to every lyric. Keys' mega-hit "Fallin" was stripped down into a slower, jazzy, artful version that melted everyone's hearts. Keys' performance was surprisingly the best of the night – which was full of great performances and talented artists.
Then it was Chance the Rapper's turn to show why he has "Stadium Status." And his skills were on full display. He opened with "Angels" and "Blessings" and then, in a nod to the child-like Magnificent Coloring Day theme, was joined on stage by a talking puppet lion he called "Carlos," who guided Chance and the audience, through each of Chance's songs. The over-arching lesson was to keep the positive things from past going, which to Chance would be family, hometown, religion, and music. The lion wasn't the only puppet to join Chance on stage, there was an ex-girlfriend puppet that Chance sang to during "Same Drugs" and a gospel choir of puppets that backed Chance during numerous other songs. Chance's inspirational set ended with Chance asking the crowd, "Are you ready for your blessing?" And then promising, "It's coming."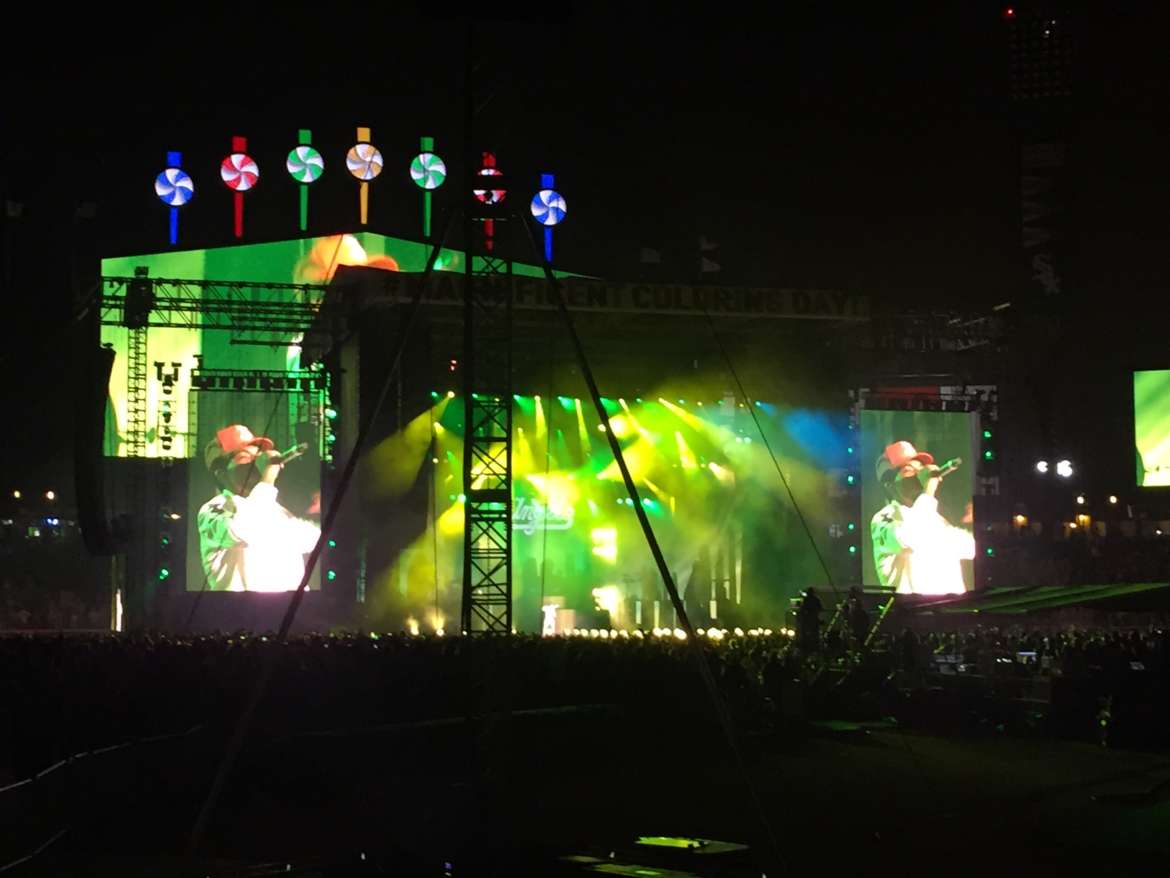 To show how humble Chance is, he didn't even put himself last at this own festival. That honor went to the EDM giant Skrillex, who came on to bring the audience home with a full-on assault on all five senses. The beats, the sounds, the visuals all came together to give the audience a euphoric feeling. The audience danced the night away until it was time to head out.
In planning the Magnificent Coloring Day, Chance the Rapper sought to inspire his hometown where violence and hopelessness seem to dominate all too often. Chance's Magnificent Coloring Day, set on the South Side of Chicago, with a great mix of performers and an inspirational message, showed that there is hope in our city. If the 23-year-old represents the future, Chicago will be all right. Our blessing is coming.