The Mac Attack is Back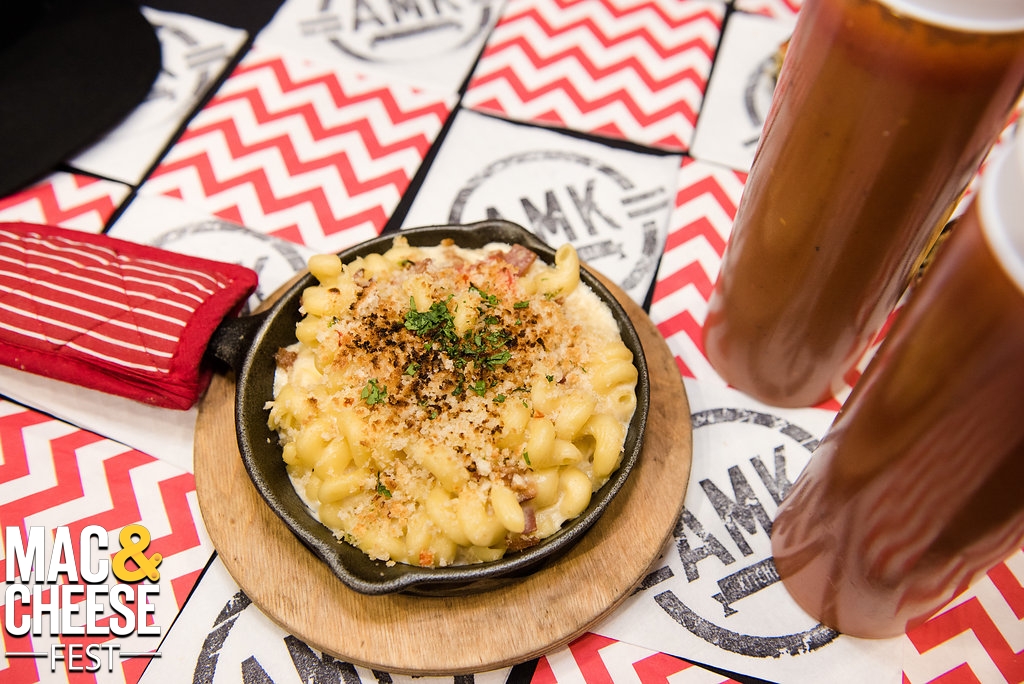 A festival for mac and cheese? 'Nuff said.
The all-American comfort food that's scarfed down by boys and girls of every age is getting its very own party. Heat it from a box, cook it on the stove, enjoy it baked in a cast-iron skillet with fancy accouterments. However you have it, it's perfect.
Bringing out over 4,000 attendees last year, it's obvious that this fest is a hit. We'd bet they'll bring out even more for this year's return on November 5.
Which lucky chef will take home the prestigious Golden Noodle award? You'll have to go to find out. Here's everything you need to know about Mac and Cheese Fest.
Where It's At
Mac and Cheese Fest is taking place at the UIC Forum at 725 West Roosevelt Road, near the Tri-Taylor/University Village area just south of downtown. It's conveniently located right off of the 90/94 expressway, and there is a parking lot called LOT 5 on Morgan Street that offers $10 all day parking. If you're taking the CTA, the station at Halsted & Roosevelt is within blocks of the venue.
Entry Rules
If you're planning on attending, there are two available ticket options: general admission and VIP. Both tickets grant you all you can eat, five drink tickets, and a vote for the best mac and cheese dish, but the VIP ticket also offers priority check-in, an official festival t-shirt, and access to the VIP section. General admission tickets are on sale for $65 and VIP tickets are going for $105.
A ticket only grants entry to the session that's indicated when you purchase, and you must bring a printed version or show it on your mobile device to enter. Make sure to bring a valid ID if you're 21 and over and plan to sample drinks. We all know kids love mac and cheese too, so youngsters 10 and older may attend. There will also be an ATM on-site, if needed.
What to Do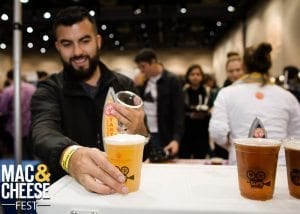 Eat a never-ending supply of mac and cheese in any style imaginable! We can guarantee that the chefs on deck are going to dial up the creativity factor. Although many of the chefs' dishes will remain a secret until the day of, a few known items on the menu including Breakfast Mac, Jerk Mac and Cheese, and Cajun Shrimp Mac Daddy are enough to excite your taste buds. Although the fest can't guarantee the availability of gluten-free or vegan options, vegetarian dishes are almost always offered and are indicated at the booth with a yellow bow. Samples will be shared in 2-ounce sizes and it's all you can handle with no takeout allowed, so you should come in hungry. Better yet, starving.
If you weren't convinced already that this fest is paradise, the variety of beer, wine, and spirits to pair with your cheesy noodles should win you over. It should be noted, however, the alcohol service will end 30-minutes before each session ends.
Restaurant Lineup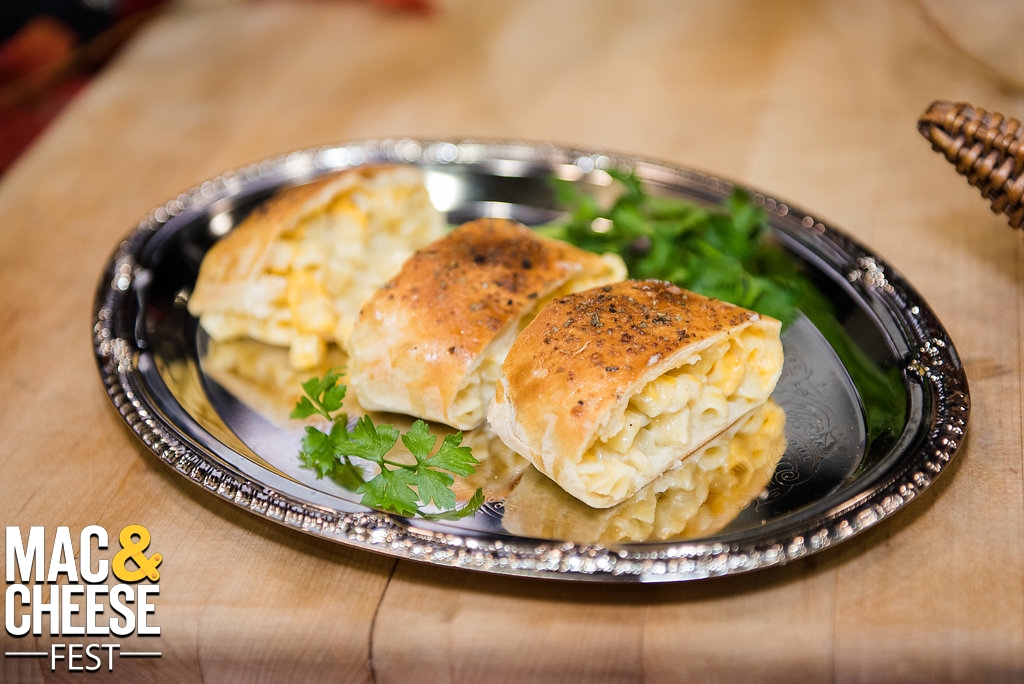 Lunch Session (12pm – 3pm)
10pin Bowling Lounge, AMK Kitchen Bar, Auntie Vee's, Bar Pastoral, Blackfinn Ameripub, BourBonQue, Bridget McNeill's, Calzone & Macaroni Co., Carnivale, Chuck's Southern Comforts Cafe, Cindy's at Chicago Athletic Association, Creative Concepts, Dimo's Pizza, Dine Restaurant, Famous Dave's BBQ, Fiesta Mexicana Restaurants, Gene & Georgetti's, Goddess and Grocer, Hops & Curds, Jake Melnick's Corner Tap, Jerk. Modern Jamaican Grill, Kinzie Chophouse, Kitty O'Shea's at the Hilton Chicago, Le Bouchon, Louie's Chophouse, Mercadito Chicago, Mity Nice Bar & Grill, Morton's the Steakhouse, N'awlins Edibles, Nix's at Millennium Knickerbocker Hotel, Noodles & Company, Old Town Pour House, Orso's Restaurant, Parkers' Restaurant & Bar, Pinstripes, Public House, Real Urban Barbecue, Redstone American Grill, Rosebud Restaurants, South Water Kitchen, Taco in a Bag, Cotton Duck, The Hampton Social, The Monkey's Paw, The Ogden, Whisk, Wild Monk, Wise Owl Drinkery & Cookhouse, Zed451
Dinner Session (6pm – 9pm)
10pin Bowling Lounge, III Forks, 676 Restaurant & Bar, 720 Bar at the Hilton Chicago, Amazing Edibles, Auntie Vee's, Bar Pastoral, Calzone & Macaroni Co., Chuck's Southern Comforts Cafe, Chop Chicago, Cindy's at Chicago Athletic Association, Cobra Lounge, Devon Seafood Grill, Dimo's Pizza, Famous Dave's BBQ, Filini Bar & Restaurant at Radisson Blu, Freestyle Food & Drink, Fremont Chicago, For the Win Chicago, Gene & Georgetti's, Harvest Room, Knife & Tine, N'awlins Edibles, Pierrot Gourmet at the Peninsula, Porkchop, Q-BBQ, Rudy's Bar & Grille, State & Lake Chicago Tavern, Sunda, The Dearborn, The Florentine, The Vig, Washburne Culinary Institute, Warren's Ale House, Wise Owl Drinkery & Cookhouse