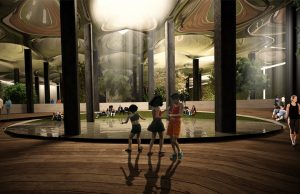 In a matter of a few years, New York City will host one of the world's most innovative attractions. In a groundbreaking take on uniting natural habitats with busy, urban environments, the world's first underground park will be constructed underneath the city's Lower East Side.
It all starts with the Williamsburg Bridge Terminal Trolley. Largely overlooked by the city's vast majority, this one-acre, abandoned terminal below Delancey Street has gone unused since 1948. To this day, the subterranean space still has the cobblestone and tracks that lined it during its time of operation. Now, it's destined to become much more. Not only is this a perfect space for planting the seeds of an unprecedented oasis, it's also a chance to resurrect its history.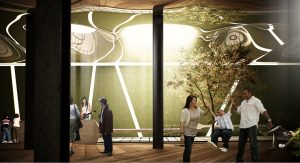 And then there was light. Designer James Ramsay's ingenious technology for bringing his vision to life involves "remote skylight" – a method of sourcing sunlight reflected through a glass shield from a parabolic collector, where it is gathered and focused underground. The technology is controlled so that proper wavelengths are transmitted to allow for photosynthesis. Even better? It's an energy saver. During the day, no electricity is needed for the facility.
Thus, the foundation for the Lowline was born. However, such a unique concept needed a trial-run. In 2012, a lab prototype was constructed in a warehouse on the Lower East Side, where visitors were invited to witness the technology and experience the wonder. This period of experimentation proved to be successful – and wildly popular.
The final step: making the project a reality. The lab closed early this year to make way for the real thing. The plan has been approved by the city, now we're just waiting on next steps. No matter when it happens, the benefits of it are evident. With expectations of improving the local economy, endless opportunities for activities, and successful programs like recruiting young designers for ideas, it's obvious that this is a project for the community. This will be a futuristic form of escape unlike any other.
The Lowline is anticipated to open in 2021. To learn more, check out the video below.

The Science and Magic of the Lowline from The Lowline on Vimeo.
Featured Image Credit: am New York