Lollapalooza 2017 Recap
Chicago's biggest festival celebrated it's 26th year in Grant Park last weekend.
Spoiler alert: It was better than ever.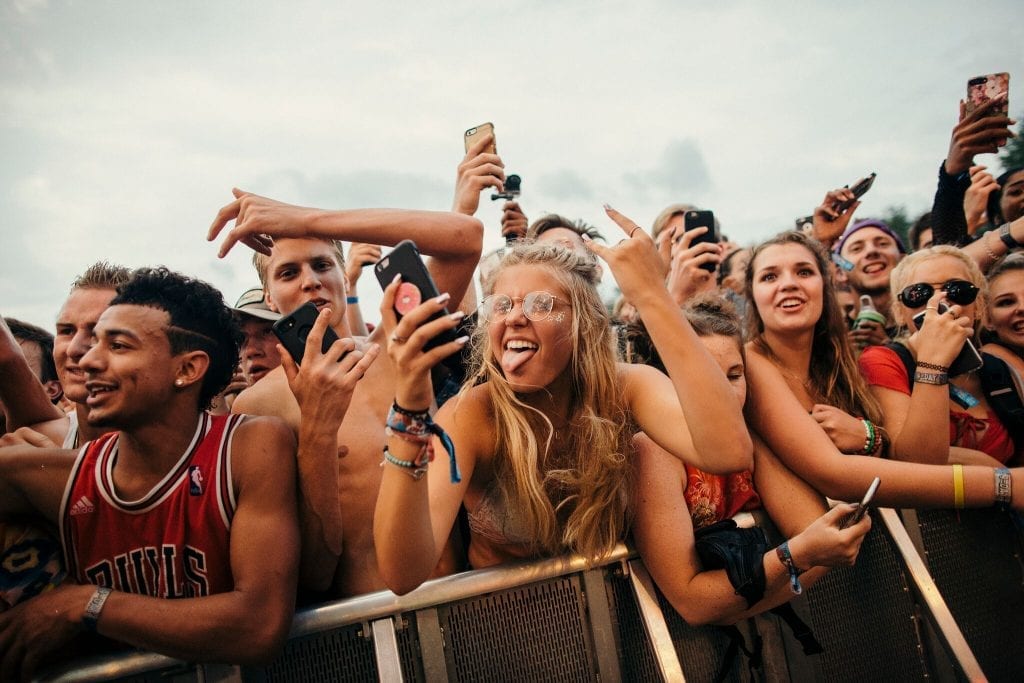 When Lollapalooza announced the 2017 lineup back in March, we knew we HAD to be there. After introducing four days last summer, we couldn't wait to spend another four in Grant Park this year. With headliners like Blink 182, Lorde and Chance The Rapper, we knew that this year's edition would stack up with the rest. Not only were the headliners unbelievable, but each day was filled with awesome sets that kept us pumped up and ready for the next.
We attended the festival Thursday through Sunday so that we could come back with a full report and, as you would expect, it was unforgettable.
Here is our complete breakdown from start to finish:
Thursday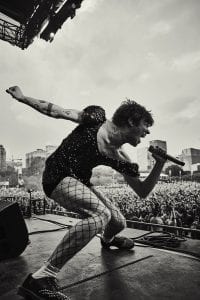 Opening day was a big surprise for festivalgoers, and we're not just talking about the storm that evacuated the entire park. Lollapalooza surprised everyone with a Rock & Rollers skating rink and arcade near Perry's stage. The arcade was a great way to enjoy time in-between sets and featured classic games like Pacman, Donkey Kong and Mario Bros.
Lollapalooza also decided to upgrade their Porta-Potties. TMI? Just a toilet? NO. These things were deluxe compared to the outhouses you see on a regular basis. They even flushed! We'll spare you the photos, but trust us, they were awesome.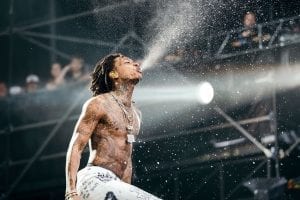 We started off Thursday night with Migos at the Bud Light stage. Even though they were a half hour late due to a flight delay, everyone swarmed the stage when they finally arrived. It was a little Bad and Boujee, but they played fan favorites and did an amazing job pumping up the crowd.
After that, we made our way to Cage the Elephant at the Grant Park stage. Lead vocalist Matt Shultz came out wearing a purple shimmery dress and tights, stating that he wanted to look 'pretty' for everyone. And pretty he was. They played fan favorites "Trouble" and "Aint No Rest For the Wicked."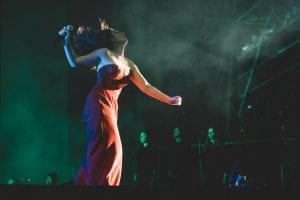 We made our way to the Bud Light stage to catch the rest of Wiz Khalifa's set, where he performed hits like "Black and Yellow" and "Roll Up." He even surprised everyone by bringing Ty Dolla $ign on stage.
The beginning of Lorde's performance was unreal. It started pouring rain right before her set and instead of delaying her performance, she came out and embraced the creepy weather.  "Everywhere we've been going we've been getting crazy weather," she said. "I think it's because we're going to conjure some spirits, Lollapalooza." Unfortunately, the show stopped short while she was performing due to the weather and the entire park was evacuated.
Friday
With only a few scattered showers, the weather for day two was better than the previous night.
We started off our Friday night at the Bud Light stage for Foster the People, jamming along to their hits "Pumped Up Kicks" and other songs from their new album, Sacred Hearts Club. After that, we had a very tough decision to make: Blink 182 or The Killers? WHY DID THEY DO THIS TO US?
We decided to head to the Grant Park stage for The Killers and it was a performance to remember. The crowd went wild with popular songs like "When You Were Young" and "Read My Mind." We also felt extremely nostalgic when they performed hits from their popular album from 2004, Hot Fuss.
Saturday
It was finally a beautiful day and we didn't have to worry about ponchos or muddy sets. Speaking of beautiful, we started off our night with Vance Joy at the Bud Light stage. His hit singles "Riptide" and "Georgia" charmed the audience and brought a mellow vibe to the festival.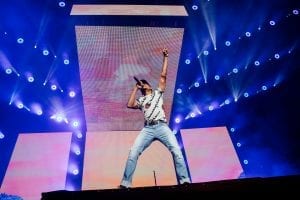 After Vance Joy, we hit Chow Town for some food. We knew we wanted pizza, so we headed over to Connie's to grab a slice and it was more than enough fuel to get us through the rest of the night. Chow Town also featured booths from Chubby Wieners, County BBQ, Harold's Chicken and more!
As you can probably guess, the crowd for Chance was MASSIVE. Chicago's most celebrated artist brought fireworks, a water hose and a motorbike, which he rode across the stage before jumping off and letting it slide into an explosion of fireworks. During all the excitement, Chance performed "Mixtape" and was constantly shifting gears to gospel music like "Blessings" and "Sunday Candy." He even brought Vic Mensa out for "Cocoa Butter Kisses." It was a great way to end the night.
Sunday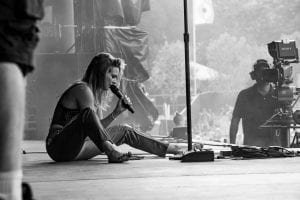 We started off our last hoorah at the Grant Park stage for Tove Lo and it was a full house. In true Tove Lo fashion, she flashed the audience during her empowering, dance-friendly set, and when she performed "Talking Bodies" the crowd went wild.
Our favorite part of the night was Arcade Fire's set at the Grant Park stage. Singer Win Butler and his wife Regine Chassagne led their multi-instrumental crew through a performance with songs from their new album, Everything Now. Of course, they performed some of the other music from their 14 years in the business too.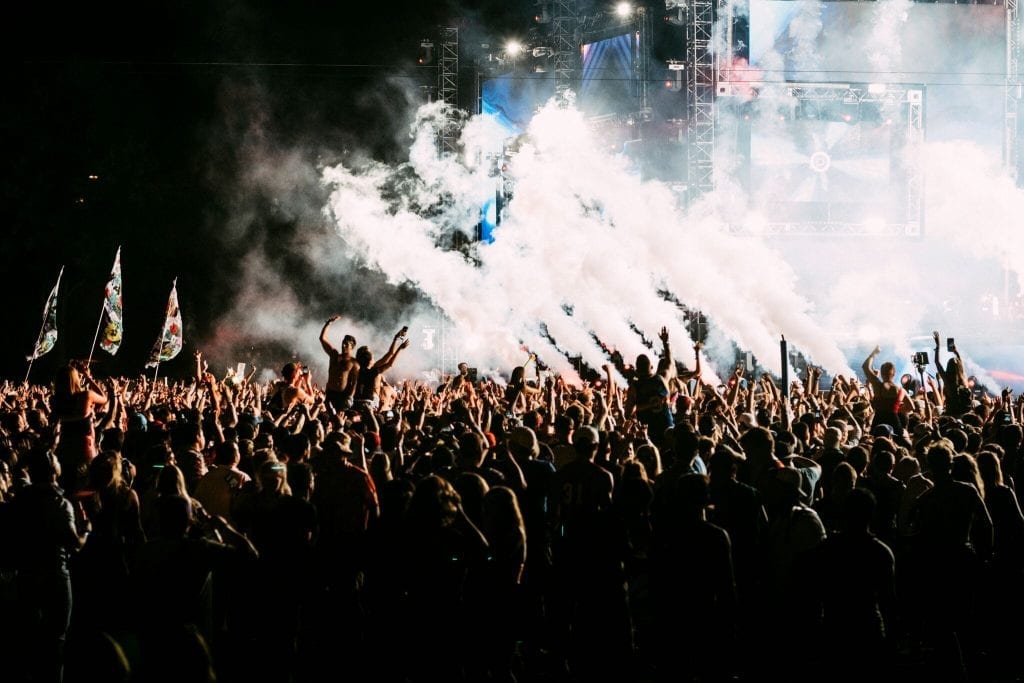 All in all, we had an amazing weekend at Lollapalooza. From the torrential downpour on Thursday to the gorgeous sun on Saturday to the bittersweet mobile alert thanking everyone for an awesome weekend on Sunday, Lollapalooza gave us a weekend to remember. It is truly a festival that everyone should experience.
What was your favorite set at Lollapalooza? Let us know in the comments below!