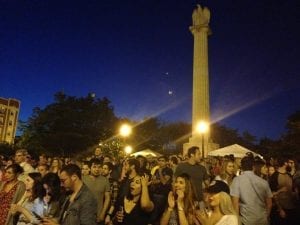 Summer is here with a vengeance, and you know what that means: festival season. But toss that flower crown in the trash, because we're talking about Logan Square Arts Festival. For three days — June 23-25 — art, music, food and fun take over Logan Square circle (the intersection of Milwaukee Avenue, Kedzie and Logan Boulevard) to deliver live shows, art installations, eats galore and even mini golf for the kiddies.
In its ninth year, the fest will feature an expanded second stage for the first time programmed by local art-enablers, Elastic Arts. That means double the music from acts like Canadian noise-punks METZ, Americana singer/songwriters Strand of Oaks, indie-folk distorter Circuit Des Yeux and rap royalty Chuck Inglish of The Cool Kids. And that's just a sliver of what you can expect—check out the full lineup here.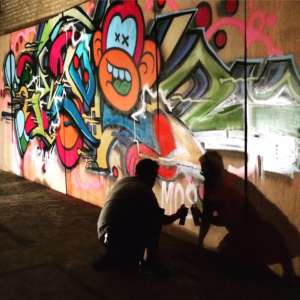 Of course, artist booths and local vendors will abound, as well as plenty of food and booze from local favorites like Revolution Brewing, Lula Cafe, The Whistler, and The Harding Tavern. And feel free to over-caffeinate via Dark Matter Coffee. What more could you want? Oh, after parties? The Owl will host all three nights when the festival lights go down, and a BYOB after show is slated for Saturday at Elastic Arts.
One thing you won't want to miss this year is the art space Comfort Station's transformation. Comfort Station Logan Square and the Art Leaders of Color Network have teamed up to present the P.O.W.E.R. Project, an "empowerment hub" that will feature lectures, discussions and self-care exercises led by artists and members of the community. According to the fest's website, the hope is that festival-goers will be inspired to take a stand against injustice and intolerance.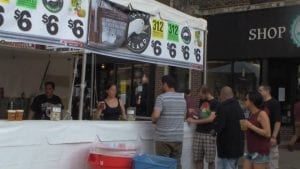 As if that weren't cool enough, the festival also employs some green thinking: A portion of every gate donation ($5 suggested) goes toward efforts to replant trees in the neighborhood that were lost to Emerald Ash Borer. Last year's efforts raised over $7,500 to give #BackToTheSquare.
So hop off the Blue Line at Logan Square and you'll find yourself surrounded by art, music, food and booze in one of Chicago's historically funky neighborhoods. Whether you're looking for some family fun, or a three-day party, Logan Square Arts Festival is the place to be.