From the nightclubs in the Meatpacking District to dive bars in the East Village, Lower Manhattan is a go-to when it comes to staying up all night. After hours of drinking, chatting, and dancing, refueling is all but essential, no matter how late (or early the next day) it is. Check out our favorite spots to grab a bite the next time you find yourself out from dusk 'til dawn.
Papas y carne on special this week. Calling all steak lovers to not miss out on our awesome dinner specials #dinner #foodie #steak #yummy pic.twitter.com/CCh2TUf3Jg

— Coppelia (@Coppelianyc) December 8, 2016
207 West 14th Street
Traditional diner food gets a Cuban makeover at this quaint greasy spoon in the West Village. Just a few blocks east of the Meatpacking District, Coppelia is the perfect place to indulge after a night of clubbing. There are some stellar menu options that are perfect drunk eats, such as the nachos with chihuahua cheese and chopped beef short ribs, and chocolate-chipotle glazed chicken wings with jicama. Coppelia is open 24/7, so you can indulge your yearning for yucca fries whenever the craving strikes.
144 2nd Avenue
Veselka is a bona fide institution when it comes to late night eats. The East Village restaurant serves up Eastern European comfort foods in an inviting, unpretentious atmosphere. Conveniently located on a slab of 2nd Avenue that is saturated with bars, Veselka is a must after last call. Be sure to save room for their famous pierogi, which come in a variety of flavors including arugula and goat cheese, sweet potato, and sauerkraut and mushroom.
171 East Broadway
Late night is no time for wholesome, calorie-conscious eats, which makes Mission Chinese Food the perfect destination. The American-inspired Chinese food joint in the Lower East Side is known for inventive dishes that are as decadent as they are creative. The trendy restaurant serves up signature meals like their lobster and coconut fried rice and Hong Kong style pork belly until as late as midnight.
249 Park Avenue S
During the day, L'Express is the perfect spot for a cappuccino and croissant while people-watching in the Union Square area. At night, the bistro comes alive and serves up classic French favorites through the wee hours of the morning. The overnight menu includes breakfast options like steak and eggs and brioche french toast as well as late dinner choices like organic Scottish salmon and rigatoni with eggplant and fresh mozzarella.
95 Allen Street
Looking to end your night with some Latin comfort food? Empanada Mama is your best bet if it's late and you find yourself on the Lower East Side (or Hell's Kitchen, where their second outpost is). There are a multitude of menu options, including wheat flour empanadas filled with jerk chicken and Swiss cheese and corn empanadas with white rice and red beans. If you're looking for something more substantial, Empanada Mama also offers full meals like arroz con pollo and a Mexican-inspired hamburger with homemade potato chips.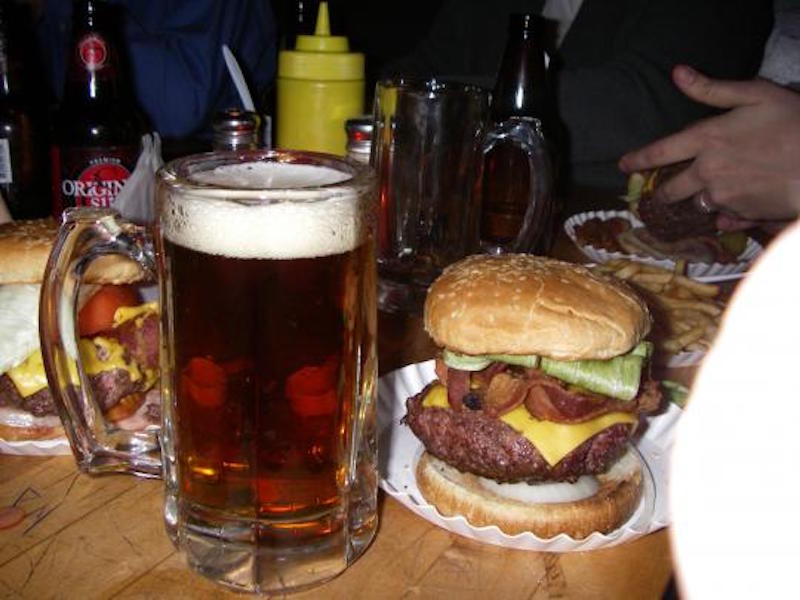 331 West 4th Street
If you like to cap off your night of drinking with a burger, you're not alone. A stone's throw from the city's most popular night clubs, Corner Bistro is home to one of the most satisfying hamburgers in the city, and it'll cost you less than 10 dollars to indulge. If you really want to splurge, the restaurant's signature Bistro burger comes with ample quantities of cheese and perfectly crispy bacon.
The next time you find yourself out late and craving a meal, be sure to hit up one of these spots for a satisfying way to end your night.