According to Eater Chicago, another food hall is coming to Chicago, and this time, it's being built on the North Side.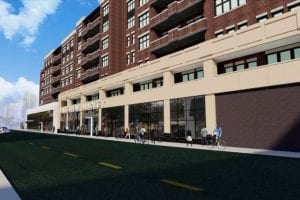 Following the lead of successful food hall concepts like Revival Food Hall and Wells St. Market, Lakeview Market will be the first to trek up north in Chicago. The new food hall will be opening on Broadway and Sheridan, thanks to the masterminds behind Furious Spoon, FireFin Poke Shop and development owner David Gassman. The $10 million building is already under construction, and while a few vendors have been confirmed, the developers are still looking for more. The idea has been in the works for years and it's finally slated to open next summer.
Lakeview Market plans to target the evening crowd, with daily operating hours from 10:30am to 10pm, with a few vendors promising to stay open late on the weekends. Get excited for a cocktail bar, sports bar, a fancy wine establishment, plus up to 20 food vendors. A few vendors that have already been named for the food hall include Furious Spoon Ramen Shop, FireFin Poké Shop, and Budlong Hot Chicken, of which Furious Spoon and Budlong are also vendors at Revival Food Hall. This one's sure to attract the attention of the Wrigleyville crowd, who are experiencing a new era of dining and entertainment in the neighborhood with the recent opening of The Park at Wrigley.

Food halls have become a great way to people to sample the city's best eats all under one convenient setting. According to Lakeview Market's managing partner Anshul Mangal, it's also a cost-effective way for up-and-coming restaurateurs to test out their concepts.
It's obvious that food halls are a trend that brings new jobs and a variety of awesome food to the city of Chicago, and it's not likely to stop anytime soon.