The KPMG Women's PGA Championship was in full swing over the weekend at Olympia Fields Country Club. Ladies made their way across the club's North Course, as the top finishers played a total of four rounds. The history of the course made an impact on the players, as many added their names to the tenure of greats that have championed its greens.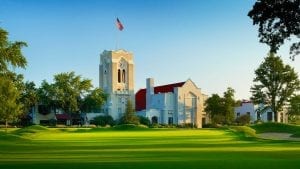 Danielle Kang was crowned the champion of the tournament after sinking a birdie putt on the final hole. She finished 13-under par winning by one stroke against last year's winner, Brooke Henderson. Kang put forward an incredible strategy from start to finish, as she played her first 36 holes bogey-free. This is Kang's first major win.
"I feel fantastic, absolutely fantastic," Kang says. "Having that major championship on my resume, I don't know what it will do. But I do know that having the U.S. Amateur as majors and having a major win, it's amazing."
Kang is one of many players who raised the bar throughout all four rounds of play. Brooke Henderson birdied the last two holes securing a second place finish and bogey-free for the final round. Kelly Shon finished her second round at 8-under for a 63, which ties Rickie Fowler and Vijay Singh for Olympia Fields' competitive course record. That score also credits Shon as the lowest score holder in tournament history, and she joins Patty Sheehan and Meg Mallon with that accolade.
"I'm really honored to be amongst those names," Shon says. "Especially in a major. It's incredible."
The ladies' endurance throughout brings women's golf to the forefront, as crowds of spectators lined the greens.
"That's what we want to see," explains Lexi Thompson. "Grow the game and give back. Especially all the little kids out here supporting us. I tried to sign as many [autographs] as I could before I had to sign my scorecard."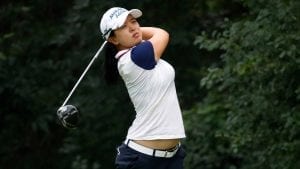 Olympia Fields Country Club has hosted several men's championships, including the 2003 U.S. Open and the 2015 U.S. Amateur. The 2017 KPMG Women's PGA marks the first women's championship hosted by Olympia Fields.
"It's a big deal for us to be here," explains Stacey Lewis. The club's history of exclusively hosting men's championships adds immense esteem to the first class of professional women to contend Olympia Fields' tree-lined fairways. "It's a great golf course. Very old school, a lot of history," says Michelle Wie. "Olympia Fields is a really pure golf course."
This tournament recognizes the North Course of Olympia Fields as the first course to host a U.S. Open, a PGA Championship, a U.S. Senior Open, a U.S. Amateur and a KPMG Women's PGA Championship.