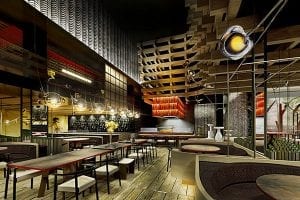 Not a club. More than a lounge. It's Katana, Chicago's posh new robata and sushi bar. Katana – a restaurant – is coming to River North. This upscale eatery promises sushi, hot and cold dishes, and boundless sake, with an emphasis on Robatayaki.
Robatayaki, in Japanese, means "fireside cooking;" Katana will offer dishes, like steaks, seafood, vegetables, and more, grilled on skewers over hot charcoal. According to Innovative Dining Group, the company's aim is to "honor… old style cooking with a menu featuring 'Japanese Tapas' (appetizers) and other traditional styles of Japanese comfort food."
Chicago Director and General Manager Jason Chan says the restaurant will deliver that and more.
"Katana is not only going to feature great food but a high energy and fun environment," remarks Chan. "We want our guests to enjoy the tradition of Japanese cuisine but also show them how we have evolved sushi-making and robata. We offer only the freshest fish available which is flown in daily from around the world, [and] we pride ourselves on excellent hospitality. Katana is a unique concept we feel will fill a small void in Chicago's eating scene, particularly in River North."
Katana also seeks to bring its brand of cosmopolitan flair to the neighborhood.  The 300-seat restaurant will feature its noted sleek design and "cutting-edge" attention to architecture.
So, why Chicago?
"The team really admires Chicago as a respected culinary city," says Chan. "We're all connected to Chicago in one way or another. It was a natural fit for Katana Chicago to be a part of it, and expand."
This location, in the Windy City, will be the third Katana by Innovative Dining Group, the operating company based in Hollywood, California. The other two are situated on the Sunset Strip in West Hollywood, California and in Dubai – yes, that Dubai – in United Arab Emirates.
Katana's opening at 339 North Dearborn Street is slated for this summer.
Featured Image Credit: Katana Chicago via Twitter (@katanachicago)