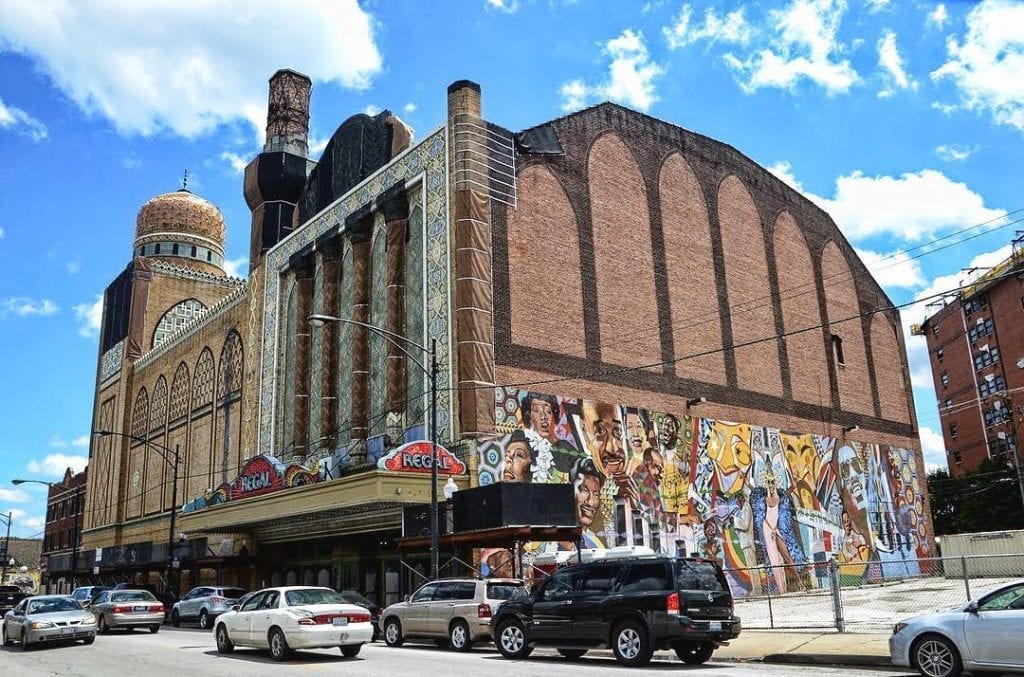 Despite many of Kanye West's controversial endeavors, West always manages to give back to the community of Chicago in the way he knows best: through sustaining the art and culture. Co-founder of the Chicago-based charity, Art of Culture Inc. (previously named in honor of deceased mother, but changed amidst a public dispute between organization and rapper), West has been in support of young creatives for quite some time. And now, he's taking on another respectable project to restore the historic Avalon Regal Theater, a once notable, Southside gem for African Americans.
As of recent, West pledges to invest approximately $1 Million to revitalize this timeless venue that has been vacant for a decade. Kanye West, along with wife Kim Kardashian and philanthropist Chance The Rapper, visited the theater back in September with what we're guessing was the initiative for further investment plans.
Thanks for the visit @kanyewest @KimKardashian @chancetherapper @GLCTHEISM ! pic.twitter.com/sOznfU1mlF

— The Avalon Regal Theater (@AvalonRegal) September 13, 2018
The theater has a longstanding history with Chi-town and received Chicago Landmark status back in 1992. Avalon Regal originally opened in 1927 as a movie palace, later on becoming a live entertainment venue after the migration of African Americans to the South Side of Chicago in the 1960s. With bumps in the road, the theater closed down in 2003, due to the overall lack of financial support. Fortunately, owner Jerald Gary purchased the theater in 2014 for $100,000 and has put forth vigorous efforts to rectify the venue. Thanks to his persistence, the Avalon Regal Theater seems to be getting the restoration it deserves. On March 31st, on E! the theatre will be featured on the popular reality show "Keeping Up with the Kardashians" as well, so tuned in to see more.
The theater is expected to open later this year. Once noted as the pinnacle of black entertainment, we hope the theater's reopening carries out the same essence as prior and makes a monumental comeback into the Chicago scene. As we wait, follow the Avalon's website to stay informed with upcoming details.
Featured Image Credit: Avalon Regal Theater