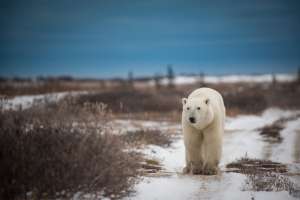 Up way, way north along the shores of Hudson Bay lies Churchill, a small town in the province of Manitoba. Every fall, this all-season destination hosts the annual migration of polar bears as they wait for the ice to freeze to hunt for food. In this "polar bear capital of the world," there live more than 1,000 bears, greater than the population of Churchill.  Explorers come from all over the world to see and experience it for themselves.
Into this frozen tundra, you'll come face to face in the wild with these fascinating creatures in their natural habitat. This is the organic world at its best as the males "spar," and the females tend to their young, and you get to watch and take pictures.
Come spring and summer, Churchill draws adventurers looking to spot beluga whales, bird watching, and eagles.
How To Get To Churchill
There are no roads that lead to Churchill. The only way to get there is a flight from Winnipeg or an exceptionally long train ride. The best journey to experience the polar bears is with a licensed tour company, Tundra Buggy® and guide to safely lead the group. Conservation regulation restricts the routes your buggy can follow in order to protect the fragile ecosystem of this sub-Arctic region.
If you long for adventure but are short on time, check out the Heartland International inspiring, one-day trek to Churchill. Depart Winnipeg via chartered jet (October – November), where you leave early in the morning, land in Churchill, and drive to the launch pad.
Your home for the day is a comfortable, heated Tundra Buggy® that drives around on the lookout for polar bears, foxes, and other wildlife. A safe, outdoor viewing platform lets you take your cameras outside to get a better picture.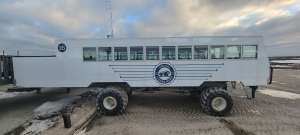 Wait, did you just spot a silver fox? Someone with a very long lens takes a picture and everyone can see a gorgeous silver fox curled up and taking a nap. People run outside to the viewing platform and snap their own.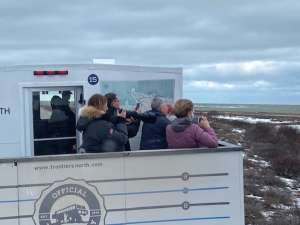 Then the Tundra Buggy® drives around to another area where two polar bears have been spotted, sparring in the snow, their way of playing. Our guide told us that only males engage in this type of behavior, similar to roughhousing by teenage boys.
I learned that polar bears are marine mammals, remaining on the sea ice where they hunt their main prey … the ringed seal. They eat one of these seals every three to four days to bulk up for the winter, and usually snack on berries, mushrooms, and red kelp in between. Sometimes a polar bear will approach the buggy, curious as to what it is. Bears are not good climbers, so they can't reach the viewing deck.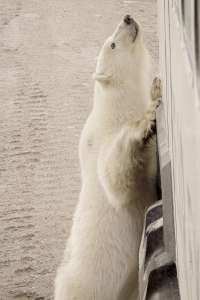 What I discovered on this journey was an amazing variation of landscapes — from rocky coastline along Hudson Bay to ice-covered lakes to glacial remnants from the Ice Age.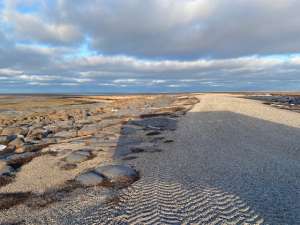 As the sun sets, you enjoy dinner in Churchill, shop for a few souvenirs in town, and fly back to Winnipeg the same day. All too soon, you're on your flight back with visions of polar bears etched forever in your mind. It's the easiest way to encounter all of Churchill's wonders in a very short amount of time.
According to the Northern Lights Aura APP, it was prime time to see the aurora borealis or Northern Lights at night. We could actually see them as we were flying home.
If you have more time to spend exploring, Heartland International also offers multi-day packages that include dogsledding, coastal roads/ hidden trails tours, and another day in the tundra buggy.
Looking back on my grand adventure to Churchill, I am filled with wonder about the lives of these polar bears in this fragile ecosystem.
Stop In Winnipeg Before or After Your Journey to Churchill
Many travelers combine a trip to Churchill with a stop in Winnipeg with its Indigenous culture, fascinating museums, gourmet dining, and a warm, friendly vibe.  Located on the banks of the Red and Assiniboine Rivers, this delightful metropolis is the capital city of Manitoba. Winnipeg is a four-season destination with each season offering exciting recreational activities, even a few you've never heard of like riding ice cycles and kick sleds.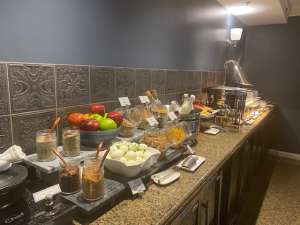 The pinnacle of luxury in Winnipeg is the Fairmont Hotel, conveniently located in the heart of the city and within walking distance to many of the must-see sites. What I loved about the hotel was my Fairmont Gold Room with access to the Private Lounge that offered deluxe buffet breakfast, evening hors d'oeuvres and nightly dessert bar. It was a great place to dine and relax, day and night. My spacious room with great city views offered a super-comfy pillow-top bed with Egyptian cotton linens that made me feel like I was sleeping inside a cloud. Try breakfast at the Velvet Glove. Recommended is the breakfast sandwich or the Benny Your Way.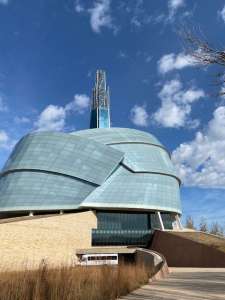 One of the highlights of the city is the Canadian Museum of Human Rights, the only museum in the world dedicated to human rights issues. Founder Israel Asper built a family-friendly museum to educate people about the struggle for human rights around the world. This unique structure opened in 2014 and serves as the icon of the city. The museum offers interactive exhibits about human rights violations against Indigenous people, black Canadians, the LGBTQ community, people with disabilities, and the Holocaust. It certainly gives one pause for thought. At the top of the building, go out to Israel's tower and reflect on the magnificent Winnipeg skyline.
Another fascinating museum is the Manitoba Museum, an award-winning heritage and science center  that provides a journey through Manitoba's past, present, and future; and includes a Planetarium, Science Gallery and an ever-changing variety of specialty exhibits.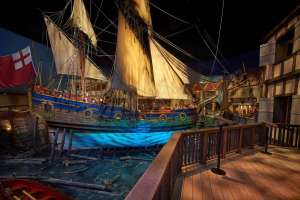 Be sure to visit the Winnipeg Art Gallery (WAG) which houses the  world's largest public collection of contemporary Inuit art and extensive collections of fine art, decorative art and photography. WAG is also home to Qaumajuq, an innovative new museum dedicated to Inuit art and culture, led by Inuit voices.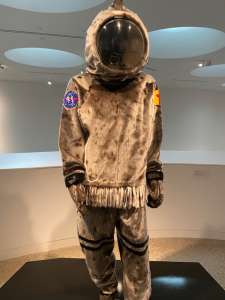 Located 15 minutes from downtown Winnipeg, Assiniboine Park Zoo lets visitors interact with animal species from all corners of the globe, open year-round, with over 80 park-like acres to explore. The award-winning Journey to Churchill exhibit is home to polar bears, muskoxen, Arctic fox, wolves and other northern species.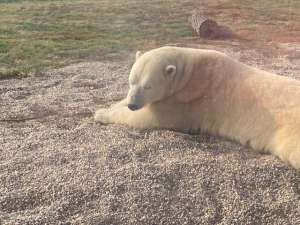 Forks National Historic Site has been a meeting place for 6,000 years. Yes, you read that right. The Forks is actually where Winnipeg started with the Aboriginal groups. This gave way to the railroads in the Prairies, which contributed to the city's vast growth, and Union Station which still operates VIA passenger rail today.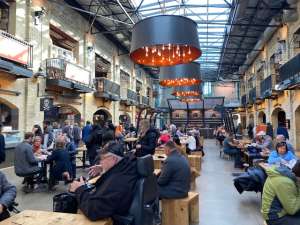 Inside Forks Market is a collection of restaurants from around the world, Caribbean, Asian Fusion and Fish & Chips. On the second floor, check out Manitobah Mukluks filled with all kinds of indigenous goods from moccasins to boots to tapestries and more. Look for live music and other performances at the Plaza. The Travel Manitoba Visitor Information Centre is located right outside the Forks Market. Check them out for expert trip-planning services around the province.
One must-visit is Thermea – an outdoor Nordic spa just a few miles from downtown Winnipeg. Here you will find a unique relaxation and rejuvenation experience in nature using a series of hot, cold, and resting rituals. Starting at $77 for the day, this multisensory experience will help you connect to nature and creates the ultimate sense of well-being.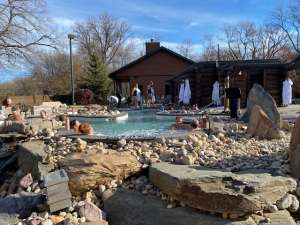 For more information about visiting Churchill, go to https://www.travelmanitoba.com/churchill/ or tourismwinnipeg.com