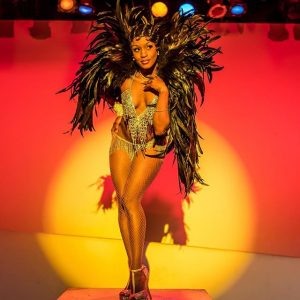 Josephine is a musical burlesque that brings to back to life the legend of Josephine Baker, famed dancer, singer and entertainer.
Those of you who are not familiar with Ms. Baker's work should know that Josephine was born in the earlier part of the 19th century and wanted to be a dancer. But with racial segregation, it was near impossible for her to succeed. As luck would have it, she would be noticed by an up and coming French producer and travelled to Paris to perform. The French adored her and she became their biggest star for the next forty years.
Directed by Michael Marinaccio, this production recreates what life would have been like during the 1920s and 1930s. Marinaccio transports you back to the Art Deco days of Paris and even has Tymisha dance the stage in the famed "banana" skirt.
Tymisha Harris and Michael Marinaccio have lovingly developed a character that is larger than life but also presents Josephine's heart and soul in the background story that is often overlooked.
It's like the show was made for the SoHo Playhouse. The small intimate space fondly recreates the backstage dressing area that Josephine would have called home after many a performance. Tymisha as Josephine flirts and teases the audience as she triumphantly makes this performance her own.
One thing that needs to be said, Tymisha Harris as Josephine Baker is simply phenomenal. She encapsulates the legend that is Ms. Baker and brings something special to make it pop and sizzle on stage as Ms. Baker did all those years ago.
Entertainers of the years gone by are often forgotten within ten to twenty years after they have passed. But the legend of Josephine Baker still lives strong thanks to the amazing work of Tymisha Harris and Michael Mariaccio.
Josephine: A Burlesque Cabaret Dream Play is currently playing at the SoHo Playhouse and is running until the end of February.