Bringing island vibes to the Windy City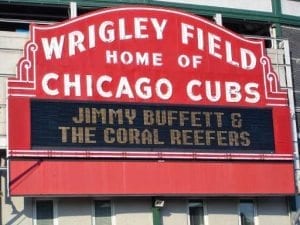 As a Chicago Cubs fan, Jimmy Buffett made a promise to return and perform again if the Chicago Cubs won the World Series. Well, as we all know, that indeed happened.
The "Margaritaville" singer played the very first concert in Wrigley Field history in September of 2005 after fighting for over a decade to have live performances permitted at the stadium. Back in those days, the Cubs were owned by Tribune Media Company, which limited live performances at the Field to two per year. Over recent years, and under the Cubs' current ownership, there have been many more concerts taking place at the stadium annually. This summer, Wrigley Field has eight concerts on its lineup so far, breaking last year's record of seven.
Here's a look at the entertainers heading to the home of the Chicago Cubs this year.
June 29: Tom Petty and the Heartbreakers
June 30: Dead & Company
July 1: Dead & Company
July 15: Jimmy Buffett featuring Huey Lewis and The News
July 17: James Taylor featuring Bonnie Raitt
August 11: Billy Joel
August 24: Green Day
August 26: Zac Brown Band
Jimmy Buffet will be performing with the Coral Reefer Band, featuring Huey Lewis and The News, who announced their 2017 concert together on Tuesday. Tickets will go on sale Friday, February 10th at 10am.
We can't think of a better way to spend a hot day in mid-July at Wrigley Field, hopefully with a margarita in-hand. Who's ready to party?
Featured Image Credit: JesuitCP.org The Roundup