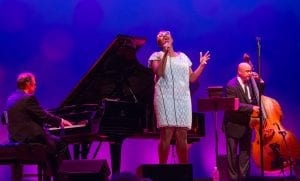 Want to get your fingers snappin' and toes tappin' this summer? There's no better way to do that than by listening to some good ol' fashioned American jazz.
Celebrate one of the most studied and treasured American musical art forms at "Jazz in July," a six-concert series hosted by 92nd Street Y, one of New York's most prominent cultural and performing arts centers.
92Y is a Jewish organization that reaches out to people of all genders, races, ages, and faiths in the name of art and community. "Jazz in July" has become a beloved summer tradition to New Yorkers from all walks of life, so you'd be sorry to miss it!
Each concert takes place at 7:30pm at 92Y's Kaufmann Hall. 92Y is located at 1395 Lexington Avenue, New York, NY 10128.
92Y Jazz in July: Schedule
Dick Hyman Forever! – Celebrating His 90th Birthday
Tuesday, July 18; Tickets: $70
Watch the great jazz pianist accompanied by his 10-part ensemble as they play jazz renditions of classics.
Benny Golson & Jimmy Heath: Meeting of the Maestros
Wednesday, July 19; Tickets: $45
Two historic sax players join each other again to play American songbook tunes complimented by a stellar rhythm section.
Guys and Dolls play the Greater Loesser
Thursday, July 20; Tickets: $70
A variety of acts, including a husband-and-wife piano duo, perform interpretations of songs by theatre composer Frank Loesser.
Cole Porter: Easy to Love
Tuesday, July 25; Tickets: $100
Led by enchanting vocalist Cécile McLorin Salvant, legendary American songwriter Cole Porter gets a stunning revival.
The Art of Tatum
Wednesday, July 26; Tickets: $45
Art Tatum, one of the greatest jazz pianists in history, gets brought to life by a top-notch seven-part ensemble that includes four pianos.
Louis Armstrong: What a Wonderful World
Thursday, July 27; Tickets: $85
Undeniably the most renowned jazz icon of all time, trumpeter and vocalist Louis Armstrong is celebrated with a can't-miss series finale.
Follow UrbanMatter New York on Facebook and Twitter for daily updates on local events and news.