Soul food, soul music and a triumphant spirit are why Jackson, Mississippi is known as the "City with Soul." From the Civil War to Civil Rights, Jackson led the way and is recognized for its many historical markers, many now listed on the new U.S. Civil Rights Trail. On Jackson's literary side are giants Eudora Welty, Richard Wright, and Margaret Walker Alexander. Thriving blues, soul and R&B artists like Paul Simon, Lucinda Williams, and Mississippi Fred McDowell made records at Malaco Studios.
New Civil Rights Museum Opens in Jackson, Mississippi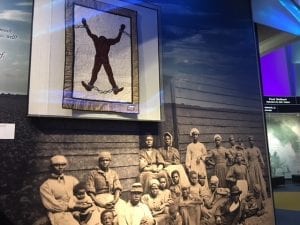 It's a story that needs to be told over and over again. About the struggle for freedom and the fight for equality, better known as the Civil Rights Movement. Now that story has a brand new home in Jackson, just opened in December of 2017. The Mississippi Civil Rights Museum utilizes the latest technologies, interactive exhibits, videos, posters and authentic artifacts to share the stories of the Mississippi movement that changed the nation.
Through eight interactive galleries, you'll learn about Civil Rights in Mississippi and meet those who impacted the movement. In the center is a space that lets you reflect on what you've seen, along with a glorious musical sculpture that glows brighter and plays "This Little Light of Mine" as people gather.
Connected to the Civil Rights Museum is the Museum of Mississippi History, which explores over 15,000 years of state history through innovative exhibits, educational programs, and hundreds of artifacts.
Visit Tougaloo College, where it all started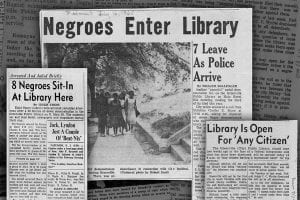 Tougaloo College is a historically-black liberal arts institution that played a pivotal role in the civil rights movement. Nine black students wanted to use the Jackson Municipal Library, but were denied admittance. The police arrived and asked them to leave. The Tougaloo Nine refused and were arrested for disrupting the peace. They spent 30 hours in jail, were found guilty of disturbing the peace, fined $100, and received a 30-day suspended sentence. After hearing about their fellow schoolmates, students from Jackson State marched to the jail in support and were attacked with tear gas, clubs, and dogs. Students from Tougaloo were also attacked during a sit-in at the Woolworth's lunch counter in Jackson in May of 1963. You can visit the college and learn more about these brave students.
Civil Rights Driving Tour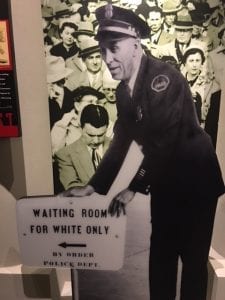 No visit to Jackson is complete without seeing the Jackson Civil Rights Movement Driving Tour, which takes you to 81 historical sites in four neighborhoods. A 64-page brochure for maps, photos and descriptions of what happened is available from the City of Jackson. Stops along this self-guided tour include the Medgar Evers Home and Museum for the slain Civil Rights leader, the former Greyhound Bus station where fights against segregation took place and the "new" state capitol where the Jim Crow laws were passed.
Where to Stay – The King Edward Hotel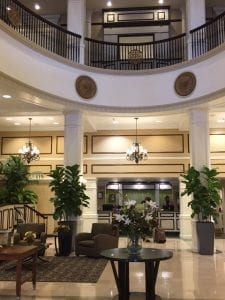 Remnants of its glorious past stand tall and proud as you enter the lobby of this stately hotel, now a Hilton Garden Inn. The hotel was built in 1923 and now on the National Register of Historic Places, retaining its historic elegance and design, while providing the latest amenities. Nestled in the heart of downtown Jackson and Mississippi's historic district, the hotel is walking distance to many attractions. Get a taste of Southern hospitality at the King Edward Grille and Seattle Best Coffee Café has snacks and offers freshly brewed coffee all day.
Where to Eat
Mayflower Café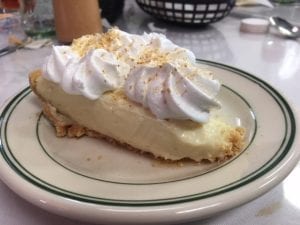 A staple in downtown Jackson since 1935, this legendary diner gives you an authentic taste of the South. Recipes for succulent Greek-inspired seafood have been passed down through the Kountouris family for generations. I felt like I was on the set of "The Help," which makes sense since a scene in the movie was filmed here. I did try their famous "comeback sauce" and it was delicious on salad, a dip sauce for French fries, everything! And the homemade coconut crème pie was to die for!
Bully's Soul Food Restaurant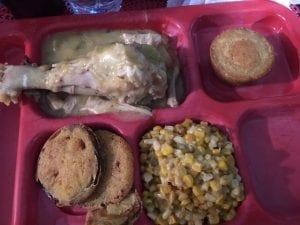 Named one of the James Beard award-winning legendary soul food restaurants, Bully's serves classic Southern cooking that will make you feel right at home. Try their southern fried catfish or meatloaf, along with fried green tomatoes, spicy collard greens and fried okra. Fruit cobbler for dessert is the best. Bully's is something to write home about.
For a fascinating look at the Deep South, make Jackson a part of your travels.