By Bob & Sandy Nesoff
Members: American Society of Journalists and Authors; North American Travel Journalists Association
New York is arguably the most ethnically diverse city in the world. The plethora of ethnic celebrations and eateries give guests a mind-boggling choice of where to eat or have a drink.
While Italian restaurants and pizzerias probably far outnumber any other type of food, with Chinese coming in a distant second, Irish pubs are amongst the most underrated culinary destinations in New York.
Okay – Irish pubs are known more for the brews they serve than the food, but you can get anything from a delicious full meal to simple pub grub at virtually any Irish pub in New York.
While in the ordinary course of pub business, brews such as Bud Lite may be the preferred drink, you'll be the object of scornful looks if you order anything else but Guinness.
With more than 2,000 Irish pubs in the Five Boroughs, it's difficult to choose. Herewith we offer eight pubs situated in Manhattan for your enjoyment. This is not to judge the remaining 1,992 pubs. It's simply that space does not permit us to write about all of them… although that would have been a terrific assignment.
Our pubs for St. Patrick's Day are: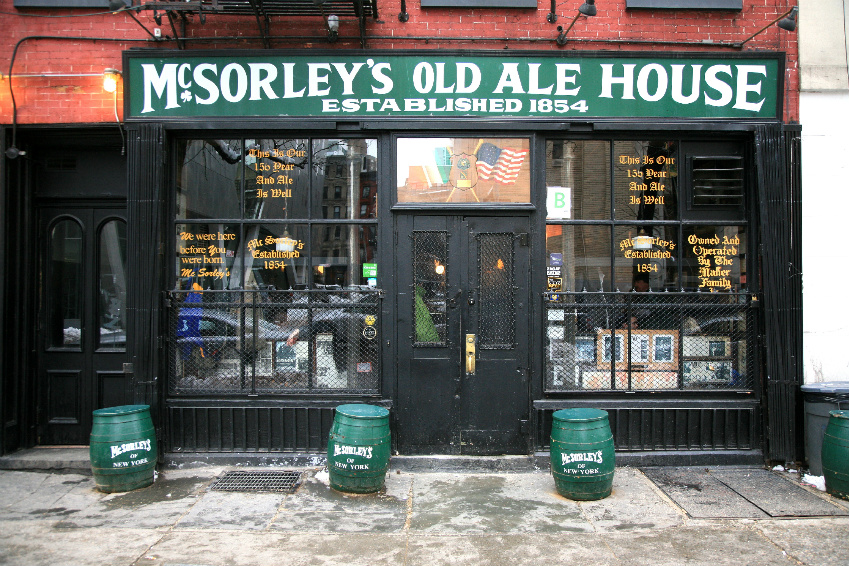 15 East 7th Street
(212) 473-9148
McSorley's lays claim to being the oldest Irish pub in this country and has been in continuous operation since 1854. It has developed a cult-like following despite its lack of Irish – make that "any" serious food.
Step in and a journey back in time begins. The legendary "Back Room" was the place to go during Prohibition for a shot or mug. No worries about being overwhelmed by choices for beer, there are only two kinds: McSorley's Light and McSorley's Dark. The drinks complement a very limited menu that barely changes from St. Patrick's Day to Rosh Hashanah.
The lure of the pub is its atmosphere. The floors are covered in sawdust and one patron commented that it "…looks as though it hasn't been painted since it first opened." But that's what regulars and first-timers alike enjoy about the place. It's a man's bar and always has been.
Well, at least until 1970 when the courts said it was time to come into the modern world and ordered that women be admitted. That's evident by the restrooms. The porcelain accommodations in the men's room have been compared in size to a sarcophagus, while those in the ladies room are… rather Spartan.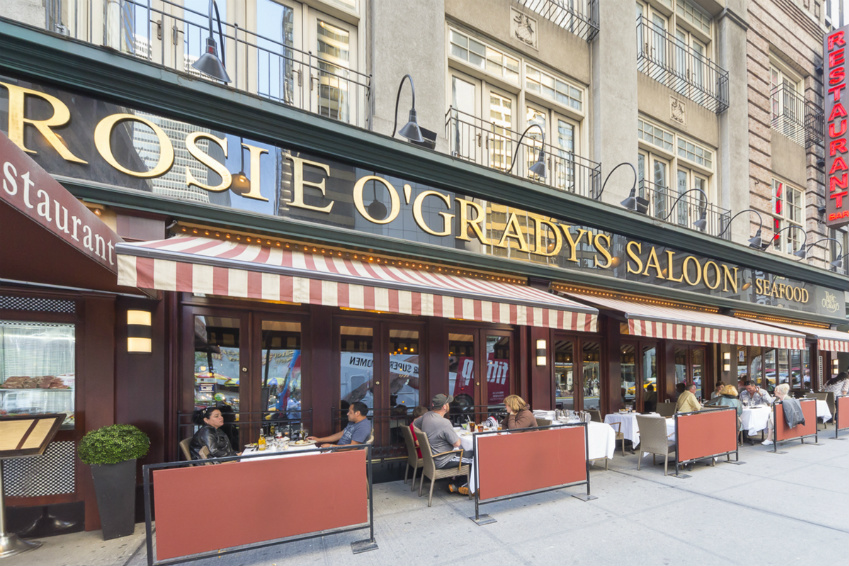 800 7th Avenue
(212) 582-2975
Smack in the heart of Midtown, Rosie O'Grady's has become a destination for theatergoers and Irish aficionados alike.
The street-level dining room offers a full menu. Interestingly, there is a host of non-Irish dishes that you might find in any other restaurant. There's French onion soup, hazelnut crusted rack of lamb, chicken Oscar and surf and turf. Well, why not? After all, Irish immigrants have become assimilated to the culture in the United States.
Walk down to the lower level and the bar is almost like a private club… except that everyone is welcome.
There are tables across from the bar where you can sit down and order a full meal or simply relax with friends and enjoy a pint of Guinness.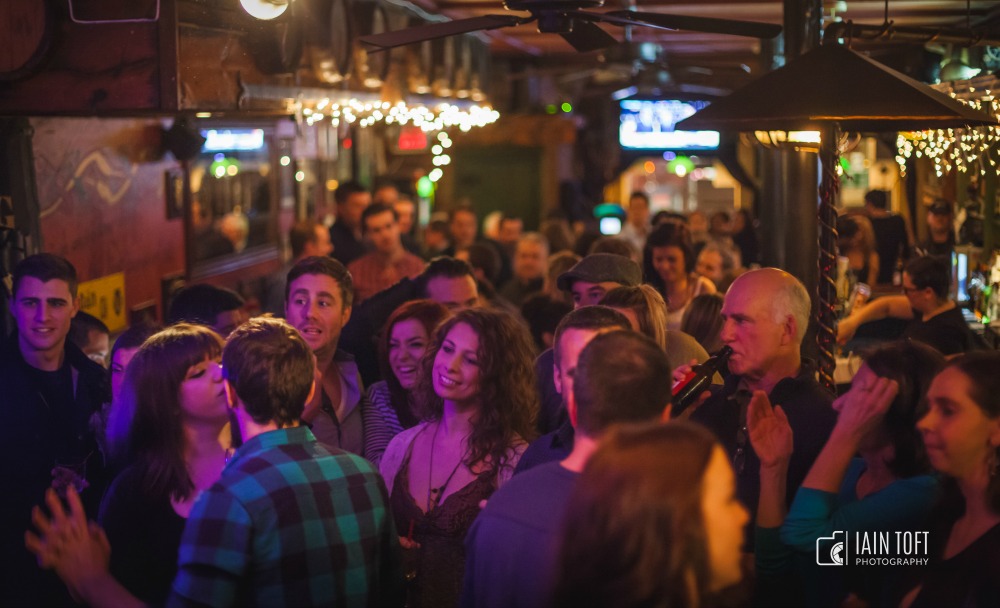 519 2nd Avenue @ 29th Street
(212) 686-1210
Some patron's have called Paddy Reilly's "The best and only real Irish pub left in New York."
Other pubs and patrons may take issue with that, but Paddy Reilly's has one distinction none of the others have: It claims to be the "First and only all-Guinness draft bar in the world."
That's something we'd have to do a lot of research on to confirm, but for the time being, let's accept it at face value. The staff has earned a reputation for being welcoming to all patrons and many return because of the feeling they have. That seems to be the hallmark of virtually all Irish pubs in New York.
Paddy's has been serving thirsty patrons for more than 30 years and entertaining them with live music. Groups include Irish Seisún's as well as The Prodigals. Other music genres play during the week as well, ranging from bluegrass to jam sessions.
The flooring comes from an old Irish hotel and there are remnants of a still from County Cavan. How much more authentic can you get?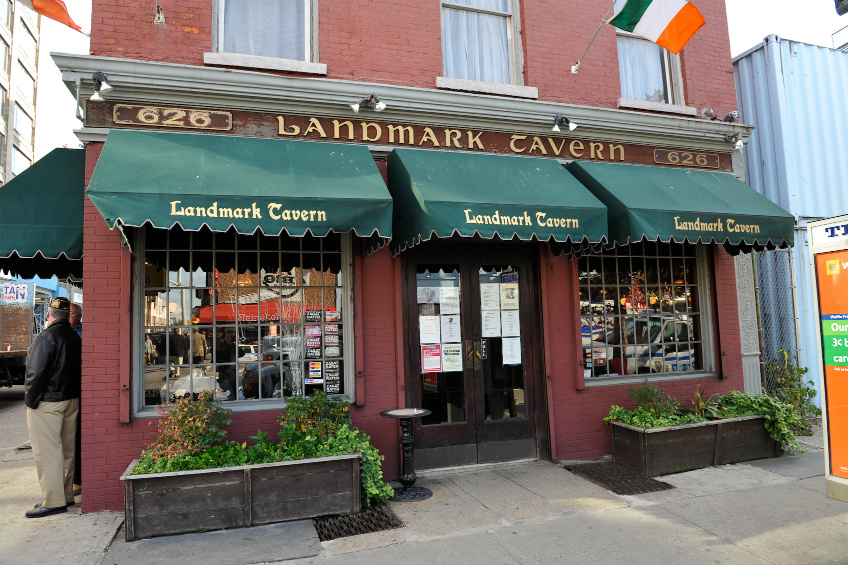 626 11th Avenue
(212) 275-8595
Perhaps if this tavern were named the O'Landmark, it would sound more Irish. But make no mistake; this is as Irish as it gets. It is also one of the oldest in New York, having opened in 1868.
Patrick Henry Carley opened the tavern as the "Irish Waterfront Saloon" on what is today 11th Avenue. It was located on the shore of the Hudson River… right on the shoreline. Along came Prohibition and they turned the third floor into a speakeasy. They couldn't use the second floor because that's where they lived with their little children. Today it still retains its classic old New York Charm.
Food is good Irish pub fare. While there's a larger menu if you're intent on sitting down for a full menu, the pub food and bar are what keep bringing regulars back for more.
If you can play an instrument, come on in on Monday night and join the band. All are welcome to participate.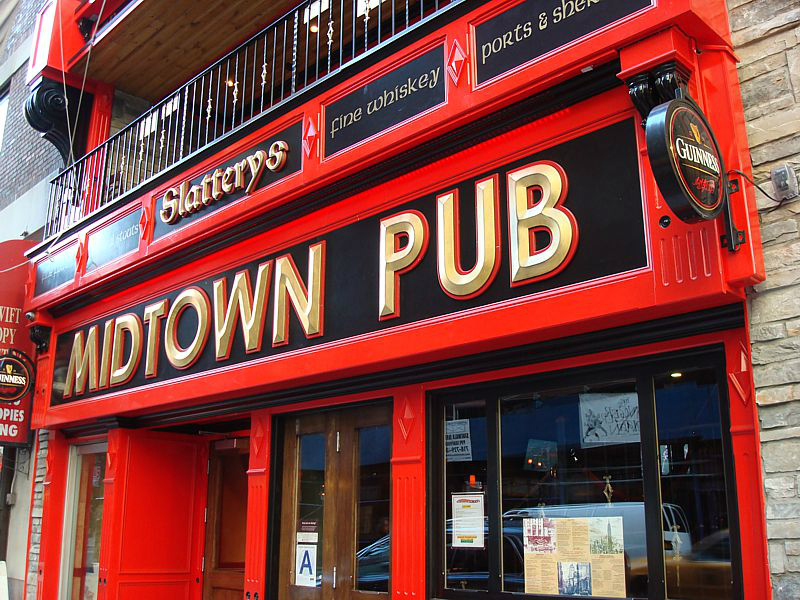 8 East 36th Street
(212) 683-6444
This neighborhood and after-work pub offers 25 HD TVs that'll cover all forms of sports and entertainment.
The menu offers ever-present pub favorites such as burgers with an Irish flair, wraps, sandwiches, wings, salads and traditional favorites such as pot pies and shepherd's pies. Don't miss the fish and chips. Aside from holidays and weekends, Slattery's also offers a full Irish breakfast.
Beer is Murphy's Stout, a creamy brew from County Cork that uses a 150-year-old recipe. There are three other Irish beers and more than a dozen whiskies. Enjoy!
One of the more popular activities at Slattery's, putting aside the pints and shots are the schedule of specialty nights. They range from trivia night, West Wing Night, My-So-Called-Life Night, Harry Potter Night and Friends Night, all paying tribute to classic television programs. To change the pace, they sponsor a scavenger hunt that takes participants all over the city.
287 3rd Avenue
(212) 889-3361
Failte (pr. Falcha) is the Gaelic greeting given to friends and strangers who are about to become friends. That's the simple motto Molly's gives to all who enter the premises.
Established in 1960, Molly's claims to be "the most traditional Irish bar in New York," and comes with sawdust on the floor. Those who'll leave footprints in the sawdust on St. Patrick's Day will feast on shepherd's pie (one of the menu items that regulars keep coming back for), hamburgers and steaks for what they describe as… a reasonable price.
Newspapers and magazines have raved about Molly's, calling it "The most authentic Irish bar in The City"; "Best pint of Guinness"; "Best pub worth waiting in line for" (now that says about everything).
It first opened in 1895. The original name is lost to the ages. During the dark days of Prohibition, it operated as a grocery. Following that, the retail space offered alcohol. A beautiful bar of Honduran mahogany was soon constructed, and along with the original wood burning fireplace, both are still in place today.
It became truly Irish in 1965 when an Irish family, the Purfields, from Dublin and Galway took over ownership. Then in 1991, Peter O'Connell, from County Meath, became owner and renamed it Molly's Shebeen. That nailed it to Prohibition because the translation of a "shebeen," is an "illegal drinking establishment.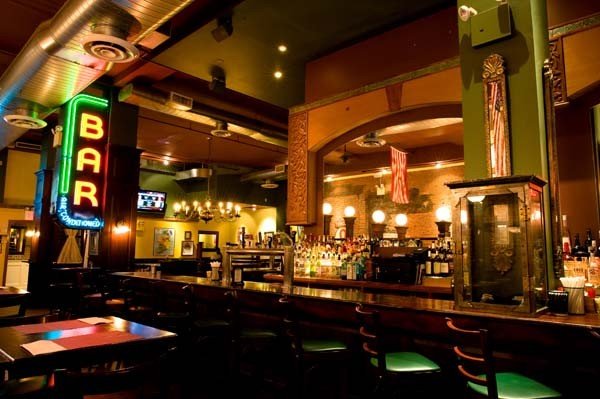 145 West 45th Street
(212) 840-6688
Emmett O'Lunney's sits smack in the heart of the theater district. A pub with more than pub food, hungry and thirsty patrons can pop in for a wide menu with reasonable prices.
O'Lunney's has one of the more extensive Irish menus while not forsaking the American taste for American food. There's bangers and mash, fish and chips, shepherd's pie, traditional Irish onion soup, a Jr. Gaelic steak and, for dessert, Irish crème bruleé.
Those who would like a whistle-wetting can check out the drinks at two bars. Alcohol offerings include local and imported beers, a varied wine list, and cocktails.
O'Lunney's is family-owned and they invite guests to "…sit and enjoy a drink and come in for lunch or dinner." The pub is open 24/7.
14 East 47th Street
(212) 867-3767
Connolly's is also a family-owned traditional Irish pub, minutes from Grand Central Station and Rockefeller Center for commuters or visitors.
The venue pairs its food with a selection of more than 50 different beers from which to choose. If you think a comprehensive diner menu is difficult when making a choice, try that with more than 50 different beers staring you in the face. While it may be tempting, we don't recommend sampling all of them in one visit.
Check out the slammin' spinach artichoke dip or the buffalo wings made just right. There's also Irish smoked salmon and an eclectic menu that offers American food, Irish pub food and… pizza.
The combination makes Connolly's attractive to families, especially those with children. While mom and dad are enjoying wings and artichoke dip washed down with a cool brew, the kids can feast on their pizza slices.
There are large TV screens covering virtually every major sporting event being broadcast. The pub can accommodate from 15 to 500 people on two floors and is a hotspot for business meetings and functions, school reunions, and family gatherings.
To all of you Irishmen and women… and those of you who join the clan for the day, Céad Míle Fáilte… Welcome.