Shareable European classics are treated with modern flair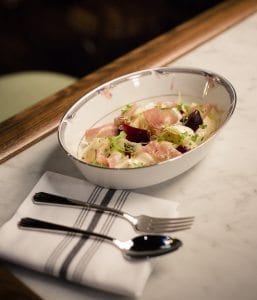 When you walk into Income Tax at 5959 North Broadway in the Edgewater neighborhood, you get the feeling that it's something special. You may not realize this walking by, as it's illuminated by only two neon signs, so as to blend in with the rest of the neighborhood's businesses. The bar-restaurant concept just recently opened up in December, but it's already attracting many customers.
Guests can either make a reservation or walk into the cozy, hole-in-the-wall atmosphere. It's open Tuesday through Saturday and is just off the Thorndale Red Line stop next to Whole Foods. The air is sophisticated but warm, and the portion sizes are just enough. The wait staff was knowledgeable although the place was originally meant to be a bar, it has evolved into more of a restaurant.
The Menu
The menu includes both small plates and large entrees that are meant to be shared. The restaurant does not have an extensive menu, but it's almost easier for guests to decide with a smaller number of menu options. 
One of the small plates that the restaurant offers is a delicious Salade Beaucaire, a salad with endive, beet, celery root, and country ham. The menu focuses on four different countries in the world, the salad being from France. The other regions include Germany, Spain, and Italy. The menu options are easily paired with wine options.
One of their scrumptious entrees is the Tuscan Bistec from Italy, a well-seasoned 18-ounce bone-in strip with white beans and arugula for side dishes. Another large entree option is the Half Chicken with fingerlings, crimini, and burgundy.
They also offer cheese options that pair well with wine. The newly-opened restaurant has about 80 bottles of wine for guests to choose from and about 18 choices by the glass. As for cocktails, they can make a spritz with prosecco, or use absynthe, sherry, or gin to make their specialty cocktails.
The dessert menu only consists of three options, but they are delicious nonetheless. The canelé is a French pastry that has a dark, thick, caramelized crust and stands about five centimeters high. Their cheesecake, called Torta de Queso on the menu, is more of a savory cheese dish than a sweet finisher. The final dessert option is the star of the show – a simple macaron made for one. The meringue-based confection sandwiches a layer of delicious cream in the center, the perfect ending to a fantastic meal.