"In a Little Room" is currently playing at the Wild Project performance space in the East Village, and it's hilarious take on what can only be described as one of life's hardest experiences is not to be missed.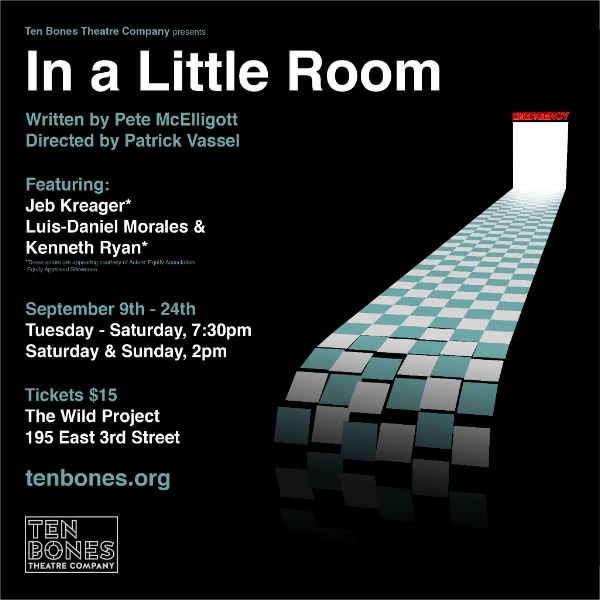 Photo Credit: Ten Bones Theater Company Facebook
When I walked into this play, I had absolutely no idea what to expect.
The stage was set like an old waiting room: dated magazines, pastel-pink and green tile pattern on the floor, stark plastic furniture and nondescript prints hanging on the wall. It was like I had somehow bypassed the theater and walked straight into a hospital by mistake. It even had that stringent, chlorinated smell of a doctor's office.
The play itself is both clever and witty, serving up laughs from the audience throughout its run. But be warned, "In a Little Room" will certainly pull at your heartstrings as well.
Two men Charlie (played by Luis-Daniel Morales) and Manning (Jeb Kreager) meet in a hospital waiting room after losing a loved one and spark a conversation over their coffee. The two wind up spilling the coffee over a sleeping man and hilarity ensues.
Written by Pete McElligott and directed by Patrick Vassel, this is a play brings light and life to an everyday tragedy. Charlie and Manning  must find a way to deal with their individual losses and attempt to understand how their lives are going to proceed. They do so in a manner that is both starkly poignant and unexpectedly hysterical. 
Overall, the play is captivating and presents a truly entertaining piece of theatre.
It's just one of many things I love about living in New York City: accidentally stumbling upon a great piece of theatre put on by people who throughly care about their craft and enjoy sharing it with audience members, fans and strangers a like. 
"In a Little Room" is a nice surprise of a show. Did I expect to laugh as much as I did? No. Was I thoroughly entertained? Yes. Have I been thinking about the show since seeing it? Definitely.
Follow Matt D'Silva on Twitter @MattDSilva