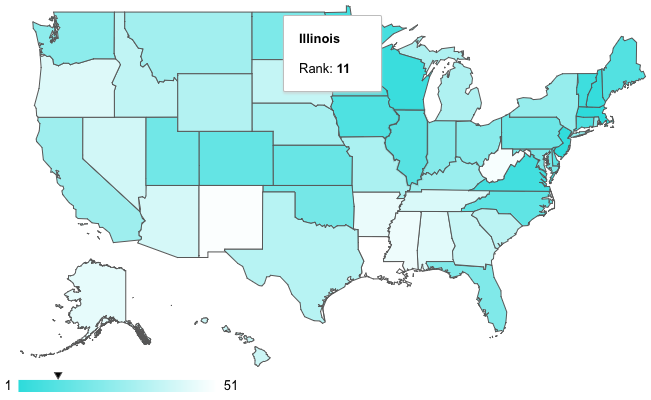 For families that aren't able to send their kids to private schools (which is the majority of families in the U.S.), enrolling children in public school is an obvious must. So where do you begin when you want to choose the right school system?
WalletHub recently conducted a study that compared school systems in all 50 states. Since the allocation of funds varies from state to state, so does the quality of the nation's public schools. If you and your family are making a move, or if you're just curious about the caliber of education in your home state, you might want to read on.
Examining academic performance, state funding resources, class sizes, instructor qualifications, and overall safety, WalletHub took a comprehensive approach to analyzing each state's public school system. The scoring system was split between 'Quality' and 'Safety'. Quality scores included stats such as prevalence of schools, median standardized test scores, high school dropout rate, and pupil-to-teacher ratio. Safety scores included number of threats and injuries amongst students, bullying incidences, and youth incarceration rates.
Overall, Illinois came in with the 11th highest rated public school system in the country. The individual Quality and Safety scores that contributed to the overall score were #9 and #21, respectively. Massachusetts topped out with the highest overall score, with both individual Quality and Safety scores ranking in first place as well. Louisiana had the lowest overall score.
In separate, related rankings in the study, Illinois also fell in the top tier of states with the highest median SAT score. Additionally, in a graph showing states with high spending and weak systems versus low spending and strong systems, Illinois was labeled as 'mixed.'
Check out the states with the top 15 highest ranking public school systems below.
Massachusetts
New Jersey
New Hampshire
Wisconsin
Vermont
Virginia
Minnesota
Connecticut
Iowa
Maine
Illinois
Delaware
North Carolina
Colorado
Kansas
It's interesting to see that our state ranks relatively high on the list, especially amidst the city of Chicago's alarming public school crisis, which has caused friction between the city and state governments. With Illinois public education funding being a hotly contested topic, we wonder where the state will rank on this list next year.
To see the complete WalletHub study, click here.