By Bob & Sandy Nesoff

mag•net: that which attracts things to itself by an invisible pull
Restaurants in New York come and go with a frequency that dazzles the mind. Quality of food and service often have little to do with the longevity of an eatery. Some attract, others simply vanish. Even those with the chaché of Le Perigord vanished from the scene after 54 years.
Some attract (i.e. "magnetism") celebrities, who in turn attract well-heeled gawkers who enjoy saying they saw John Travolta at dinner last night. Even national level politicians (how does the Vice President sound?) are there for dinner and special events.
The Hunt & Fish Club should beat the odds by a long shot.
Hunt & Fish Club is one of those extraordinary establishments that truly delivers what it promises. The entrance on West 44th Street is somewhat nondescript, but that's totally blown away the moment you walk through the entrance.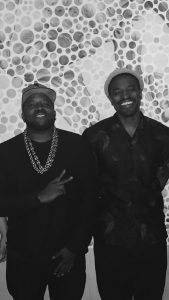 The bar, at the front of the restaurant, is populated by an upscale crowd of young executives, entertainers and athletes. Patrons hardly give a second glance as the likes of singer Will.I.Am, rappers 50 Cent and Outkast, 60 Minutes's Lara Logan and Yankees and Mets legends Darryl Strawberry and Bobby Valentine settle in for a drink or dinner. Future baseball Hall of Famer and current Yankees pitcher C.C. Sabathia often drops in.
Just beyond the bar is arguably one of the more elegant restaurants in New York City… or anywhere, for that matter. The room is beautifully fitted with marble (there are 50,000 pounds of marble throughout the restaurant), all sparkling under a magnificent crystal chandelier.
Actor John Travlota was there on a recent night with his dining companion, John Gotti Jr. – an actor and a former Mafioso who managed to beat the odds, leave the mob, the life his notorious late father led, as he drew discreet stares from adjoining tables. When a house photographer politely asked permission to take a picture, both smiled and agreed. As he clicked his shutter, two other diners photo-bombed them. Travolta didn't blink and Gotti had a sly smile that could have been interpreted as thinking of what would have happened to interlopers in days gone by. But Gotti, a legitimate businessman, treated them with courtesy.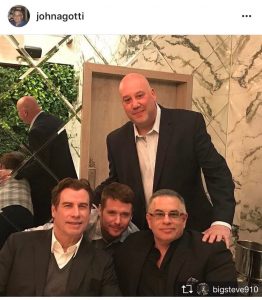 But this is today, and even a celebrity magnet such as Hunt & Fish Club could not survive if it didn't produce both ambiance and excellent food. Mind you, the Club is not for those on a strictly limited budget. But even if you've saved for that magical night on the town, the eatery delivers with some of the best food placed elegantly on the table.
There are upholstered seats along the wall, providing a comfortable point of relaxation as the guests chill out to the sounds of live piano music.
Guests at the Hunt & Fish Club are dressed from suit and tie to casual, and every one fits in comfortably. The varied conversations sometimes create a loud hum in the room, but in the relaxed atmosphere, it's hardly noticed.
The wait staff is prompt and courteous, always at hand but never hovering. They seem to have an innate ability to judge when a diner needs something, then are there immediately. Yet there's never the feeling that they're about to pounce.
The menu is pricey, but no one seems to mind. The quality of the food at Hunt & Fish Club NYC justifies the numbers. Executive Chef Chad Brown, has designed a menu that exemplifies the name of the restaurant. While you might expect to find only exotic fare at the Hunt & Fish Club such as bison or venison; shark or octopus, you'd be mistaken. The menu offers a wide variety of seafood and steaks. Salads range from Local Field Greens at $13 to a Classic Iceberg Wedge with tomato, blue cheese, bacon and chives for $17, with four more salad choices in between.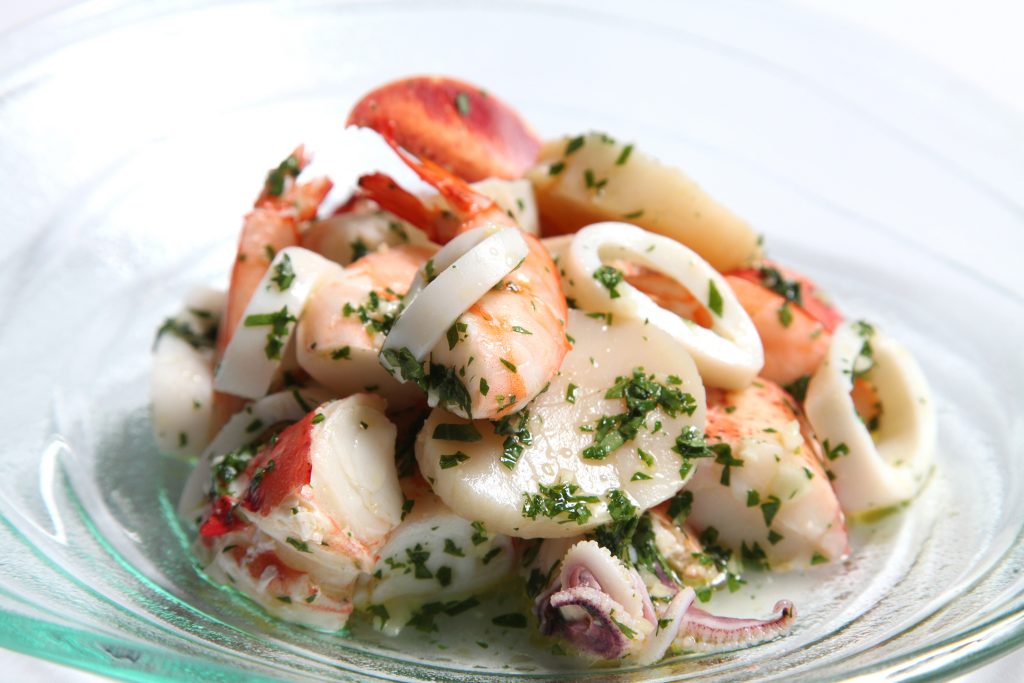 Appetizers are interesting, with a Bone Marrow with pickled onions and brioche toast for $18 and Thick Cut Bacon for $14 to Owner's Recipe Seafood Salad at $32. There are also five pasta dishes ranging in price from Smoked Ricotta Agnoletti at $16 to Lobster Ravioli with house-made red sauce at $25. Other starters include Beef Carpaccio at $18, Octopus at $20, Jumbo Lump Crab Cake at $21 and French Onion Soup at $15. Not exactly outrageous, but priced for the location and the quality of the food.
The main courses offer eight seafood and chicken choices to seven meat possibilities. The HFC Signature Seafood is lobster stuffed with crab and scallops at market price. The same holds true for a 2.5-3 pound Maine lobster that's either steamed or broiled and covered in garlic herb butter. The restaurant boasts of its "Famous Burnt Lemon Chicken" with crispy lemon potatoes at $32. Don't let the word "burnt" fool you. The skin is blackened and the meat is tender and juicy.
The steak menu even offers a specialty cut Kosher 14-ounce rib eye for observant Jewish diners at $61. There's also a Porterhouse for two, bone-in rib eye, sirloin, two filet mignon choices and a chef's selection that changes daily and is offered at market price. Steaks are done to the diner's request and even those blackened and well-done, ooze juices and can almost be fork-cut. HFC epitomizes the adage that a great chef working with quality meat will prepare it as the diner requests, even very well done, and it will still be tender and juicy.
At the outset, a puffed popover is brought to the table with butter pats. The popovers are light and flaky and truly don't need butter. They make for a wonderful starter.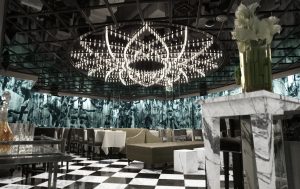 The restaurant has numerous beautiful original artworks hung throughout provided by Studio Iyor. Studio Iyor worked with Roy Nachum in designing the Hunt & Fish Club. The Blue Room downstairs is spectacular and is used primarily for private events such as a recent party with a guest list that included then Vice President Mike Pence. Diners pass by a huge glass-encased wine rack that is the envy of anyone with a private wine collection. The Blue Room features Roman reliefs and a mirrored ceiling. Nero, where are you?
There's also a Green Room with a soaring skylight, a self-watering, living green wall, and sculpture inspired by the biblical golden calf.
The intent of the owners is to "bring back the character and depth of old-school New York in a contemporary setting." They've succeeded by any stretch of the imagination. The Hunt & Fish Club seats 180 patrons in an old-meets-new aesthetic throughout the 9,000 square-foot restaurant.
Reservations are strongly suggested and may be made either by phone (212) 575-4949 or on-line at info@hfcnyc.com.
Rated: Five Stars
Hunt & Fish Club
125 West 44th Street
Lunch: Monday-Friday, 11:30am to 3pm
Dinner: Sunday-Monday, 5:30pm to 10:30pm; Tuesday-Saturday, 5:30pm to 11:30pm
Lounge and Bar: Daily until 1am