The city is heating up this August, and it's time to head to Hotel Americano to cool off and chill out. With their unique and exclusive programming, they offer something for even the most particular New Yorkers. Not only does Hotel Americano boast a gorgeous rooftop pool with views of the Empire State Building, it also features exceptional dining options and hosts special cultural events throughout the week.
La Piscine at Hotel Americano
La Piscine — the pool — should be everyone's first stop at Hotel Americano. It's a beautiful albeit small rooftop pool that's styled so chicly, you'll feel transported to some beautiful, European locale like Monaco or Barcelona, far from the middle of Manhattan. While lounging poolside, you can order off their menu inspired by Coastal Mexico with Executive Chef Bryan Noury's signature French-American flare. Be sure to order the frozen margarita and guacamole — they're heavenly.
If you're looking to take a dip, you can snag a spot at the pool Monday through Friday from 9am to 5pm for $40/person. You can also reserve a special chaise lounge chair for an additional $40. No need to pack a towel, either, as Hotel Americano offers cute complimentary plush grey towels with yellow "Americano or Nowhere" script to all pool-goers. Perfect for drying off after a dip or a trip to the outdoor shower. Naturally, the pool is free to all hotel guests, and honestly, the entirety of Hotel Americano is definitely worth a staycation.
Looking to celebrate something special? We recommend booking a weekday poolside cabana, which accommodates up to six people and comes with a complimentary magnum bottle of rosé. For $400, you can splash around the pool, lounge with friends, and sip on that good pink stuff. What more says summer in the city?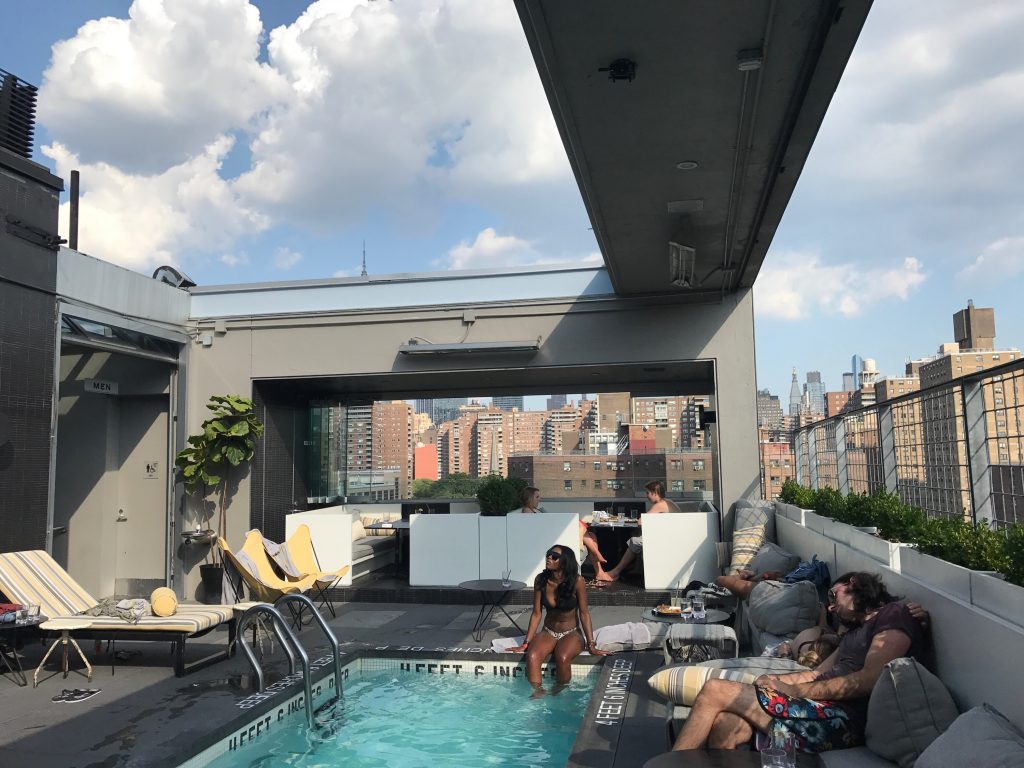 Specialty Programming
Tuesdays: Salon Americano
In traditional French fashion, the salon on Tuesday evenings brings together influencers, trendsetters, editors, and cultural enthusiasts to discuss art, fashion, design, and culture. Each week features something new, whether it be a film or documentary screening, a book signing and Q&A, or a special talk with a powerhouse artist.
Wednesdays: Eat Me Alice
Every Wednesday evening is curated by DJ and artist Alice Longyu Gao, along with downtown and Brooklyn-based emerging artists, designers, musicians, and artisans. It's a party not to be missed.
Thursdays: Solstice
DJ Carlos Jadraque hosts his weekly nightlife program every Thursday night. Come to socialize, dance, chill out poolside, and sip on Grey Goose cocktails.
Fridays: Splash Fridays
On Fridays, French Tuesday's team hosts a nighttime pool party for expats and locals alike.
Saturdays & Sundays
On the weekends, pool parties start at noon with complimentary entry to the pool. That means first come, first serve! The parties last from noon until 5pm, with Saturdays being hosted by the Peechy Keen Pool Klub, a gathering of downtown scenesters and cool kids. Sundays typically feature live music with a Latin flare. Be sure to check out their jazz brunch downstairs on Sundays before heading up to the roof.
Make sure to follow Hotel Americano on Facebook, Twitter, and Instagram, or subscribe to the hotel's newsletter to stay up to date on specialty events and guest perks. Contact La Piscine at Hotel Americano, 518 West 27th Street, Chelsea, 212-216-0000 for all inquiries and to reserve spots at the pool.