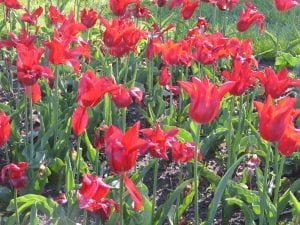 It's almost tulip time. But right now is when you should try to snag 2018's May accommodations in Holland, about 150 miles north of Chicago.
Right – Holland, MI – a town whose tulips line the streets, blossom in acres of gorgeous gardens and whose Dutch heritage is celebrated every spring with dances, arts, crafts, food and parades.
The town's famed annual Tulip Festival is May 5-13, however don't worry if you can't make it then. According to the Veldheer Tulip Farm and Gardens, a company that grows and ships bulbs globally, the tulips should peak towards the end of the third week of May.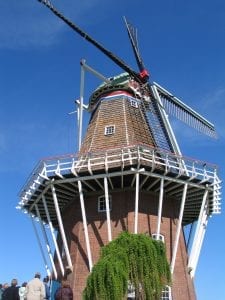 Or go the second week in May during the festival to take advantage of the city tours, Artisan Market, dance exhibitions, art fair and special events around town.
Tip: Traffic is worse on the opening Saturday and usually, just as bad on the final Saturday.
If you go, definitely fit in about an hour at Windmill Island Gardens.
Located near the downtown, it has an authentic windmill from the Netherlands that was dismantled and put back together here, a licensed operator who grinds flour that can be purchased and used at home, a Children's Carousel, a street organ and acres and acres of beautiful tulips. It really is a perfect facebook album photo op or place to take a selfie.
Before you leave the downtown, visit the main street which has good eating and beer-drinking options. Stop in at Austrian flavored Alpen Rose for breakfast or lunch and Butch's Dry Dock for dinner, but there are also lots of other good places to dine.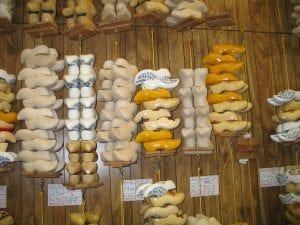 Also, plan to stop at the shops on the outskirts of town, including DeKlomp Delftware and Wooden Shoe Factory on Quincy Street. Visitors can watch the shoes being made, the Delftware painted and take home a really nice, well-made souvenir. Entry here is free. FYI – De Klomp is Dutch for wooden shoes. Another place is Nelis' Dutch Village that features dancing, shoes, Delftware and playground activities. There may be a fee if not going directly into a shop.
Check out room availability, match it to your calendar and go enjoy the Dutch culture of a Holland that is close to home.
Photos by Jodie Jacobs