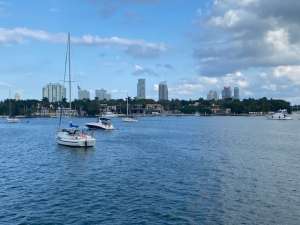 When you think about a vacay, think Miami as images of the waving ocean, swaying palms and blaring music invade your imagination. Where else but South Beach can you experience a melting pot of cultures; Cuban, Mexican, South American and more, all beating with a rich, pulsating energy? Walk down the streets and you'll hear a million different languages with jazz, Latin, salsa and hip hop spilling out into the streets, inviting you to dance.
Here are just a few of the ways to enjoy the Magic City and South Beach, also known as SoBe.
Taste Authentic Ethnic Cuisine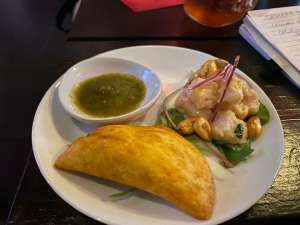 Eat. Walk. Taste. Learn. Savor delicious foods and get all the deets on the area's history and culture. See Miami Culinary Tours for a collection of walking tours that go the extra mile. On the South Beach Tour Food & Art Deco Tour, you'll stop at several cool restaurants and historic sites. We walked through Ocean Drive (yeah, no cars, it's now pedestrian-friendly) along with all of those on bikes and Segways. On Collins and Washington Avenues, you'll learn about art deco, architecture and famous movie sites. Hello…remember the Birdcage? Our tour guide, Robyn, regaled us with legends and lore of South Beach like Gianni Versace.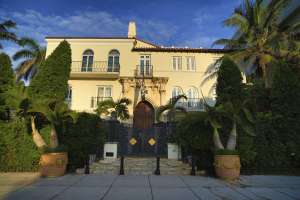 We started at Bolivar, a Colombian restaurant that presented a crunchy empanada and ceviche. Next stop was Havana 1957. You'll think you're on a movie set from the 1950s. Savor a sample of Ropa Vieja and fried plantain. Then try a "clean taco" at the Naked Taco and chase it all down with Italian gelato from Mamma Mia. Their "Little Havana Food & Cultural Tour" was named "The Top 10 Cultural Experience in The World" by Trip Advisor Travelers' Choice award. Check out all their excellent food walking tours at www.miamiculinarytours.com/
Party Hearty at Bayside Marketplace!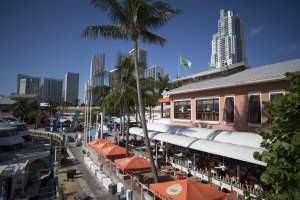 Head for Bayside Marketplace, Miami's most popular hot spot. This two-level, open-air festival center features more than 150 unique shops and stores as well as 12 delicious restaurants. Check out the free live music performances.
See Millionaire's Row Along Scenic Biscayne Bay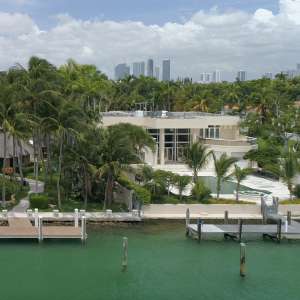 Imagine the glamorous homes of the rich and famous or your own dream house? Sit back, relax and enjoy a cocktail aboard the Island Queen while you cruise by the gorgeous mansions of Millionaire's Row, home to P. Diddy, Shaq, Jennifer Lopez, Gloria Estevan and more! From Fisher Island to Biscayne Bay, you'll see sights on this 90-minute narrated sightseeing cruise. Pass by the Port of Miami, the Miami skyline, Miami Beach and see the elegant cruise ships waiting in dock. Miami isn't known as the Magic City for nothing, and this sightseeing cruise takes you past homes that take your breath away.
Just like Miami Vice – Thriller Miami Speedboat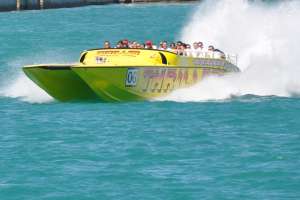 Get your Don Johnson on when you board this lightning-fast, 45-minute Thriller speed boat ride on Biscayne Bay. Get more thrills per minute as you speed past the city of Miami Beach, Fisher Island, Star Island and the mansions. Take a selfie or two of you and the beautiful Downtown Miami Skyline.
Museum of Illusions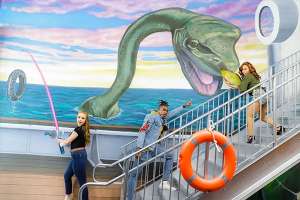 Speaking of selfies, head to the Museum of Illusions for selfie heaven! This new museum on Lincoln Road, South Beach's most popular pedestrian-friendly neighborhood, is awesome. Check in, get a tripod and lock your cell phone onto the tripod. Then, get ready to check out all of the cool rooms. Take a selfie shooting hoops, navigate a broken bridge, relax on the beach, stand on a ledge and lots more. As a bonus, you can SMASH a plate. Take out all your stress as you write a name on the plate and SMASH it into the wall. Afterwards, take a hike along Lincoln Road for the best coffee con leche.
Make plans to hit South Beach soon for the heat, hip-hop and foodie heaven. For more information, check out miamiandbeaches.com.