Heading to Chicago's first-ever ARC Music Festival at Union Park this weekend? Good, we are also. Check out the full ARC Music Festival schedule and lineup below, listed by day and stage. And please remember to rave responsibly people.
ARC Music Festival Lineup & Schedule: Saturday, Sep. 4
The Grid stage
2-3pm: Portals & Parachutes
3—4:15pm: Rodriguez Jr. (Live)
4—5:15pm: Luttrell
5:15—6:45pm: Bob Moses (Club Set)
6:45—8:10pm: Nicole Moudaber
8:30—10pm: ZHU
Elrow stage
2—3pm: Xenaa
3—4pm: Toni Varga
4—5:30pm: Mason Maynard
5:30—7pm: Eli & Fur
7—8:30pm: Patrick Topping
8:30—10pm: Fisher
Expansions stage
2—4pm: DJ Pierre B2B Idriss D
4—5:30pm: Layton Giordani
5:30—7pm: Deborah De Luca
7—8:30pm: Cirez D
8:30—10pm: Luciano
Arc Car stage (powered by The Goodbus)
2—3pm: Chilaquiles (Avacado + Don O'Connor)
3—4pm: Carmen Fiorentino
4—5pm: Bucky Fargo + Marea
5—6pm: Blu 9
6–7pm: Azzecca
7—8pm: Inphinity + Dustin Sheridan
8—9pm: Cinna
9—10pm: AATHEE
ARC Music Festival Lineup & Schedule: Sunday, Sep. 5th
The Grid stage
2—3pm: Steve Gerard
3—4pm: TSHA
4—5pm: Jeremy Olander
5—6pm: Meduza
6:30—8pm: Camelphat
8—10pm: Eric Prydz
Elrow stage
2—3pm: Xenaa
3—4pm: Toni Varga
4—5:30pm: Gene Farris
5:30—7pm: Will Clarke
7—8:30pm: Lee Foss
8:30—10pm: Hot Since 82
Expansions stage
2—4pm: Hiroko Yamamura B2B DJ Holographic
4—5:30pm: DJ Heather
5:30—7pm: Channel Tres (DJ Set)
7—8:30pm: The Martinez Brothers
8:30—10pm: Seth Troxler B2B Derrick Carter
Arc Car stage (powered by The Goodbus)
2—3pm: Richie Olivo + Corduroy Xavier
3—4pm: Dangerwayne + L3XX
4—5pm: DJ Cross + Bobby De Maria
5—6pm: Boots & Claps
6–7pm: Tsunami + Nikho
7—8pm: Arvi Mala + Alex Kislov
8—9pm: Goodsex
9—10pm: Doc Pearson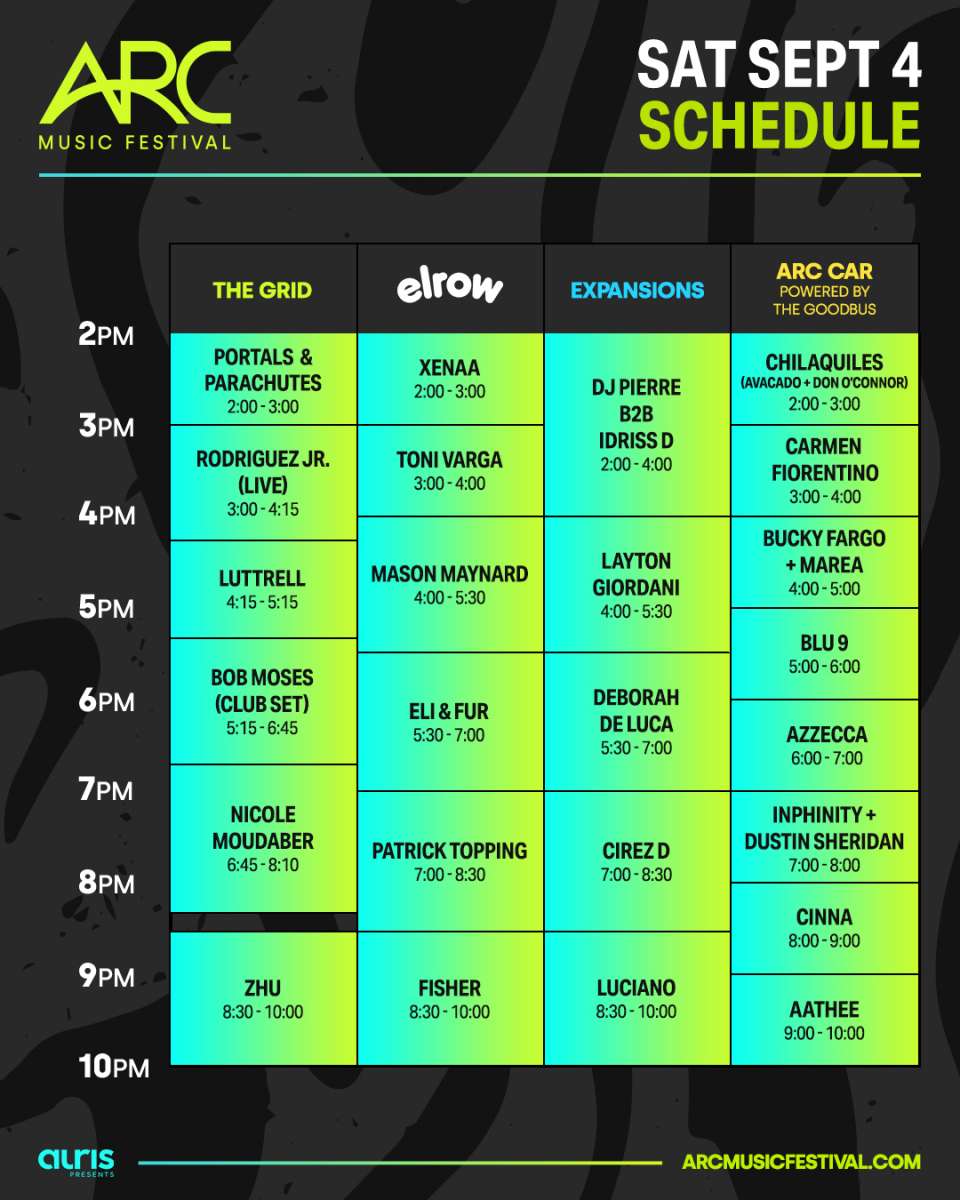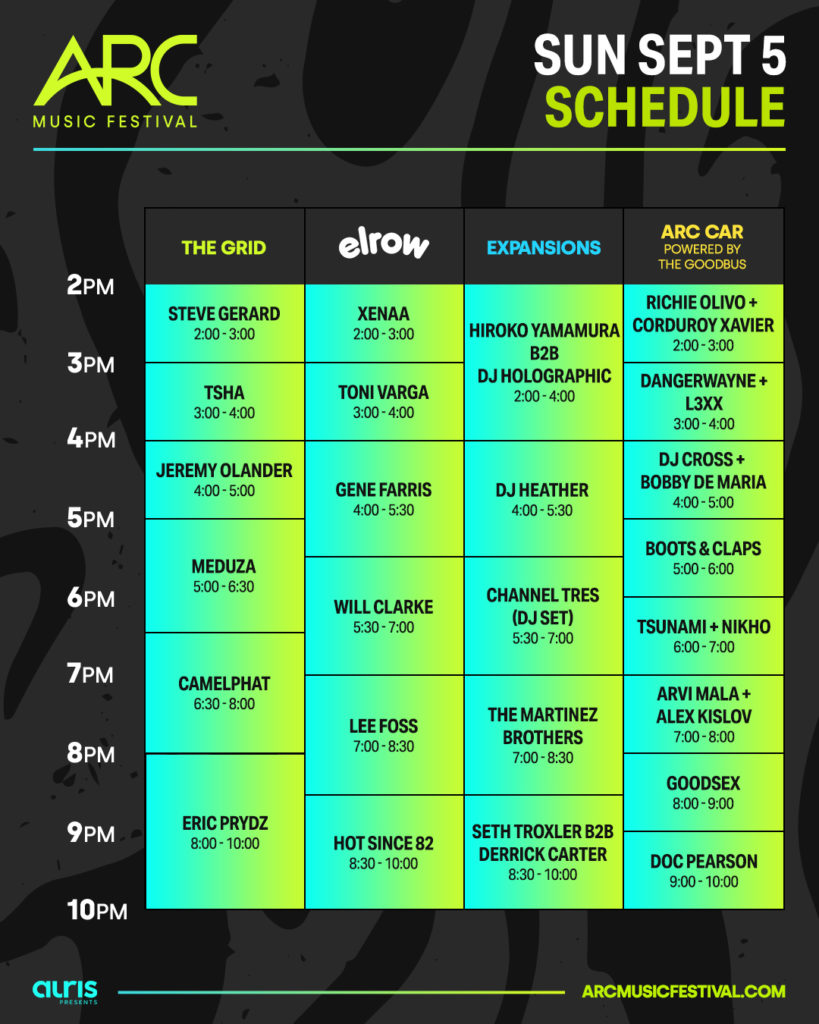 About ARC Music Festival:
There are few cities that can lay claim to a feeling, an idea, and a community as their identity like Chicago. House music remains the city's gift to the music world, a sound that has shifted shape and style as it travels, relinquishing boundaries and connecting fans. Such stands as the ethos of ARC Music Festival.
From the basement clubs of Europe, to the beaches of Ibiza, to iconic festival stages around the world, each setting has had its own lasting impact on the sounds born from the warehouses of the midwest. ARC is the galvanizing force by which electronic music's vast scenes and tribes may converge for an immersive and distinctly Chicago experience, representing the home of house music —  which has ironically yet to be represented on the global festival circuit, until now.
It is with brighter days ahead that ARC charts a path forward for dance music's diverse creeds, offering a much needed flagship for Chicago and a new marquee date on the international festival calendar.
We'll meet you on the dance floor.