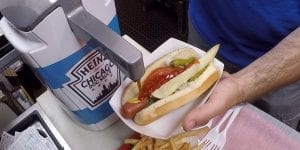 The number one rule in Chicago (as it should be in the rest of the world) is that ketchup does NOT belong on a hot dog. No exceptions. No 'if's,' 'and's,' or 'but's' about it.
Heinz, the nation's leading ketchup company, has never been too thrilled about this rule. In honor of this year's National Hot Dog Day, Heinz decided to put Chicagoans' nerves to the test with their new Chicago Dog Sauce. The "new" sauce claims to be "a delicious recipe made with red ripe tomatoes and a special blend of spices and flavorings." To their joking delight, (and to our horror), it's really just ketchup.
Bold move, Heinz. You're treading dangerous ground with this one.
Heinz has the high hopes of converting Windy City hot dog lovers to using the forbidden condiment on their dogs – an undoubtedly tall order. As one would expect, the response has been vehement, to say the least.
While the ketchup remains the same and is simply touted in Chicago-themed dispensers, you have to give Heinz props for creativity. This "new" condiment can be purchased online or can be found at the more daring hot dog carts around Chicago for a limited time.
Heinz outdid themselves with their fun marketing of the ketchup rebranding. They took to Twitter and targeted their Chicago followers by tweeting a video. "On #NationalHotDogDay see what happens when we ask Chicago to reconsider its no ketchup rule #whatsonyourdog?"
The video features a Chicago native putting Heinz Chicago Dog Sauce on his hot dog. After taking a big bite and declaring it delicious, the camera man tells the Chicagoan that it's just ketchup. The Chicagoan says "Don't tell my dad about this," promptly finishing the hot dog drenched in sin sauce.