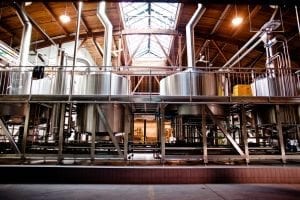 Half Acre Beer Company has been one of the fastest rising and more popular companies in the city of Chicago in recent years. Started by Gabriel Magliaro in 2006, their combinations of American microbrews and burritos have become a staple of the restaurant and helped them make a name for themselves in the brewing industry. They originally started with one brewery located on Lincoln Avenue, and now, have finally been granted their building permits to begin construction on their new taproom and beer garden in Bowmanville.
This new opening has been three years in the making, and after a long wait, they're finally able to get started on their dream project. In Half Acre's earlier days, they envisioned opening up a location and using it to its full potential. The brewery hopes to do this by designing an all-in-one brewery, taproom, restaurant and outdoor beer garden. Now, patrons can enjoy every aspect of this favorite local brand. Additionally, hosting events is something else that's on the table for the new space. Moving forward with this plan is a major signal of the expansion of the company as they continue to showcase their outstanding selection of beers.
While a firm opening date hasn't been disclosed yet, the permits issued on April 12 indicate that the majestically named Half Acre Brewing and Food Palace will open at 2050 Balmoral Avenue.
In other expansion news, Half Acre began limited distribution to various counties in Wisconsin this past January. Look out for their new brew, Magick is Purple, debuting at the brewery this Friday.
Featured Image Credit: Half Acre