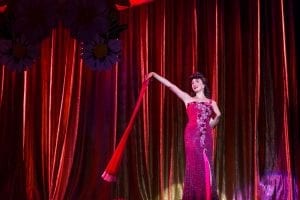 Gypsy, the story based on Gypsy Rose Lee's life, has been a Broadway showstopper ever since it made its debut in 1962. With book by Arthur Laurents, glorious music by Jules Styne and lyrics by Stephen Sondheim, this show continues to delight a whole new generation of fans. The Music Theatre Works in Evanston has more than done the show proud with a trio of top-notch performers.
The cast includes Mary Robin Roth (Rose), Russell Alan Rowe (Herbie) and Lexis Danca (Louise). Mary Robin Roth was seen last season at Music Theater Works as Vera Charles in Mame, and in Let Me Entertain You: Jule Styne's Greatest Hits. With a loud, booming voice along the likes of Ethel Merman who played Rose on Broadway, she is perfect. Russell Alan Rowe is the likeable Herbie, who loves Rose, but finally gives up on her, knowing that her daughters' success will always come first. But it's newcomer Lexis Danca who simply runs away with it all. Beauty and tremendous vocals combine with a hint of sadness to Louise, who finally becomes the toast of the town.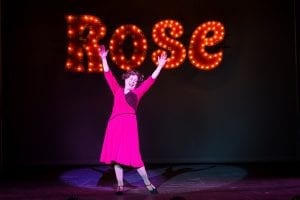 With so many show-stopping numbers, Gypsy will have you leaving the theatre singing up a storm. But run to see it quickly because the show is only running until August 27 at the Cahn Auditorium in Evanston.
The show is artfully directed by Rudy Hogenmiller, choreographed by Clayton Cross, and the full 25-piece orchestra is conducted by Roger L. Bingaman. Favorite songs are "Everything's Coming Up Roses," "Let Me Entertain You" and "Some People."
The season continues with the concert performance of Duke Ellington's Greatest Hits (October 6-15) and Peter Pan (December 23-January 1, 2018). Cahn Auditorium is located at 600 Emerson Street in Evanston. Tickets start at $34. Ages 25 and younger half-price. For tickets, call (847) 920-5360 or visit www.MusicTheaterWorks.com.