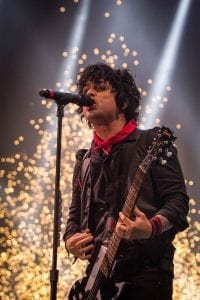 Green Day took to the giant stage in the outfield of Wrigley Field last Thursday attempting to answer the question: how do you keep a rock act going for longer than two decades?
After a warm-up that included a pink bunny in a Cubs jersey dancing to The Ramones (yes, really), Green Day wasted no time launching into "Know Your Enemy" for their first song. And right off the bat, they had the audience riding a massive wave of energy.
Which leads to the First Lesson of Rock Longevity:  maintain a high energy act.  This critical aspect is super easy when your front man is Billie Joel Armstrong.  With his iconic crazy black hair and all-black uniform, Armstrong is an act onto himself. Throughout the night, Armstrong was a relentless force on the stage (we'll refrain from making an Energizer Bunny comparison since we're already over the pink bunny limit for this article).  Armstrong sang, ran to one side of the stage, banged on his guitar, ran to the other side of the stage, played his guitar behind his head, and finished every song with a furious leap in the air.  All the while playing to the crowd.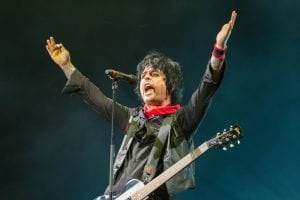 Lesson Two of Rock Longevity: Have a few tricks up your sleeve. Green Day reached into their bag of tricks and pulled not one, but two singers from the crowd to perform with them on stage. One of them was a young man, about the age of 8, who nailed all the lyrics to "Longview." At the end of the young man's performance, he took off down the stage and leapt into the crowd, which might have gotten the biggest applause of the night.
For their next trick, Green Day went back to the audience. Richie from Glenview got a chance to be a rock god when he was plucked from the crowd to play the guitar. Richie from Glenview did not disappoint. He nailed his guitar part and even did a few jumps (although it appeared he might have hurt his ankle on the last one). And his reward, aside from the cheers of the crowd? He got to keep the guitar.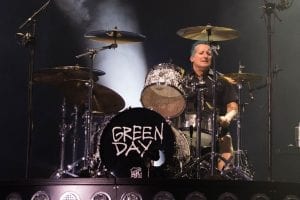 Lesson Three of Rock Longevity: Have some backbone. The backbone we're talking about is a great rhythm section. In Green Day's case, that's bassist Mike Dirnt and badass drummer Tre Cool. These two provide the propulsion for Green Day. Tre Cool, who still flaunts electric blue-green hair, provides a no-frills, aggressive drum beat that is the solid foundation for most of Green Day's songs.
Which leads us to the final, and most important, lesson as to why Green Day has been able to maintain such a high-profile over the past two-plus decades:  Write good songs. What sets Green Day apart from many other 90's bands that aren't around anymore is their song writing ability. The best song of the night was "Welcome to Paradise" which serves as an example of what makes Green Day's songs so good.  It's straight forward, in your face, not that complex, but darn right catchy.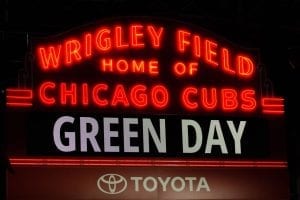 When you add all these lessons together you get a high-energy night full of fun and great songs. What more would you want in a concert? Green Day was a hit at Wrigley Field.
Photos by K. Joseph Fotos.  Full Gallery Here.