Make no mistake, Green Bay is Titletown, where you can feel the city's "can-do" attitude wherever you go. It's a community that stands tall and proud with its 13 NFL Championships and you can't help but want to share in its glory, even if you're from Chicago!
In the expansion of the Titletown District, a 34-acre complex is currently underway with Hinterland Restaurant/Brewery and a 10-acre public plaza featuring park space, a skating rink and toboggan run. (Remember, this IS Green Bay…they know winter!) Get "in the huddle" of all the action.
LodgeKohler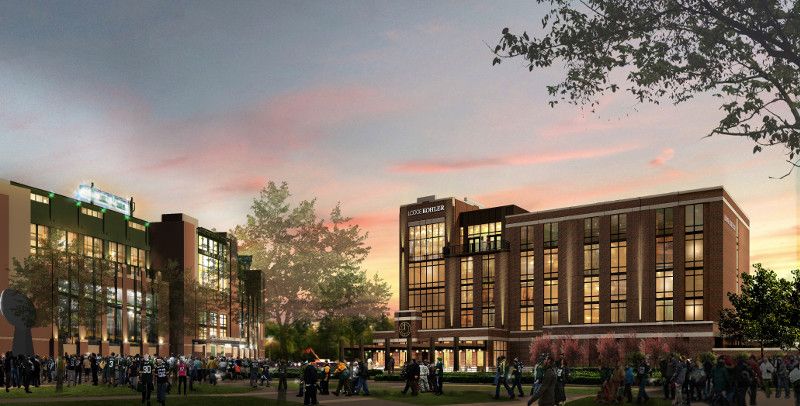 Big news is the opening of the Four-Diamond LodgeKohler, across from Lambeau Field. This new hotel includes 134 rooms and 10 suites, all with custom-designed Kohler bathrooms. You get unparalleled views in the panoramic bar and top floor restaurant, Taverne in the Sky. The hotel also features Leaps & Bounds Café, an indoor family pool, enhanced fitness facility, full-service Kohler Waters Spa, and complimentary valet service/shuttle transportation. LODGEKOHLER.COM, 888-4KOHLER.
Lambeau Field – Home of the Green Bay Packers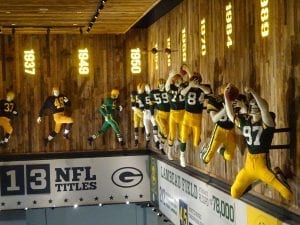 If you're here for a game, plan to come early. No, not just to tailgate, but to explore Lambeau, where you can see NFL Championship trophies and learn the amazing history of the team. The Green Bay Packers Hall of Fame showcases the winning seasons and the Pro Shop is almost as big as the stadium. www.packers.com
Where to Stay
Head to the Radisson Hotel and Conference Center, next door to all the action at Oneida Casino. Featuring 353 guestrooms and suites, the hotel offers free Wi-Fi, several dining options and luxury accommodations. Take a tour of the Oneida Nation and see how their empire benefits the entire community.
Dining Divine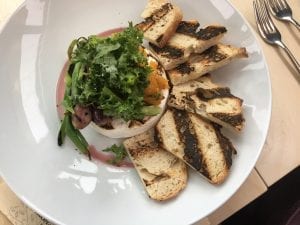 Green Bay offers a range of restaurants, from traditional family favorites to hip new culinary offerings. Hinterland is the farm-to-table restaurant and brewery. Try their venison meatloaf or goat cheese and wild mushroom pizza with a Packerland Pilsner.
The 80-year old Kroll's West is the place to meet before the game for fried cheese curds and roasted chicken. Wally's Spot Supper Club will take you back in time at Green Bay's original steak house for over 65 years. The salad bar and New York Strip are outstanding. Get a taste of an authentic Friday night fish fry at Lorelei Inn.
Grazing – Wisconsin Style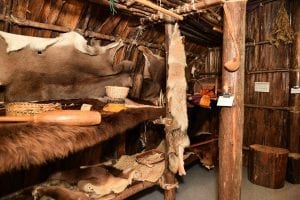 Cows aren't the only thing grazing here. Here's a quick and easy guide on where to grab some eats on the go. And don't forget your coolers!
Waseda Organic Farms – Everything in this shop is certified organic – beef, chicken and pork. Stop by for garden-fresh produce, Door County syrup, honey and cherry juice as well as hearty sandwiches.
Scray Cheese – Opened in 1924, Scray's is one of the few remaining authentic cheese factories in the Green Bay area. Try their famous squeaky cheese curds, Fontina, Edam and Gouda, plus our favorite, Cheddar Cranberry. They even have a drive thru for ice cream and coffee!
Uncle Mike's Bake Shoppe – With two locations in the Green Bay area, Uncle Mike's is Wisconsin's Award-Winning Bakery. I call it the "ultimate cookie experience." But Uncle Mike's has also won awards for their unbelievable selection of Kringle in every imaginable flavor. Fresh breads, cakes, cupcakes, bars and every sweet imaginable, Uncle Mike's will more than tickle your sweet tooth.
What to Do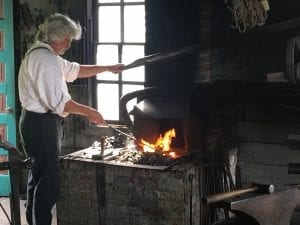 Let Me Be Frank Productions is Green Bay's answer to Second City. Whatever's playing, you'll laugh your head off at the historic Meyer Theatre. Musicals, hilarious parodies, it's all happening here. Bay Beach Amusement Park is a delightful way to spend the afternoon. Enjoy rides and games for young and the young at heart. Visit the nearby Bay Beach Wildlife Sanctuary, an urban nature preserve that cares for more than 4,000 orphaned and injured animals. Heritage Hill State Historical Park is a living history museum that provides a fascinating look at Northeastern Wisconsin's rich heritage with costumed interpreters and demonstrations.
Catch It!
Plan a trip to Green Bay soon and discover all that our neighbor to the North has going – football and beyond! www.greenbay.com, 888-867-3342.