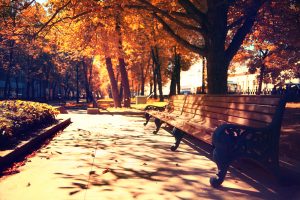 Attention New York park enthusiasts and Halloween/fall junkies: for the first time ever, Governors Island will be open until October 31. This effectively adds two months to the park's public season, not to mention some fantastic fall sightseeing opportunities for locals and visitors alike.
Autumn visitors to NYC will have an excellent opportunity to take in the Island's expansive acres, consisting of as many as 6,000 native trees bursting with fall foliage. Also, if you're looking for good photo opportunities, the park boasts great views of the New York skyline, Statue of Liberty, and the NY Harbor.
"Autumn is the most visually striking time to visit Governors Island, with vibrant foliage in our park and historic scenery unlike anywhere else in New York City," according to Michael Samuelian, the President of the Trust for Governors Island. "Extending the season into October is an important step in our efforts to activate the Island year-round."
There will also be a number of fall-themed events for every age bracket, including obligatory trick-or-treating, along with art showings and other culturally-inclined gatherings. In honor of All Hallows' Eve, The Trust for Governors Island presents the  'Night of 1,000 Jack O' Lanterns', which will feature over 1,000 hand-carved pumpkins from Tri-State artists lit by LEDs. These peculiar pumpkins will adorn a festively-themed pathway lined with the best leafage New York has to offer. For tickets and specifics regarding the 'Night of 1,000 Jack O' Lanterns' and announcements of more fall events on Governors Island, visit www.therise.org/1000.
According to the Governors Island blog, the Island "will be open every day from May 1 through October 31. The Island is open from 10am to 6pm on weekdays and from 10am to 7pm on weekends, Memorial Day, July 4 and Labor Day. In October, ferries will run from Lower Manhattan daily and from Brooklyn Bridge Park Pier 6 on weekends and holiday Mondays. [The] NYC Ferry will continue to stop at Governors Island's Pier 101 on weekends in October via the East River and South Brooklyn routes."