Support Students at 826CHI's Goods for Good Craft Fair
It may be the week of Halloween, but that chill in the air brings to mind another not-too-far-away holiday. Pretty soon, everyone's going to be on the hunt for gifts. If you want a few extra points towards a spot on the Nice List, everyone knows that the best gifts are ones with thought behind them.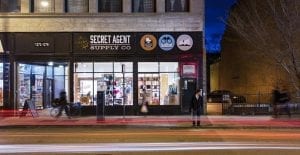 So mark your calendars for December 9! The first ever Goods for Good Craft Fair is sure to have something for all your friends and relatives. Local vendors selling everything from pins and preserves to soaps and scarves will set up shop at The Wicker Park Secret Agent Supply Co. An in-house manicurist will be open for business from 2pm – 4pm, and you can also enjoy complimentary cider and live holiday music from Patrick Budde while you shop.
10% of the proceeds from the fair go to 826CHI. The non-profit helps writing students between the ages of 6 and 18 express their ideas on paper. Volunteers and staff provide after-school tutoring, creative writing workshops, field trips and more to build confidence and foster creativity. They also work with 150 Chicago teachers to keep students inspired to write. By shopping at the Goods for Good Craft Fair, you'll support 826CHI's free programming. Which means you won't just walk away with a whole bunch of goodies to stuff stockings with – you'll also do a little good and help provide writing services for 2,500 Chicago students.
Don't forget to keep an eye on the event's Facebook page for more information, updates and a complete list of vendors.
Can't wait to start supporting Chicago's young writers? Get involved with 826CHI as a volunteer or stop by The Wicker Park Secret Agent Supply Co. There are plenty of ways to help out, regardless of the season.
Featured Image Credit: 826Chi via Facebook