Many stories, one life-altering event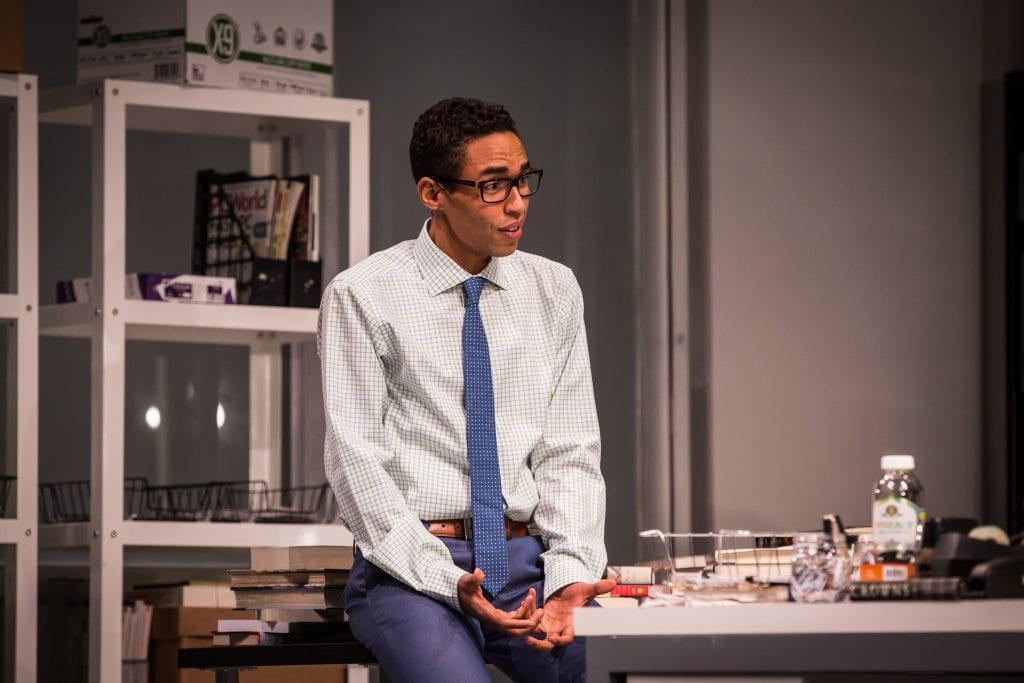 While floundering on the lower echelons at a prestigious cultural magazine, young editorial assistants jump on an unexpected opportunity for publishing success.
How they approach it is the premise of Gloria, now playing at the Goodman Theatre.
The dark but humorous satire by Branden Jacobs-Jenkins examines the morality of ambition and how a story changes depending on who's telling it. Along the way, he takes jabs at relationships and politics in the workplace.
Gloria made its off-Broadway debut in 2015 at the Vineyard Theater. It was met with nearly universal acclaim and earned a Pulitzer Prize nomination. The complete New York cast and creative team, including director Evan Cabnet, reunite for the Chicago premiere.
Well-tuned performances are given by the entire cast. Editorial assistants are played by Catherine Combs as the affable Ani, Ryan Spahn as the put-upon Dean and Jennifer Kim as Kendra, who spends more time shopping than working. Kyle Beltran plays Miles, their ingratiating intern. Michael Crane is head fact-checker Lorin and Jeanine Serralles is mousy, soft-spoken Gloria.
The first act opens to a normal office morning. With witty and sometimes screeching banter, the staffers berate one another, bemoan their humble circumstances and make grandiose predictions for their individual futures. The negative energy swells, and then a big news event changes everyone's path.
In the second act, Gloria takes a soulful turn as the characters deal with the aftermath. Each relates to the story of the news event in different ways and with different truths. Which version—and which storyteller—is the right one? Decide for yourself.
Jacobs-Jenkins has been celebrated as one of the most original voices among contemporary playwrights. In September, he was awarded a MacArthur Fellowship, also known as a genius grant, from the MacArthur Foundation.
Gloria runs through February 19 in the Goodman's Albert Theatre. The Goodman Theatre is located at 170 South Dearborn Street. For tickets, go to Goodman Theatre Box Office (170 South Dearborn Street), call 312-12-443-3800 or purchase online at www.GoodmanTheatre.org/Gloria.
Featured Photo: Ryan Spahn (Dean), Jennifer Kim (Kendra), and Catherine Combs (Ani) in Gloria by Branden Jacobs-Jenkins, directed by Evan Cabnet at Goodman Theatre (January 14-February 19, 2017).