Chicago is an excellent city to live if you're into real theater. You know, that nitty-gritty kind that instantly sucks you into the story and leaves you breathless by intermission, where actors bleed and cry and scream, but also warm your heart with their fiery passion. You can count on real theater to empathize with you and also put you in your humble place. So, if you're feeling angry, worried, frustrated, guilty, or scared, you're bound to find your courage at Girl in the Red Corner.
A critically acclaimed drama from the mind of Stephen Spotswood, the story follows a rage-filled and recently divorced Halo into the ring of a mixed martial arts studio. Through the guidance of her trainer Gina and against the opposition of her sister, brother-in-law, and alcoholic mother, Halo learns to fight back when the world presses in on her, smashing the lemons that life gives her with a gloved fist.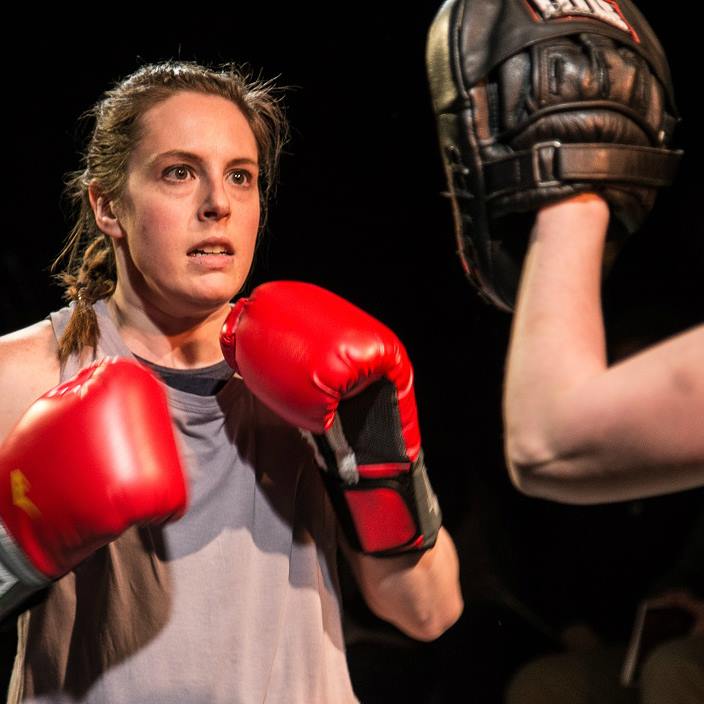 Winner of the Helen Hayes Award for Best New Play, Broken Nose Theatre's interpretation of Girl in the Red Corner stars Elise Marie Davis as the empowered Halo, August Foreman as the gender-neutral badass Gina, and Kim Boler, Michelle Courvais, and Mark West as multiple roles.
The Den Theatre explores this raw tale of self-discovery in a theatre in the round space through March 9, so make sure to get tickets now before it leaves Chicago! Admission to Girl in the Red Corner is pay-what-you-can, starting at $5.
Remaining showtimes:
Mon, Feb 18: 7:30pm
Thu, Feb 21: 7:30pm
Fri, Feb 22: 7:30pm
Sat, Feb 23: 7:30pm
Sun, Feb 24: 3:00pm
Wed, Feb 27: 7:30pm
Thu, Feb 28: 7:30pm
Fri, Mar 1: 7:30pm
Sat, Mar 2: 7:30pm
Sun, Mar 3: 3:00 pm
Wed, Mar 6: 7:30 pm
Thurs, Mar 7: 7:30 pm
Fri, Mar 8: 7:30 pm
Sat, Mar 9: 3 pm
Sat, Mar 9: 7:30 pm
Featured Image Credit: Broken Nose Theatre Facebook
[mkd_button size="huge" target="_self" icon_pack="" font_weight="" text="DOWNLOAD THE URBANMATTER APP TODAY! " link="https://urbanmatter.com/app/" custom_class="lefttext"]