There is no better time of the year to enjoy a toast with bubbles than the holiday season. May it be Christmas, New Year's or the soon-to-arrive V Day, we're definitely craving a good bottle of Champagne around this season. Well, bubble lovers, I have good news. The best fondue restaurant in Chicago, Geja's Cafe, is kicking off its 42nd Annual Champagne Festival this December.
Geja's Champagne Festival is loved by its regular patrons and new visitors alike. Each year, the festival features a varied selection from a chosen winery, providing an inclusive portfolio of dry to sweet bubbles to satisfy your unique preferences. This year, Geja's Champagne Festival is featuring seven of Gruet's incredible varietals on the menu at Geja's, now through the end of February. Made in the same style as French Champagne, each Guret varietal is more delicious than the next.
Finally, to learn more about the history, culture, and offerings behind Geja's Champagne Festivals, we've invited Geja's Owner, Jeff, to share Geja's stories with us.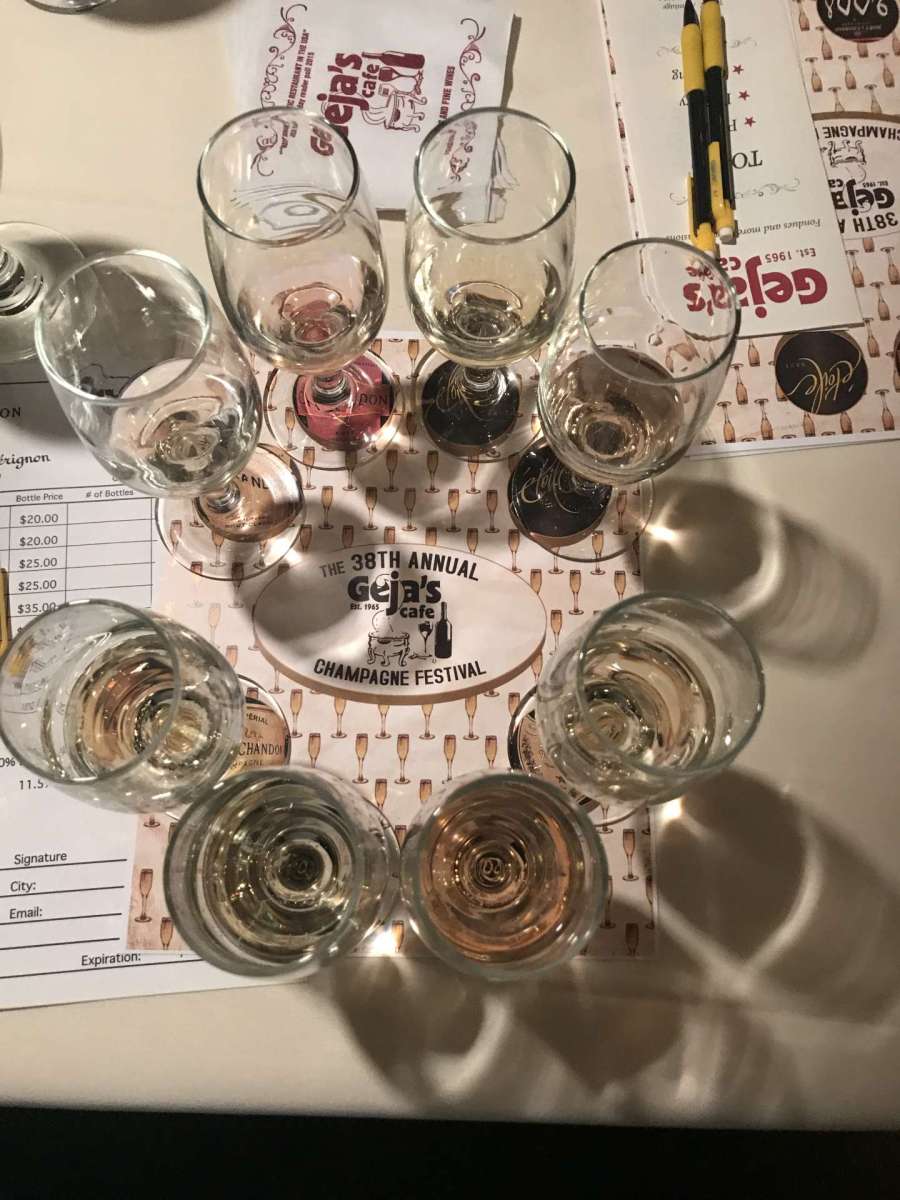 Q (Urban Matter): Welcome, welcome! How are things since we last met?
A (Jeff): Well. We're lavishly decorated for the holidays. That's something we take great pride in. We celebrate the season by adding a lot of sparkles to our dining room during the holidays. And speaking of sparkles… we have our Gruet festival!
Q: Isn't that exciting? Why don't we start with some history of Geja's Champagne Festival?
A: Yes. Geja has been doing this for 42 years out of our 57 years of history. John Davis, the founder of Geja's, started wine festivals during the very early days of Geja's. He had a wine and cheese cafe featuring wines all around the world and he would do wine festivals where he'd feature wines from different areas for two or three months. One year it might be France, next Spain, then California… He was really all about educating people and making people comfortable with drinking wine and champagne.
Back in 1965 when Geja started, wine and champagne was not enjoyed on a regular basis. We were a Whiskey and beer society. So he has been hosting these wine festivals for the first 15 years, then he said: let's do something that features champagnes.
Q: And that's my next question: why Champagne? To be honest, while I enjoy a good wine, champagnes definitely feel more on the back burner in my life.
A: It's definitely on the back burner for a lot of people. Champagne is kind of like a lobster, okay? I worked at a lobster restaurant many years ago, called Roonie's Original Lobster House. It was a restaurant that featured lobsters cooked in different ways. But it didn't turn out to be popular because people only ate lobsters for special occasions.
Similarly, people only drink champagne for special occasions. That's why John wanted to bring more life to champagne and sparkling wines from around the world during this time of year (December, January, February), when people are more likely to enjoy champagne with friends and families, and loved ones because they are raising a glass and toasting to the old and the new year. Honestly, people don't celebrate with champagne enough. Even myself — I'm not a knowledgeable person about wine and champagne, but I appreciate wine daily, yet probably once a month, I'll have a glass of champagne or share a bottle, but not as much as we enjoy wine.
Q: That makes sense.
A: Exactly. But you know, I was looking through an old menu here. This is the original menu from Geja's old location at 1248 N. Wells. And as I was looking through it, I found a champagne listing for a Ruinart Reserve Baron Philippe de Rothschild that John sold on his list for $13 a bottle. Now, that same bottle is $6,000. How's that?
Q: And people talk about Whiskey barrels and their prices! So… Why Gruet? How did you choose your winery this year?
A: Over the last 18 years, we've featured Mumm, Piper Heidsieck, Taittinger, Roederer, Nicolas Feuilatte, Lanson, Laurent Perrier, Haut Rocher, Jean Pierre, Charles Heidsieck, and Gruet. We featured Gruet for the first time in 2008. Being a Champagne festival, the champagne has to come from France. But this sparkling comes from Albuquerque, New Mexico.
The founders of Gruet came from France and had vineyards in Champagne, France. But they said, let's go to California and see what's possible. When they got to California, they found that the land was extremely expensive. On one weekend, the founder and his family drove to New Mexico, where they saw mountains in Albuquerque. They investigated a little more and said: we can make quality sparkling here in a Champagne way.
Q: Fascinating. Would you tell us more about the varietals Geja's Champagne Festival will feature this year?
A: Of course. I have all seven bottles here. It all depends on the style of Champagne/sparkling you like. Three grapes go into every champagne: chardonnay, pinot noir, and Meunier grapes. But Gruet sparklings are only made of chardonnay and pinot noir grapes in varying percentages. From what we have:
The Gruet Brut is about 80% chardonnay and 20% pinot noir.
The rose I'm drinking is 100% pinot noir.
The Blanc de Blanc is 100% chardonnay.
The Blanc de Noir is 75% pinot noir, 25% chardonnay.
The Rose Sauvage, with 100% pinot noir.
The Sauvage, with 100% chardonnay.
The Demi Sec is on the sweeter side, but not necessarily sweet champagne. It is 75% chardonnay, and 25% pinot noir, with a little bit sugar added to it. While the other styles are all dry, this is semi-sweet, which gives a nice flavor on your palate. It goes very well with our Chocolate fondue.
Q: Thank you for such a detailed explanation! Now, how can guest take advantage of Geja's Champagne Festival? Are there any other special programming other than the Champagne Dinner last week?
A: So we kick off every Champagne Festival with a Champagne tasting, followed by the dinner you just talked about. Then, every Monday throughout the festival is now Gruet Monday. Everybody who comes in wanting to enjoy a glass of Gruet will enjoy $5 off each glass. This means a $9 Demi Sec glass would be $4. So that's every Monday through February.
Q: Wow, that's a great deal. Now, since it is almost NYE… if anyone wants to bring home a few bottles of sparklings, what are your top 3 recommendations from everything you've tasted? Not just the Gruet.
A: From everything I've tasted? Oh boy. So, my FAVES! If I'm going to spoil myself, my No. 3 pick would be the Lanson Diamond Bottle. Then, No.2 is Laurent-Perrier Rose. Finally, No.1 would have to be Taittinger Vintage. Whatever vintage they make is always spot on.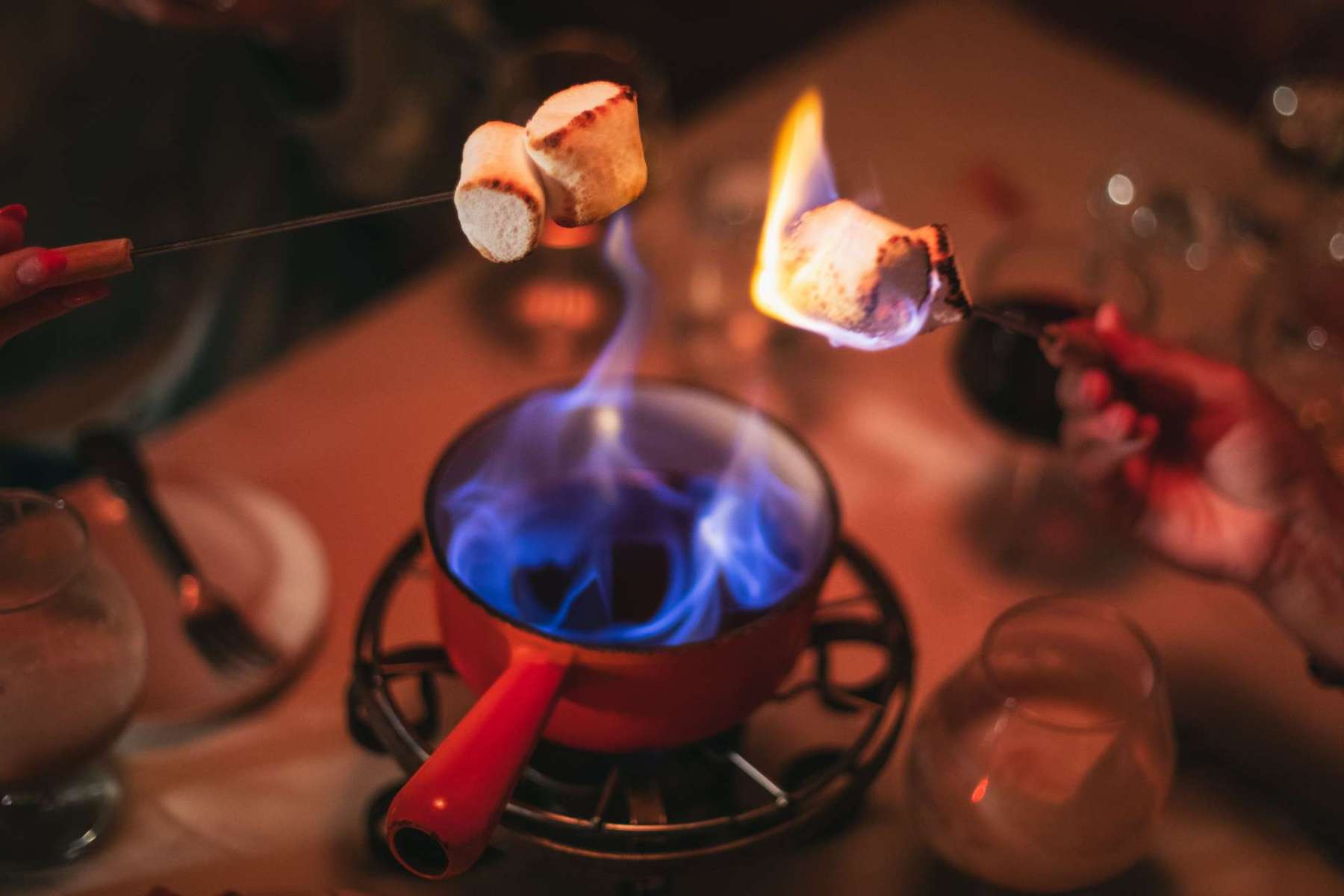 Q: Thank you! Last question: I know Geja's is doing a NYE celebration. Give us a quick highlight on why people really shouldn't miss out on that!
A: Geja's has been celebrating NYE with three seatings a night for long before my 30 years at Geja's. Geja's is an important and meaningful restaurant to many of our guests. We set up these three seatings to accommodate whatever people's plans are on NYE.
People can come in at 5 p.m. to enjoy Geja's as the last dinner-out of the year. They may go home or go to another house party after experiencing Geja's. The 7:30 p.m. seating guests usually stay till about 9:30 p.m. Same thing, they can celebrate at home or go to another party. Finally, for those who'd like to ring out the old year and ring in the new year with Geja's, they come in at 10 p.m. for a two-hour dinner, followed by a festive celebration at midnight featuring more party favor than anyone can imagine. Then, when it hits midnight, old Lang Syne starts to play, followed by festive music for the next hour. Our dining room will be set up to ring in the new year, where all lights change colors from green, red, white, orange… for midnight festivities.
For NYE seatings, you can make a reservation here.
Featured Image: Geja's cafe.